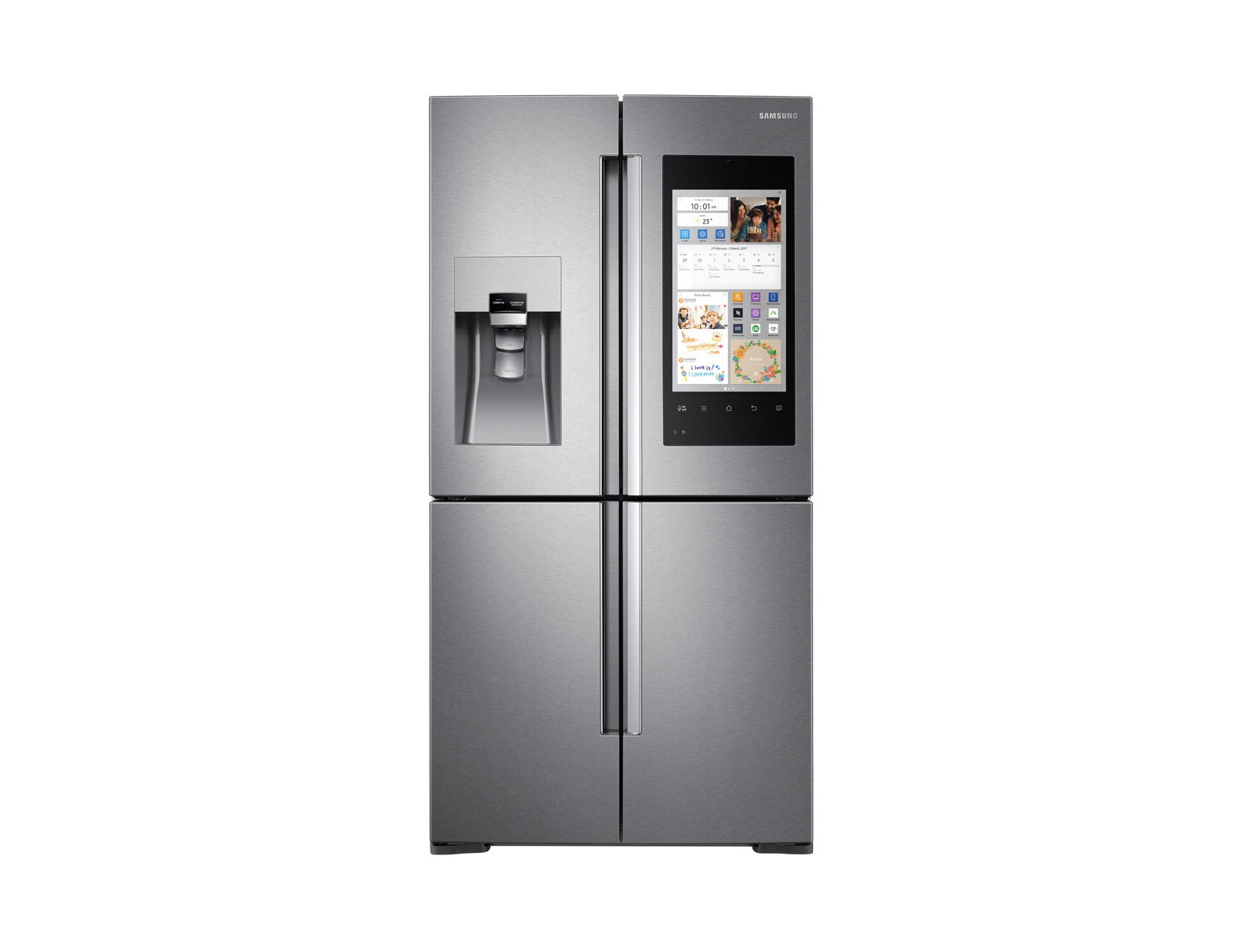 Family Hub™ Multi-door Fridge Freezer, 550L
RF56M9540SR/EU
Family Hub™ Multi-door Fridge Freezer, 550L
is rated out of
5
by
3
.
Food Management
Family Connection
Entertainment
Recipe App
Innerview cameras
Food Reminder
Online Shopping
feature
Take a fresh look at
what a fridge
can do
Family Hub™
The Family Hub™ is a revolutionary new refrigerator with a Wifi enabled
touchscreen that lets you manage your groceries, connect with your
family and entertain like never before.

Some content may require separate subscriptions and be subject to location.
Know what you have
Food Management
Always know what's inside with built-in cameras. Easily monitor
and order groceries. Or simply discover recipes.
See inside your fridge
from anywhere
The Family Hub's™ 3 built-in cameras will let you see what's inside, so you can check what you have left from your
phone whenever you're out*. So even when you're shopping, you can take a quick look.



Get a freshness
reminder
Choose to track your key fridge items and their expiry dates.
Set reminders which will appear on the fridge's screen and on your
mobile*, so you can enjoy your food at its best.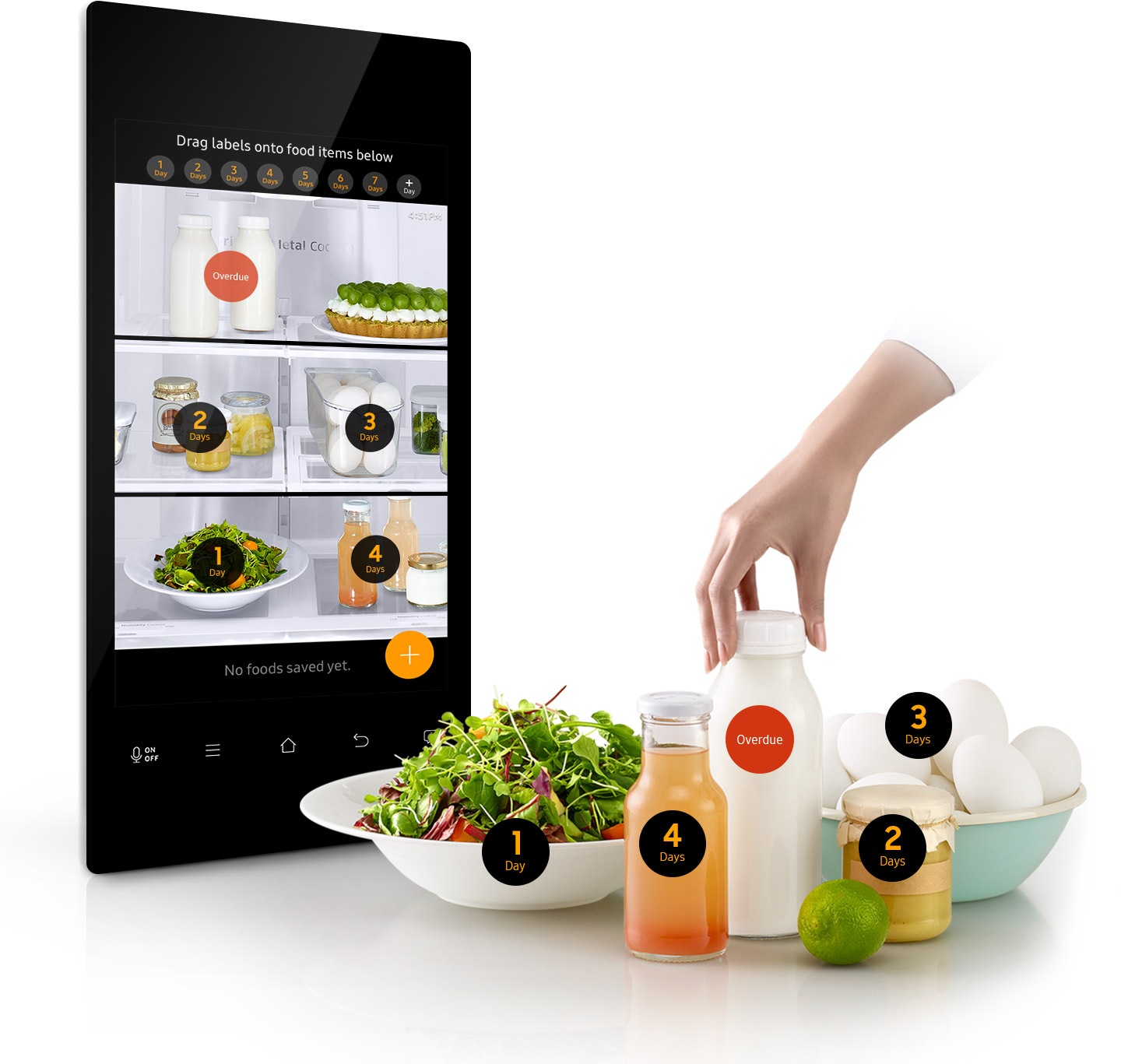 All the food you love
in one place
With the Whisk App, you can organise your inspiration.
Plan smarter. Shop where and how you want.
All from the Family Hub™ touchscreen or your smartphone.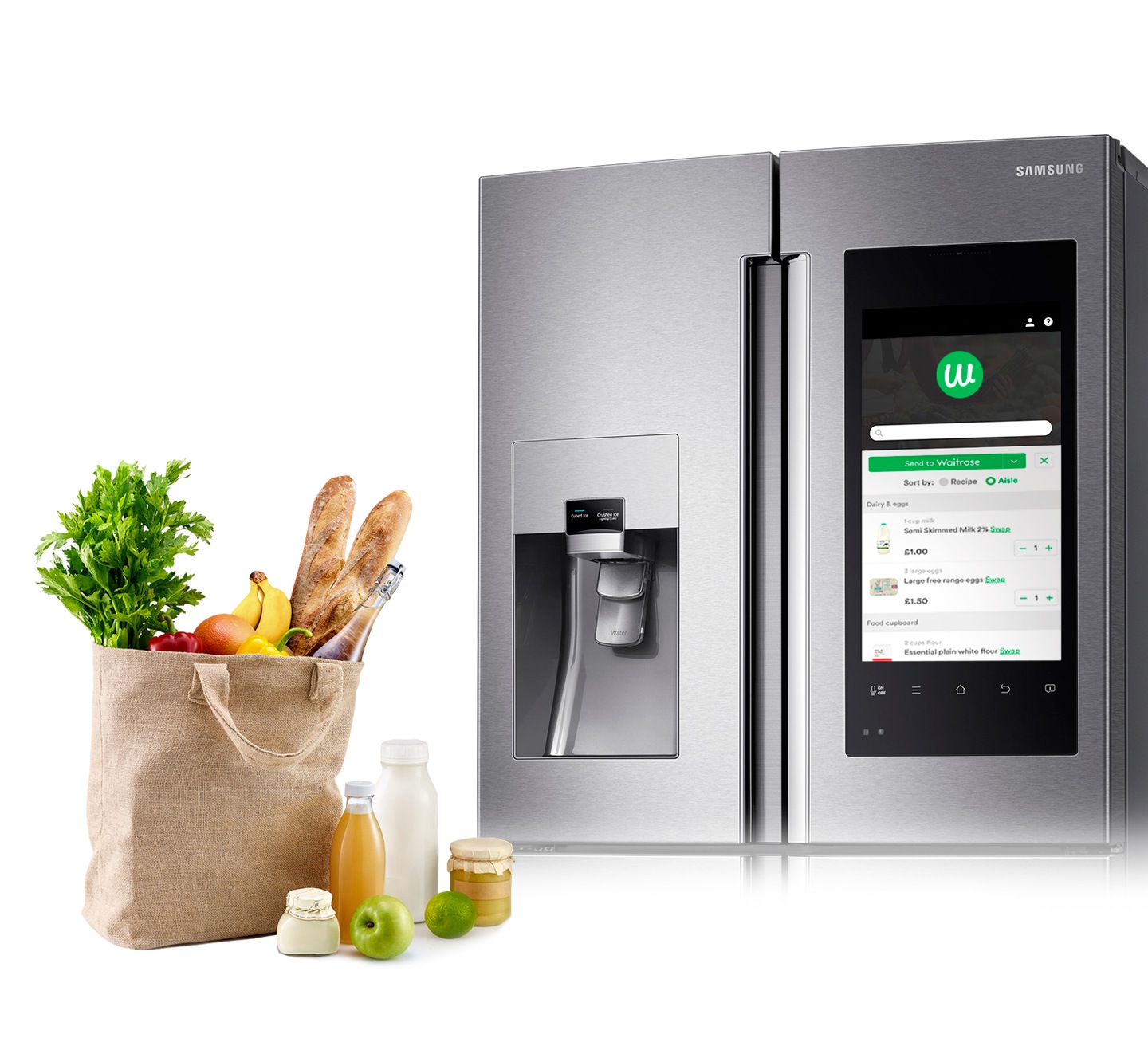 Share family calendars
photos, and notes

Family Communication
Use one personalisable calendar for the whole family to easily keep on top of everone's scedules.
Add reminders and notes or simply share pictures you like*.



Paper Roll

Let your fingers
do all of the talking

Write notes or draw pictures on the touchscreen and
let your creativity speaks for itself*. No more lost
notes or pens and paper!

Stream music, radio,
mirroring your TV
Family Entertainment
The Family Hub™ is so much more than a refrigerator. While keeping your food at its freshest,
it also brings kitchen entertainment to a new level, whether you want to continue watching that programme of yours***
or you prefer listening to music.
Non-stop music, video &
TV entertainment
Unpack your groceries or cook dinner with your favourite TV
show in the background. The Family Hub™'s 21.5-inch
touchscreen can mirror your smart TV** so your kitchen
can be just as fun as the TV room,
without taking up precious wall or counter space.



Music live
in your kitchen
Listen to your favourite music, news, sports, or talk.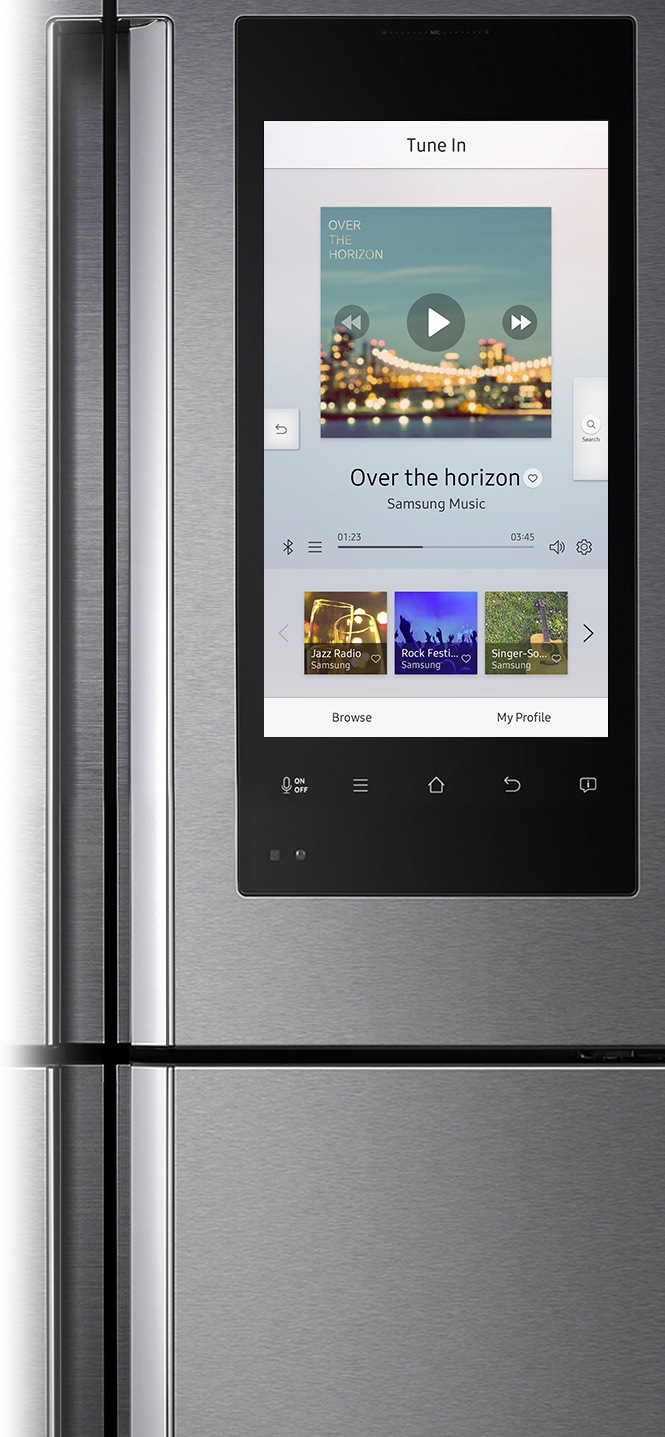 Do I need to connect
speakers to play music?
Family Hub™ is equipped with 5W speakers
- high quality sound for your favorite songs and movies.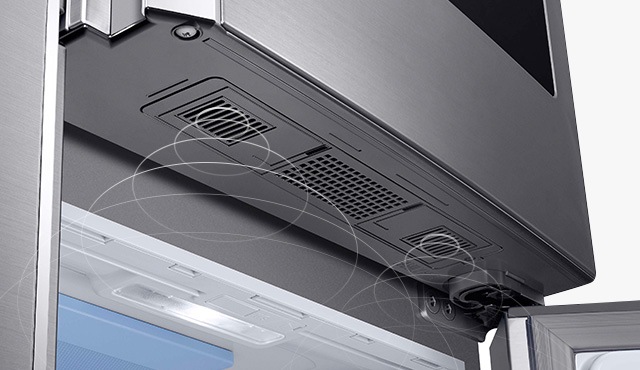 More Features
that you will love

Switch how you use it to suit your needs
The CoolSelect Plus Zone™ (the fridge's versatile bottom-right section) can be switched
between a fridge or a freezer with the touch of a button, allowing you to customise
temperature settings as needed.
Revolutionary triple & metal cooling
Benefit from precise temperature control in the fridge, freezer, and the convertible CoolSelect
Plus Zone.™ This helps you maintain optimal humidity levels and keeps food fresh for longer.
550 ℓ

Net Total

908 mm

Net Width

1825 mm

Net Case Height with Hinge

733 mm

Net Depth with Door Handle

162 kg

Net Weight

Triple&Metal Cooling

Cooling Type
Rated

1

out of

5
by
KrzysztofKup
from
Horrible experience
Fridge is not bad but software is disaster. Fridge hangs one per month and restore to factory state is needed. Ios app cannot be used as is asking to verify phone number and never sending verification text. It is same as Samsung phone, as soon as new version is on market no more updates. Stay away.
Date published: 2019-06-02
Rated

1

out of

5
by
Eugen
from
Worse nightmare ever
This one looks fantastic but don't be fooled. Broke in 2 weeks, all internal boards were changed. In another 2 moths got broken beyond repair.Lost food a few times as defrosted randomly. I am still waiting for nearly 2 months to get my money back. Samsung customer service is a joke,nobody knows anything just relying on sending email to head office.And you have to wait.I have been on the phone every week but still no solution. Be aware, stay away,do not buy.
Date published: 2019-02-25
Rated

4

out of

5
by
Meen
from
surely will recommend
Bought this a year ago- amazing help - when shopping, can see what is needed inside the fridge,
Date published: 2018-12-04
User manual & Downloads
Live Chat
How It Stacks Up
Family Hub™ Fridge Freezer, 380L
RB38M7998S4/EU
Food Management
Family Connection
Entertainment
Family Hub™ Multi-door Fridge Freezer, 550L
RF56K9540SR/EU
ERT Awards 2016 – Product Innovation Award
See inside from anywhere with 3 built-in cameras
Digitally keep track of your food's expiry dates
Search through thousands of recipes with the Recipes App
Family Hub™ Fridge Freezer, 380L
RB38K7998S4/EU
ERT Awards 2016 – Product Innovation Award
See inside from anywhere with 3 built-in cameras
Digitally keep track of your food's expiry dates
Search through thousands of recipes with the Recipes App
Family Hub™ Multi-door Fridge Freezer, 550L
RF56M9540SR/EU
✓ Up to 5 years warranty* on parts and labour
Food Management
Family Connection
Family Hub™ Fridge Freezer, 380L
RB38K7998S4/EU
ERT Awards 2016 – Product Innovation Award
See inside from anywhere with 3 built-in cameras
Digitally keep track of your food's expiry dates
Search through thousands of recipes with the Recipes App
Family Hub™ Multi-door Fridge Freezer, 550L
RF56K9540SR/EU
ERT Awards 2016 – Product Innovation Award
See inside from anywhere with 3 built-in cameras
Digitally keep track of your food's expiry dates
Search through thousands of recipes with the Recipes App
Family Hub™ Fridge Freezer, 380L
RB38M7998S4/EU
Food Management
Family Connection
Entertainment