How to update your Soundbar using the SmartThings app
The SmartThings app allows you to view and configure your added devices at a glance.
Connecting your Soundbar to SmartThings allows you to control it from your mobile. You can change the volume when you're nowhere near and connect the speakers to a synchronized surround system. You can even playback your favourite song every time you open the front door.
Download and install SmartThings: Either log in using your existing Samsung account or create a new one. Follow the onscreen prompts to add the Soundbar to your SmartThings account, then follow the below steps:
1
Select your Soundbar in SmartThings.
2
Tap the More options icon (three dots).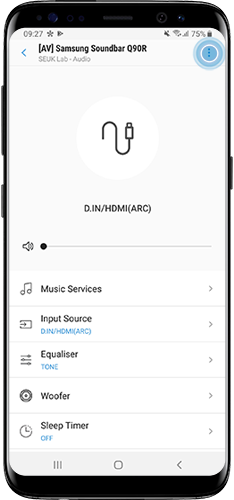 3
Select "Information" in the popup menu.
4
The display shows the currently installed firmware version. Tap "Firmware Update" and the Soundbar will search for an available Firmware Update. If none found, your Soundbar has the very latest version installed.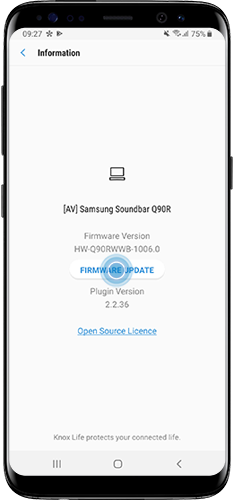 5
If a new Firmware version is found, tap "Update Now" to download and install the update".
Please Note: Keep the "Auto update" switch activated if you want to install updates automatically.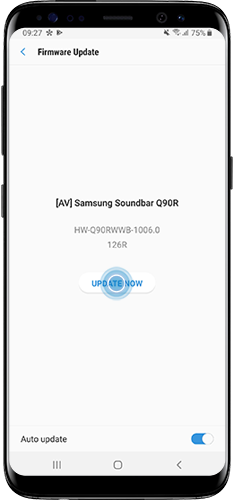 6
Progress is displayed on screen. When completed, tap "Ok".
The Soundbar will reboot. Refresh the SmartThings App by repeating Steps 1 and 2 to view the newly updated Firmware information.
Please answer all questions.