How do I use the stacking kit on my Samsung Heat Pump Tumble Dryer?
Stacking kits are designed to make storing and using your dryer and washing machine easy. Rather than leaving your appliances on the floor, the stacking kit allows you to safely stack your dryer on top of your Samsung washing machine, making better use of your space.
We highly recommend that you only use Samsung approved stacking kits as these are specially designed for Samsung appliances. Using alternative stacking methods can be dangerous as these may not be secure or able to handle the vibrations of the washer/dryer. Poorly fitted stacking kits or appliances can come loose and may fall or become damaged.
To purchase stacking kits and replacement parts visit Samsung spare parts on the Samsung website.

Follow the steps below to fit the stacking kit on your Samsung Tumble Dryer.
Without a stacking kit draw
Please note: Setting up the stacking kit requires assistance and should not be done alone.
1
Carefully tilt the dryer. Use the packing material so you don't scratch the finish on the dryer.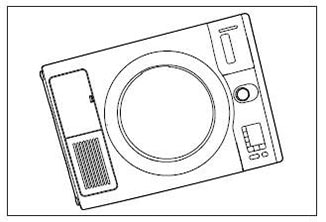 2
Install the rubber pads to the dryer base.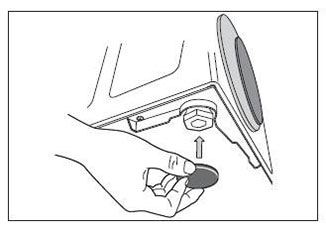 4
Install the bracket to the dryer.
5
With the help of assistance, lift the dryer on top of the washer.
Please note: Make sure you protect the washer control panel when lifting the appliance. Use cardboard or other protection and ensure that you lift the dryer high enough to clear the washer control panel.
6
Screw the bracket into place on the washing machine and dryer.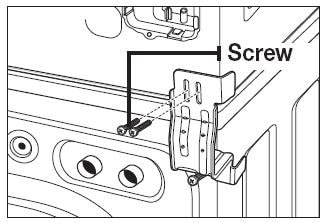 Please note: More than two people are recommended to lift the dryer into position because of its weight and size. Failure to do so could result in injury. 

7
Carefully slide or walk the stacked washer and dryer into place. Use felt pads or another sliding device to assist moving and to protect the flooring.
Please note: Do not push on the dryer once it is installed to the top of the washing machine. Pushing on the dryer may result in pinched fingers.
With a stacking kit draw
1
Loosen the feet on the bottom of your appliance by turning the feet clockwise. Ensure there is a minimum extension of 15mm on each foot.

2
Place the stacking kit on top of your appliance making sure the edges are lined up squarely.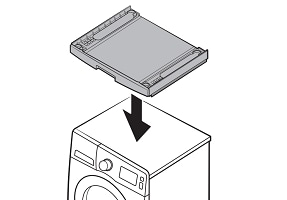 2
Pull out and remove the sliding tray from the stacking kit.
3
Use the short screws to attach the stacking brackets to the corners of the appliance.
4
Place the dryer on top of the other appliance.
5
Slide the dryer into place so that the feet are pushed into the grooves.
6
Attach the bracket legs and screw in the guide brackets to secure.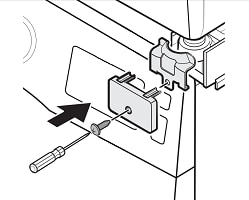 7
Slide the draw back into place.
Please answer all questions.