What are widgets and how do I add them to my Android smartphone or tablet?
A widget is a simple application extension that is often part of a larger application already installed on the device. Widgets come in all shapes and sizes, are customisable, and reside on any available Home screen for quick access. Widgets provide you with quick access to information without requiring you to open the app that manages this information. An example is the Calendar widget, which provides you a quick view of your upcoming calendar events without opening the Calendar application.
Adding a widget
1
On the home screen, tap and hold on an available space.
3
Select the widget you want. You will need to press and hold it to select it.
If you're looking for the Google Search bar, you will need to tap Google or Google Search, then tap and hold the Google Search bar widget.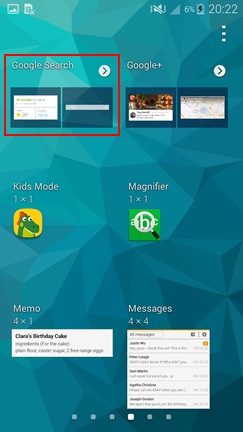 4
Drag and drop the widget onto the available space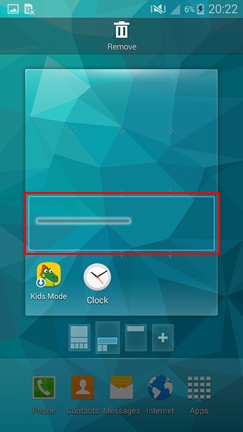 5
The widget is now displayed
Adjusting a widget
PLEASE NOTE: that not all devices support this feature.
To adjust the widget size, you will need to tap and hold the widget. A blue box will appear around the widget, at this point you can use the sliders to resize it.
Deleting a widget

To delete a widget from a Home screen touch and hold on the widget. Drag the widget to the Remove (delete) bar at the top of your screen and release it. The widget will be removed from the Home screen but will still be available in the Widgets tab, should you ever wish to put it back on your Home screen.

If you're experiencing unusual behaviour on Samsung mobiles, tablets or wearables, you can send us an error report or ask us a question in the Samsung Members app.
This allows us to a closer look at what is happening. The data is anonymised and only held for the duration of the investigation. Find out more about sending an error report through the Samsung Members app
Not finding what you're looking for? We're here to help.
Call
0333 000 0333General Support
Smartphone support | 24 hours, 7 days a week
All product support | 8am - 10pm, 7 days a week

0330 726 2677B2B Support
For business support
8am - 6pm, Mon - Fri
0330 726 7467Samsung Shop
For new and existing orders:
8am - 10pm, 7 days a week

Samsung Shop support closed on 20th October 2019
For Business Shop related enquiries:
8am - 6pm, Mon - Fri
Calls to 0330 numbers cost no more than calls to geographic numbers (01 or 02).
Calls from landlines and mobiles are included in free call packages.
Call charges are subject to change and this information is provided as a reference only.
Calls maybe recorded for training and quality purposes.
For information on how we collect and use your details, please refer to our Privacy policy.

* For any printer related enquiries please visit the HP website.
Contact Us