What do the notification light colours mean on my Samsung Galaxy smartphone?
Some Galaxy smartphones have notification LEDs which blink different colours to let you know about alerts on your phone. For new devices without a notification LED, use Edge Lighting to let you know that a notification has arrived.

Which devices have LED notifications?
LED notifications are available on the following devices:
Galaxy S9, S9+, S8, S8 Plus, S7, S7 Edge, S6, S6 Edge, S5, S4 Active, S4 Zoom, S4, S II Plus, S III
Galaxy Note9, Note8, Note7, Note5, Note Edge, Note4, Note3 Neo, Note3, Note II
Galaxy Alpha
Galaxy S10 does not have a notification LED light. Instead, you can choose to set up and customise Edge Lighting to let you know that a notification has arrived.
What do the LED notification light colours mean?
The LED indicator is located at the top left of the front of your device. It can display various colours such as blue, red and green. These colours are for standard notifications and functions of your device.
Blue
Pulsing: the device is turning on or off.

Blinking: connected to a charger but not charging, or when low on battery.
Red
Glowing: connected to a charger and charging.

Blinking: there is an unread notification (missed call, message etc) or during voice recording.
Green
Glowing: connected to a charger and fully charged.

Blinking: fully charged.
Other colours
If your device is blinking a colour that you don't recognise  (such as white, purple or pink), it is likely to be a notification from one of your apps. To change the colour, open the app, then go to the app's settings menu to find out which options are available.

Turning LED notifications on or off
You can turn LED notifications on or off in the "Settings" menu. Depending on your device and operating system, you will need to follow one of the following paths:
Settings > Notifications > Do not disturb > Hide notifications > No LED indicator OR
Settings > Display > LED indicator
Settings > Sound and notifications > LED indicator
For example:
1
Swipe up on the home screen to access apps.
2
Tap "Settings".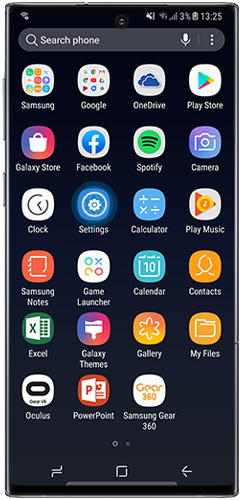 3
Tap "Display".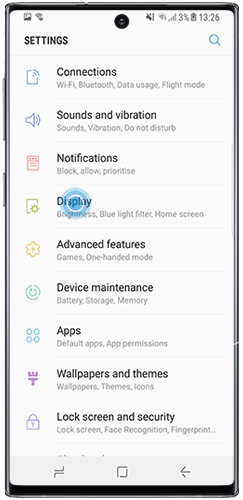 4
Tap the switch to turn the "LED indicator" on or off.
Not finding what you're looking for? We're here to help.
Call
0333 000 0333General Support
Smartphone support | 24 hours, 7 days a week
All product support | 8am - 10pm, 7 days a week

0330 726 2677B2B Support
For business support
8am - 6pm, Mon - Fri
0330 726 7467Samsung Shop
For new and existing orders:
8am - 10pm, 7 days a week

Samsung Shop support closed on 20th October 2019
For Business Shop related enquiries:
8am - 6pm, Mon - Fri
Calls to 0330 numbers cost no more than calls to geographic numbers (01 or 02).
Calls from landlines and mobiles are included in free call packages.
Call charges are subject to change and this information is provided as a reference only.
Calls maybe recorded for training and quality purposes.
For information on how we collect and use your details, please refer to our Privacy policy.

* For any printer related enquiries please visit the HP website.
Contact Us