65" HU8500 Curved Smart 3D UHD 4K LED TV
UE65HU8500TXXU
65" HU8500 Curved Smart 3D UHD 4K LED TV
is rated out of
5
by
9
.
Sorry! This product is no longer available
Wide Colour Enhancer (Plus)
Wide Colour Enhancer (Plus)
CURVED SCREEN
Wider viewing angles
Designed with a 4.2m radius curvature optimised for the average viewing distance¹ of most living rooms, it also offers a wider field of view by shortening the distance between you and the screen's corners to create more natural viewing angles.
CURVED SCREEN
Deeper sense of depth
Auto Depth Enhancer technology makes you feel like you're literally there by analysing different areas on screen and applying contrast enhancements to each of these areas to provide a superior sense of depth.
UHD UP-SCALING
UHD Up-scaling
Enjoy all your favourite live TV shows and Blu-Ray discs crisper than ever before.
CLEARER
PurColour
Appreciate the purest expression of colour. With the ability to produce more accurate and natural colours than ever before, your TV screen will open a new window into reality.
CLEARER
4 Times More Detail than Full HD
UHD produces the brightest, clearest images with four times the detail of Full HD to deliver an amazing viewing experience.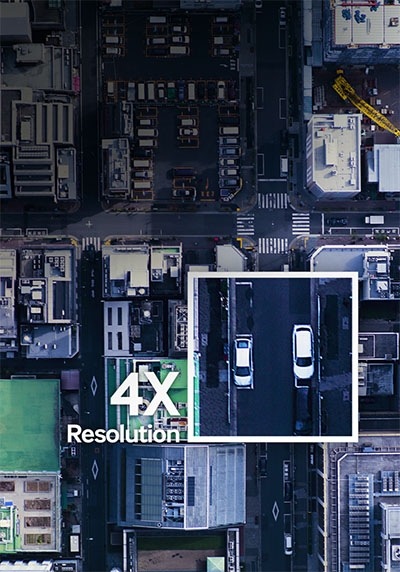 FUTURE READY
UHD Smart Evolution Kit
Unique to Samsung, the UHD Smart Evolution Kit² completely reengineers your TV without having to replace it. The HU8500 is compatible with all current UHD connected sources and can be upgraded to be compatible with future UHD standards as well.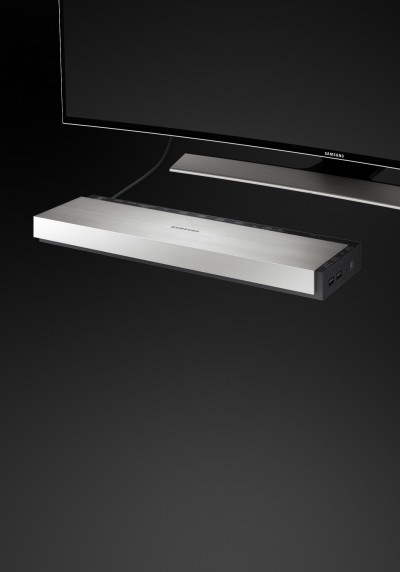 Multiscreen viewing

Samsung's Multi-Link Screen³ brings a broader level of multitasking to your viewing experience as it provides the ability to view multiple screens at once.

Quad Core Plus

The new Samsung Smart TV experience is lightning fast on the HU8500 thanks to the Quad Core Plus processor which is up to two times faster than Quad Core, delivering quicker loading and navigation. The powerful processor significantly boosts performance with speedier access to Smart features and true multitasking capabilities.

S Recommendation

S Recommendation with Voice Interaction⁴ lets you discover more of the TV you love by suggesting what's new to watch based on what you like. It intelligently learns your preferences; the more you watch the smarter it gets.

Smart Hub

The industry's reference Smart platform⁵ just got better. The leading Smart TV experience is now even more powerful, with faster access to Smart features, true multitasking and an intuitive interface.

Games Panel

The exciting new Games panel lets you and your family enjoy a wide variety of fun games instantly on the largest screen in your home, without the need for any additional hardware.

Samsung Smart Control

The new Samsung Smart Control combines a premium metallic ergonomic design with motion recognition, a touch pad and a new button console to provide you with simpler, more accurate content selection and ultra-responsive control.
A Closer Look
Everything looks super-sharp, no matter the source.

Through a UHD up-scaling process, the UHD picture engine converts Full HD, HD and lower resolution sources to nearly-UHD clarity.

Stay in touch.

A built-in camera pops up for easy Skype™ sessions with family and friends, or for controlling your TV with gestures. When it's not in use, the camera stays hidden to keep the beautiful, clean curve of your TV.

With its screen floating above a metal plate, this TV frames whatever you're watching so beautifully, it's as if nothing else exists.

It's like you're there.

With ultra-high-definition sharpness, colour accuracy and picture clarity, absolutely nothing comes between you and the most mind-blowingly vivid viewing experience.
3840 x 2160

Resolution

4200R

Screen Curvature

9

Series

Wide Colour Enhancer (Plus)

Wide Colour Enhancer (Plus)

4

HDMI

3

USB
Rated

5

out of

5
by
hotdog kenny
from
love this tv, got one just like this one
games look great on this, blu rays look even better...no matter where you sit ..great picture
Date published: 2017-10-08
Rated

5

out of

5
by
EDDIE
from
ITS SIMPLY THE BEST
ITS A SMART TV SO IT SETS ITS SELF UP , JUST PLUG AND PLAY. THE PICTURE QUALITY IS STUNNING. I ALSO HAVE THE CURVED SOUND BAR TO GO WITH IT THE TWO EXTRA 360 SPEAKERS GIVE IT TRUE SURROUND SOUND I LOVE IT
Date published: 2016-08-31
Rated

5

out of

5
by
Irfan
from
Great screen!
At first the curve seems like a gimmick. But after a few hours use, you dont notice the screen curving unless you look at the top or bottom of the frame. Upscales 1080p to UHD very well with little issues. Not perfect but from a normal viewing distance its as good, if not better, than a HD tv. partly due to the upscaling but also due to the newer technology in the screen itself.
Date published: 2014-10-14
Rated

5

out of

5
by
graffa
from
The Awesome 65HU8500 Curved TV
I bought this tv for two reason,1, my last 3 TVs have been Samsung and have never let me down, 2, the reviews were excellent. I have had it now for 2 weeks and have tested every feature and different input sources. The main outcome of these tests are that this TV is unbelievable, the picture quality is amazing, skin tones are perfect, blacks are black and on my tv I have not noticed any clouding on dark backgrounds. Blu Ray movies look better than ever, gaming on Xbox One, 360, PS4 are amazing and I must say I disagree with some of the reviews which state high lag when gaming, I have had no lag issues, but this could be down to firmware updates. 3D is awesome, Sky HD looks good, but some SD channels can look bad if it is showing a poor video quality programme. The smart function is impressive and very responsive, Netflix, Amazon Prime Video, iplayer all look excellent. I have tested the sound and for TV speakers are good, but I will always recommend a AV setup, if you have the space and dont mind having speakers on the wall, and an understanding wife!!! If you can afford this awesome television, I would highly recommend you go out and buy this, you will not be disappointed.
Date published: 2014-10-02
Rated

5

out of

5
by
SamFan
from
After a bad start....
I opted for the 55" and it looked stunning, one problem, it kept switching off. After a visit from Samsung the TV was declared scrap and therefore I opted to upgrade to the 65". I have to say this has been perfect and looks stunning in your room, even turned off. As for the 55", come on Samsung, you can do better!!!!!
Date published: 2014-06-13
Rated

5

out of

5
by
JasonB1979
from
Amazing TV
First i received this TV within one day Great customer service Thank You Richer Sounds. Setting up TV easy, once you plug in the tv and it bursts in to life Samsung logo and the little animation pops up and i got little shivers on the back of my neck. Then the menus are easy to use and 3D is WOW the 4K upscaling amazing i tried a 4K trailer on this tv its Amazing picture and sound. This is one Very Smart Amazing TV! now to Gaming (consoles) I have a PS4 and i tried it on FPS on a racing game and some other apps and there no lagging or delays just to let others know as i could not find anything online about console gaming for this tv so if you want to get this tv and love gaming cant go wrong here. I give this TV 5 Stars (Amazing TV this is a Must Buy )
Date published: 2014-05-24
Rated

4

out of

5
by
K123456
from
overall good product
Features are great !!!! Need more updates and apps!!! the TV stand should be improved to bear the weight of the TV.Try to Include more games in high quality.Need more 4K UHD content..!!!
Date published: 2014-11-16
Rated

3

out of

5
by
Jayshappy
from
Good feature's
Good features and picture but connection box is too bulky for wall hanging!!
Date published: 2016-09-09
Smart Simulator
User manual & Downloads
Live Chat