49" MU7000 Active Crystal Colour Ultra HD certified 4K HDR 1000 Smart TV
UE49MU7000TXXU
49" MU7000 Active Crystal Colour Ultra HD certified 4K HDR 1000 Smart TV
is rated out of
5
by
8
.
BUNDLE
HDR1000/Extreme
Dynamic Crystal Colour
Ultra HD certified
Clean Cable Solution
* The peak brightness is up to 1000 nits and may vary depending on the model and size of the TV. ** HDR Extreme on 75" and 82" screen sizes.
Dynamic Crystal Colour
Experience crystal clear, lifelike colour. With more than one billion hues, the Dynamic Crystal Colour display delivers picture-perfect results.
*49"screensizeshaveActiveCrystalColourwithan8bitpaneland17millioncolours.
Supreme Motion
See stunningly clear movement with Supreme Motion for action scenes and every shot on goal.
*TheactualmotionratemayvarydependingonthesizeoftheTV.**SupremeMotionnotavailableon49"screensizes.
*TheactualmotionratemayvarydependingonthesizeoftheTV.**SupremeMotionnotavailableon49"screensizes.
Precision Black
See detail with spectacular black levels. Precision Black divides the screen into a series of tiny zones, analysing each one independently to adjust colour, brightness and contrast.
Peak Illuminator
See dazzling sunrises, striking lightning bolts and dramatically impressive scenes in amazing levels of life-like brightness through Peak Illuminator technology.
Innovation is in the Details
*Actualproductmaydifferfromimageshown.Pleaseseeourproductgallery.
Clean Cable Solution
The stand lets you run cables through it, keeping all your connections out of sight and leaving the elegant, minimal TV design uncompromised.
One Connect
Hide the box from view, connect all your devices and inputs then control them via the One Remote Control.
360° Design
Enjoy a TV that feels at home in any living space, with form and function that combine to create a design that's beautiful from every angle.
Superior Design
Exceptional design means there is barely a bezel to get in the way of your viewing experience.
A beautiful back
See polished perfection from all angles, with clean lines and slim design that radiates minimalism and elegance.
One Remote Control
Control all of your compatible devices and content with the One Remote Control.
* Netflix streaming membership required.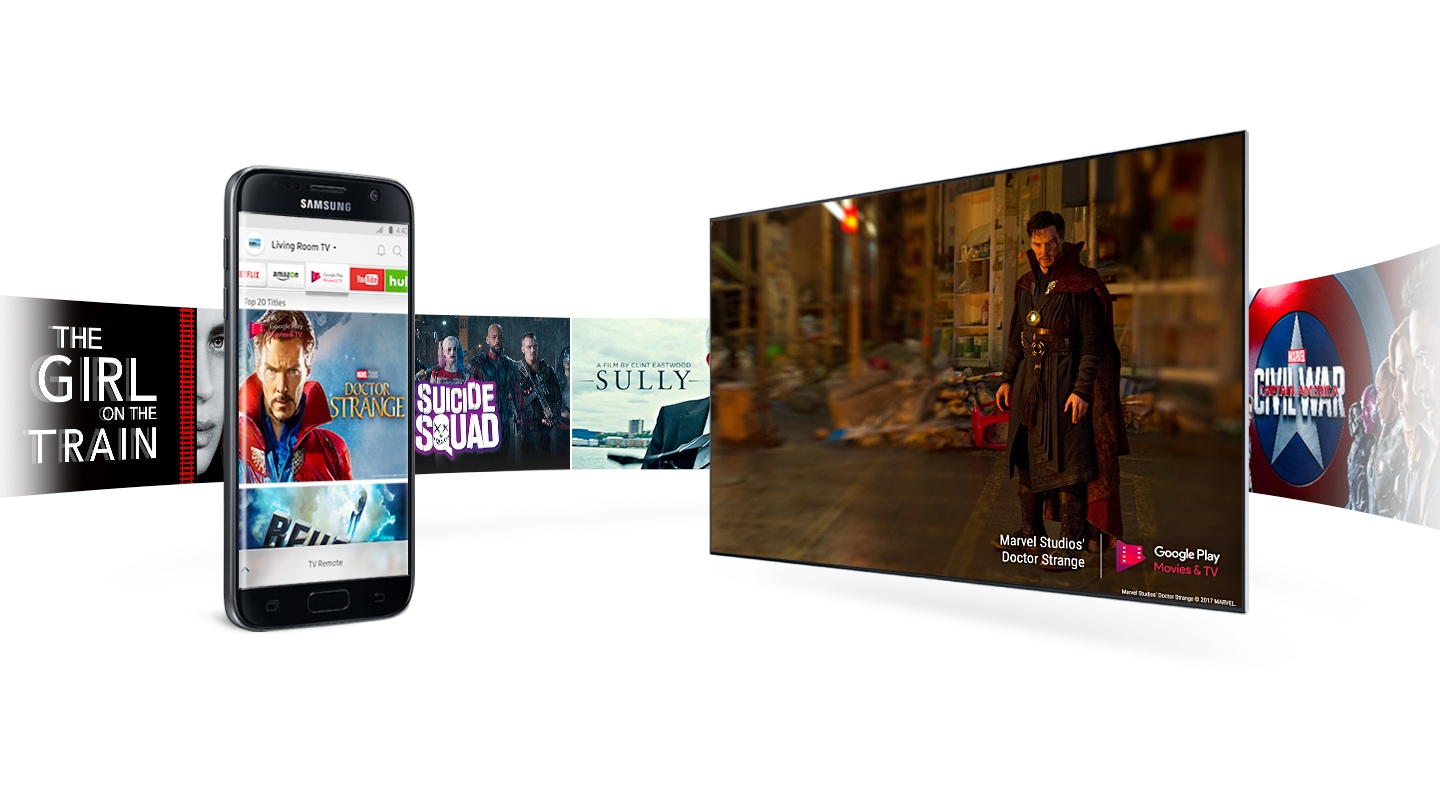 *Compatible phone and app required.
Smart Hub
Discover easy access to all your content and connected devices from one place through Samsung's intuitive 2017 Smart Hub.
*Actual product and remote control may differ from image shown.
*Actual product and remote control may differ from image shown.
Auto detection
Find and recognise all your connected devices faster. Samsung TV automatically displays device names, and makes all your input selections a breeze.
* Devices must be connected to One Connect via HDMI cable.
* Devices must be connected to One Connect via HDMI cable.
Rated

5

out of

5
by
JTM93
from
Great Tele
Brilliant television, very good value for money. Straightforward and intuitive to set up and the Samsung box to connect all of the inputs to makes for a very clean look in the living room. Would definitely recommend.
Date published: 2018-07-03
Rated

5

out of

5
by
Andreea
from
Good product
It's really amazing for this price, the best product
Date published: 2018-06-19
Rated

5

out of

5
by
Toni
from
awesome tv
awesome tv excellent picture and sound, recommend.
Date published: 2018-05-16
Rated

5

out of

5
by
granite city
from
stylish tv
had the 49mu7000 since JULY 2017 still trying different settings with motion plus I use natural picture setting suits me overall very pleased with TV
Date published: 2017-09-07
Rated

4

out of

5
by
Geoff2112
from
Showbox
I have a amazon tv 4K box with showbox on it can anyone tell me why it won't work on this tv.
Date published: 2018-03-15
Rated

2

out of

5
by
London101
from
It's an ok tv, I expected more.
Design: The tv looks great. The remote is responsive, beautiful and it's easy to learn and adapt to. The stand is made of two legs, one at each side and this isn't great: it's not versatile, you'll struggle to adjust the tv angle by moving the stand as the whole tv moves with it, ie: it doesn't swivel at all. Really not sure why they made the stand like that. Also, you'll need to make sure it fits your existing furniture. Connections: 4 HDMIs which is great. No scart input unfortunately (but this is to be expected in 2018 I suppose). All connections are through this box that you're supposed to put on the floor and its aim is to hide all your cables which on paper is good but the execution is very poor. Instead of seeing the cables behind the tv, now you see them behind the tv AND the floor. Also, regardless of whether you paid for premium cables, all your devices are linked to the tv through the tv's main cable (the one that connects the tv to the connections box which sits on the floor). This is my biggest gripe, I would not have bought this tv had I known this in advance, i.e.: there are not inputs at the back of the tv, devices can only be connected via this stand-alone box. I find the TV doesn't "play" well with Apple TV. I have two ATV 4K boxes connected and I experience the same connection problems wiht both all the time. (The Apple TV 4K was the reason I decided to upgrade to a 4K). Picture quality: Here's the ugly truth: if you're upgrading from a Full HD tv to 4K, you shouldn't. There is very little content on 4k (none of the UK channels) and the difference between fulll HD and 4K is very small, apparently you need an OLED tv in order to see and feel this difference. Contrast controls are good but I find I still fiddle with them on a daily basis to achieve a good quality. Sound: Probably the biggest flaw is the sound. Although there is an equalizer, it's very limited and doesn't do too much. There's always too much bass in the sound whatever the settings. Bluetooth speaker connectivity is good/reliable. Software: The Samsung HUB interface is great. Better than other android TVs I've used. Also maintains good connection to wifi. Price: I think this model is way overpriced for what it is. It has a high end price (in its category) which is not on a par with the overall quality.
Date published: 2018-04-13
Rated

1

out of

5
by
Anonymous
from
Flawed screen light leaks and Dirty screen effect
I bought this TV last month and noticed when panning across grey streaks would appear on the screen there was also small light leaks radiating from the bottom of the screen. A technician came round and the TV was replaced with another TV with the exact same kind of fault small light leaks from the bottom and dark line through the screen when panning. Im giving up with this TV so disappointed the screen and operating system apart from this were amazing but both screens had this issue. Poor manufacturing maybe?
Date published: 2018-07-24
Rated

1

out of

5
by
Orfy
from
Not recommended
Not the best tv. Quite a lot of juddering on fast moving objects which gets more and more frustrating the longer you have the tv. Stay clear
Date published: 2018-02-19
User manual & Downloads
Live Chat
*Terms and conditions apply.
Certain features with the Smart Hub may not be available without expressed consent regarding the collection and use of personal information. Content available through Smart Hub may vary among product categories, models and territories. Certain applications must be purchased and may not be available in all regions.
Internet connection and compatible controller required. List of compatible controllers available here *