Use the available cycles on the Samsung AirDresser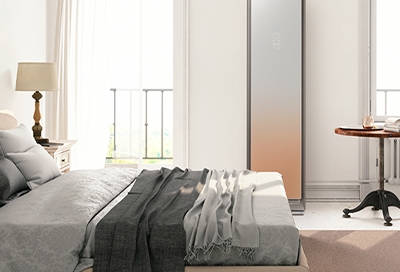 If you're caught in a storm and need to quickly warm up your wet jacket, or want to freshen up that musty holiday sweater for a party later, your AirDresser has the solution. Refresh your items using care cycles for each fabric type and situation, like removing wrinkles from a dress shirt or sanitizing a blanket. Choose the specific cycle for your garments, and you'll be ready to put on a dry, wrinkle-free, fresh outfit.
Note: Always review the care tags on your garments to make sure you are using the correct cycle.
Daily and Special cycles
Refreshing anything from standard cottons to heavy wools is as simple as selecting the appropriate cycle. Just touch your desired option under Care Mode to access the different Daily Cycles.

Daily Cycles:
Normal: (48 minutes) Suitable for everyday wear, such as shirts, skirts, and pants.

Delicates: (40 minutes) Meant for frail fabrics such as chiffon and lace. This cycle should be used for embellished and decorative items as well.

Quick: (24 minutes) Choose this cycle for slightly wrinkled clothing, or for freshening up items with light odors.

Sanitize: (132 - 140 minutes) After you've been sick, use this cycle to sterilize your bedding or household items. Avoid placing more than one bulky item in the AirDresser at time to ensure the item is properly steamed.
To use the Special Cycles, touch Special under Professional Care, and then touch the left and right arrows to view the different cycles.
Suits: (40 minutes) Used for sharpening the creases in pants and smoothing out jackets. For straighter creases, use the Weight Kit to keep pants taut while hanging.

School wear: (74 minutes) Ideal for uniforms that are worn daily and cannot be washed often.

Winter Coat: (54 minutes) For long, thick winter coats that you may not be able to put in your wash.

Wool/Knit: (34 minutes) Refresh woolen and knit sweaters or dresses. Fold items on the shelf instead of hanging them, so that the fabrics retain their shapes and won't get stretched by a hanger.

Outdoor: (57 minutes) Use this cycle for activewear or gear that is frequently worn outside or while exercising.

Down Jackets: (59 minutes) Adds fluff to down-filled jackets and coats that may have been in storage for an extended period of time. To allow for proper air circulation, use the middle air hole for hanging these items.

Fur/Leather: (30 minutes) Carefully removes dust and dirt from furs and leathers. Check the care labels thoroughly for these garments, and refresh one item at a time.

Heavy Duty: (89 minutes) If you need to freshen up multiple everyday items at once, use this cycle.

Self Clean: Select this cycle to clean the AirDresser's interior. Make sure to remove all items before beginning Self Clean.
Dry cycles
Let your AirDresser determine how to dry each item, or set the time yourself if you'd like to wear something later in the day. These cycles are perfect for coats, hats, or gloves that have gotten wet in rainy or snowy weather.
Sensor Dry: The default drying time for this cycle is 1 hour and 30 minutes. Your AirDresser is able to figure out the appropriate drying time for specific clothing, so the cycle length may change. If extremely wet or bulky items do not dry thoroughly, you can run the cycle a second time.

Time Dry: Select from one, two, or three hours for your items, like a damp raincoat you'll need to wear again in an hour.

Room Care: Dehumidifies the immediate area of your AirDresser. You can set the timer to two or four hours. Remove all items from the AirDresser before starting Room Care.
SmartThings Cycles
If you're looking for a denim-specific cycle to freshen up your favorite pair of jeans, you can use the SmartThings app to download it. The app also has other special cycles available for download.
First, make sure your AirDresser is connected to the SmartThings app on your phone. Touch Power on your AirDresser, and then touch Special. Touch Download, and then view the instructions on your phone to choose up to six new cycles, including Denim, Down dry, Babywear, Bedding, Toys, and Accessories.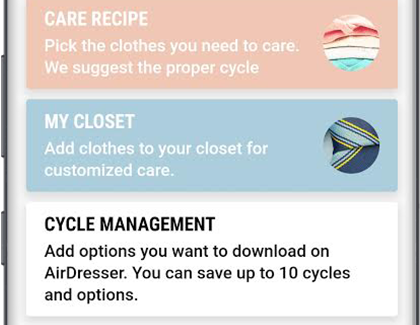 Run a cycle
Once you've found the appropriate care cycle to use, learn how to operate your AirDresser's parts and accessories to make sure everything continues to work properly every time.
Begin by filling the Refill tank with filtered water, so the cycle can start with fresh steam. Next, choose the items you'd like to refresh by placing them on the Air Hangers, the Accessory rack, or folding them on the Shelf. Touch Power on your AirDresser's control panel, and then select a care cycle for your items. Touch and hold Start/Pause for three seconds to activate the cycle. Once it's complete, remove the items carefully and as soon as possible. If a garment is on an Air Hanger, hold the hanger as well.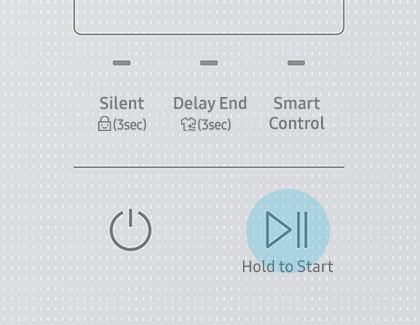 Additional options such as Silent, Child Lock, and Keep Fresh can be selected at this time as well. Touch and hold Silent for three seconds to initiate Child Lock, and touch and hold Delay End for three seconds to turn on Keep Fresh. You should select the Keep Fresh option if you are not able to remove items right at the end of a cycle.
Following a cycle, the water tray at the base of your AirDresser should be emptied if necessary. The interior air and lint filters should be checked for remaining dust or dirt, especially after caring for heavy or large items. Both filters can be cleaned with a soft brush and then reinserted for further use.

Other answers that might help
Contact us
We're here for you.
1-800-SAMSUNG

8 AM - 12 AM EST 7 days a week

IT/ Computing - 8 AM to 9 PM EST Mon to Fri

Request a call
Want help right away?
Email as a contact option was discontinued as of April 3rd, 2019. Please contact us via Live Chat for a faster response.
Call or Text Us
Give us a call
How can we help you?
Mobile

8 AM - 12 AM EST

7 days a week

Home Electronics & Appliance

8 AM - 12 AM EST

7 days a week

IT/Computing

8 AM - 9 PM EST

7 days a week

Text Support

24 hours a day

7 Days a Week
home-appliances|air-dresser
We're here for you
Contact Samsung Support
Contact us online through chat and get support from an expert on your computer, mobile device or tablet. Support is also available on your mobile device through the Samsung Members App.