Bubble technology
Bubble technology
A+++
Energy Efficiency Class
FEATURES
AddWash™ lets you add to the wash during the wash
Wash cool and save energy with ecobubble™ technology
Why wait? Control your washing from anywhere with Smart Control
Huge 12 kg capacity to wash even more in one load
Add to the wash during the Wash
Add to the wash during the wash
Open the innovative AddWash™ door to quickly drop in anything extra during the wash* – whether that's a stray sock you missed, extra softener, or a hand-washed garment for final rinsing.
* AddWash™ door can be opened at any time when the drum temperature is below 50 °C.
Undeniable performance of
bubbles
Our efficient ecobubble™ technology mixes air, water and detergent to create bubbles that penetrate your clothes faster, helping you wash at cooler temperatures. Better for the environment and your bills.
* Tested in accordance with IEC 60456-2010 / 4 kg Wash Load / Super Eco Wash cold (WF80F5E5U4W) vs. Cotton 40° without ecobubble (WF0702WKU). Individual results may vary.
** Based on the Performance Lab Test report by Springboard Engineering on EMPA strips, between normal detergent solution and bubble technology without mechanical action.
*** Drum pattern may not be identical with actual product.
Powerful Cleaning in Less Than an Hour
Our Twin Water Supply fills your machine faster, and a clever Spin Speed Rinse accelerates your cycle, cutting a standard 5 kg wash (that's 25 t-shirts) to just 59 minutes. Meaning less time waiting, more time for you.
Time Saving
Start
Speed Spray
Fast spin
Finish
* Based on Super Speed at default settings with a 5 kg load.
Intensive Stain Removal
Whether its cotton, synthetics or baby clothes, add a 30 minute Bubble Soak to any of your preferred programmes at the touch of a button. Then let our unique ecobubbles penetrate deep into the fabrics to loosen tough stains – giving you a thorough and efficient clean after every soak.*
* Tested in accordance with IEC 60456 5th edition / 8 kg Wash Load / Bubble Soak Wash (WF80F5E5U4) vs. Cotton 40 / 60°, Synthetic 60° and Denim 40° without Bubble Soak (WF0702WKU).
12 kg Capacity.
Less washes,
more time to relax
The Samsung WW8500 washing machine's huge 12 kg capacity lets you wash piles of laundry in a single load – meaning you can enjoy less time washing and more time for yourself.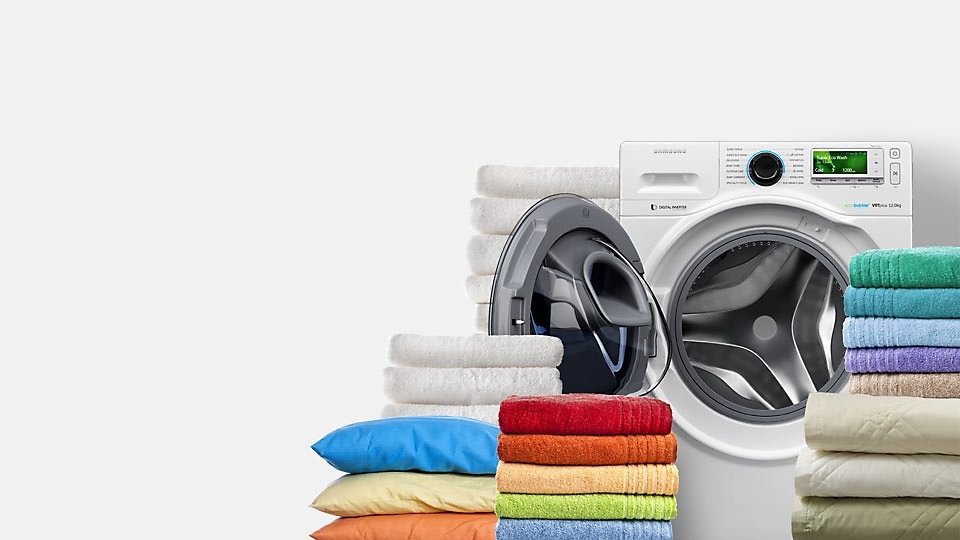 Quiet, reliable
performance
The quiet Digital Inverter Motor gives you long-lasting, reliable performance. Less noise, less vibration and less wear and tear – it even has a 10 year warranty.
Less noise and
vibration
Thanks to our VRT technology, now everyone can enjoy a more peaceful wash with a drum that keeps in perfect balance, even at high spin speeds.
* Compared to Samsung conventional washing machine without VRT feature
** The actual noise / vibration level may be different by the operating environment.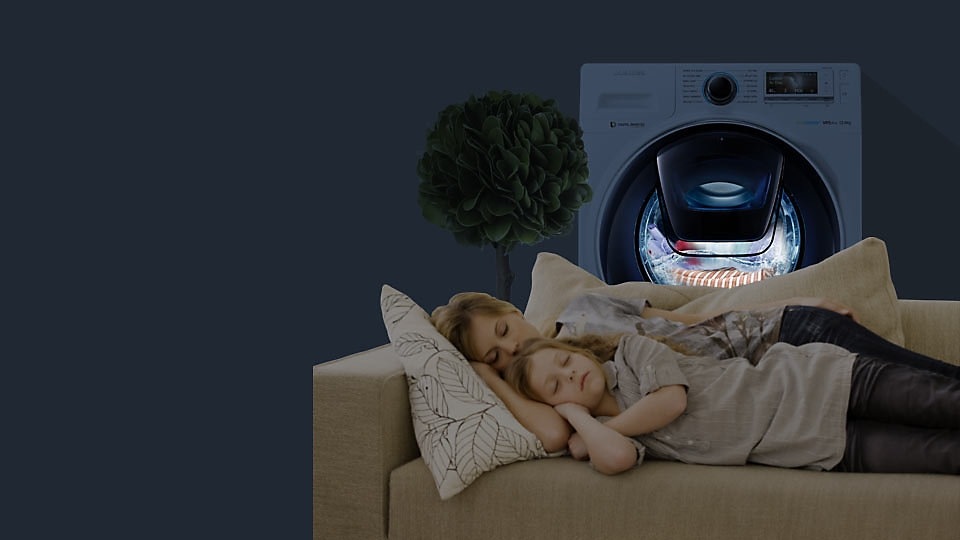 Support at
your fingertips
Smart Check is an automatic error-monitoring system that detects and diagnoses problems at an early stage. Using a Smartphone App*, this useful feature provides quick and easy troubleshooting solutions, saving you from the inconvenience of unnecessary engineer callouts.
* Available on Android and iOS.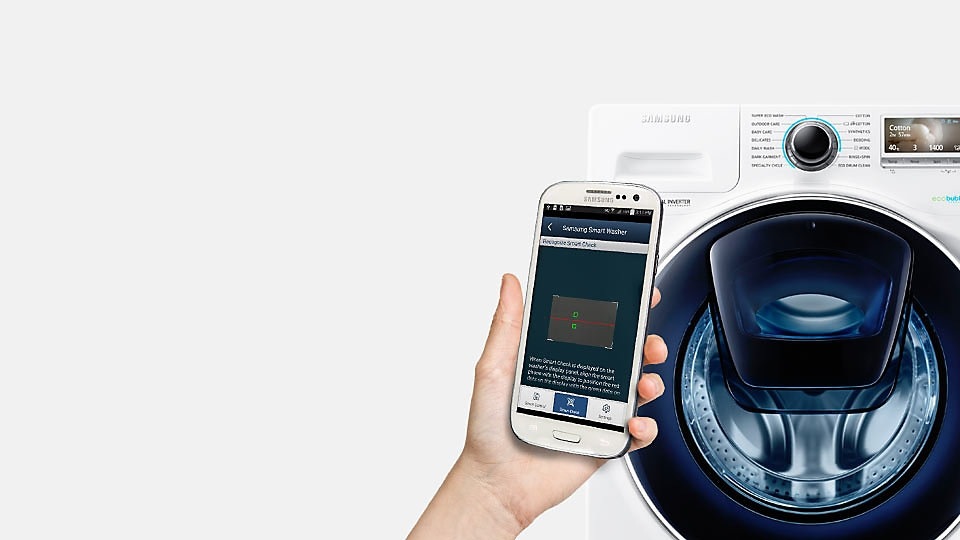 Compare
WW7500, 9 kg

WW7500 AddWash™, 9 kg

WW8500, 12 kg

WW8500 AddWash™, 12 kg

WW9000, 10 kg

WW9000, 10 kg

Available colours

ecobubble™

AddWash™

Smart Control

Colour LCD Screen

Specialty Cycles
12 

Washing Capacity (kg)

Bubble technology

Bubble technology

VRT plus

VRT

A+++

Energy Efficiency Class

600 x 850 x 600 mm

Net Dimension (WxHxD)

76 kg

Net Weight
Rated

5

out of

5
by
SjGGjB88
from
Excellent washing machine
Very comprehensive range of washing features catering for all eventualities. When running at 1400 spin you cant hear it! This is so impressively quiet and stable. Clothes finish a 1400 spin practically dry. The wash capabilities of the shortest eco quick wash is just phenomenal - this washer really does get things clean in a very short time. It is a very attractive, modern piece of kit that has a lovely display screen. I thought the add-wash was a bit of a gimmick but I use it surprisingly often...and take a lot of satisfaction in putting that odd sock in. I never write reviews, but just had to get this message out. Genuinely worth the investment.
Date published: 2017-08-04
Rated

5

out of

5
by
kevin
from
amazing
amazing product get one now it's so great, really relly vchdgfvcb
Date published: 2017-02-09
Rated

5

out of

5
by
Pammy50
from
Great features. Easy to use
I love love love it. Great results especially with the bubble wash. More washing options than you will ever need
Date published: 2016-08-29
Rated

5

out of

5
by
monika
from
love my new eco washing machine
i got my 12kg eco bubbles machine now 4 weeks .... is a very nice looking and very Quiet when its spinning ... and its amazing who clean the washing is after the super eco wash with cold water wash i'm so happy thank u Samsung for making my life easier x
Date published: 2016-07-15
Rated

5

out of

5
by
DaFluff
from
Quiet, looks fantastic too
This washer is super quiet, even on its fastest spin. Loaded with features and easy to use. It is expensive, but the quality, looks, and performance are first class.
Date published: 2016-06-11
Rated

4

out of

5
by
PTN2018
from
WW8500 AddWash - Great machine, but no 50C wash
Bought this quite expensive Samsung machine to replace a cheap machine from another company. It's so much quieter and cleans so much better. Really liking the little hatch to add clothes that have dropped on the way to the machine. Not used the wireless app, can't really see any benefit to that. My electricity bill has also dropped since buting this machine, so guess my old machine was very inefficient. Only thing I would like is a 50C wash.
Date published: 2018-10-01
Rated

3

out of

5
by
SiLutt
from
Bubble Soak Possibly A Myth
Machine Number 1 Leaked around the door. No obvious 'bubble soak' Fabric conditioner was consumed within 10 minutes of a wash cycle. On spin cycle there was an annoying clicking noise from the centre surround to the selector. The slightest touch could stop the noise but it would be very noticeable even above the noise of the spin. Possibly not helped by having a quiet spin! I question whether there was some major problem with the programming. The bubble soak was meant to add 30 minutes to the wash cycle which it did on the timer but there was absolutely no bubbling or difference in the wash cycle. Machine was replaced due to the leak. Machine Number 2 Again I really question whether the 'bubble soak' is actually happening as there is not any build up of bubbles in the was with the cycle selected. My father has a 9kg ecobubble (non-addwash) Samsung washer and you definitely see bubbles appear in the window to atleast 75 up the window. I've noticed that when you start the washing machine it doesn't now go through the check of wait before starting so maybe it can't calibrate how much water to put in to the wash cycle. You never really see much water in the wash during any of the cycles. The clothes do seem to be washing well which is a good point. We have the same annoying clicking noise from the centre selector area which again with the lightest of touches stops. Possibly the unit needs an extra fixing clip to hold the flimsy plastic! The drum is huge which is great. The blue glass is great on looks but a complete pain if you want to check the wash. Luckily the internal light is fitted! Overall having spent so much money on a washer I really question why i'm having such consistent issues. It should be delivering what the marketing says. Hopefully I do not live to regret the purchase!
Date published: 2017-08-17
Rated

2

out of

5
by
Arinola
from
Just want to get the machine.
I just want to know if it has an inbuilt dryer that will dry the cloth
Date published: 2018-11-24
User manual & Downloads
Live Chat