WW6500 AddWash™ Washing Machine with ecobubble™, 9 kg
WW90K6414QX/EU
WW6500 AddWash™ Washing Machine with ecobubble™, 9 kg
is rated out of
5
by
8
.
BUNDLE
AddWash™
Bubble technology
Bubble technology
A+++
Energy Efficiency Class
Features
AddWash™ lets you add to the wash during the wash
Wash cool and save energy using ecobubble™ technology
Why wait? Control your washing from anywhere with Smart Control
Wash an average sized load in just 59 minutes with Super Speed Wash
Add to the wash during the Wash
Add to the wash during the wash
Open the innovative AddWash™ door to quickly drop in anything extra during the wash* – whether that's a stray sock you missed, extra softener, or a hand-washed garment for final rinsing.
*AddWash™ door can be opened at any time when the drum temperature is below 50 °C.
Take control anytime, anywhere
With our mobile app, your smartphone is the remote control for your WW6500 washing machine. You can check the washing from the sofa the office or even when out and about.*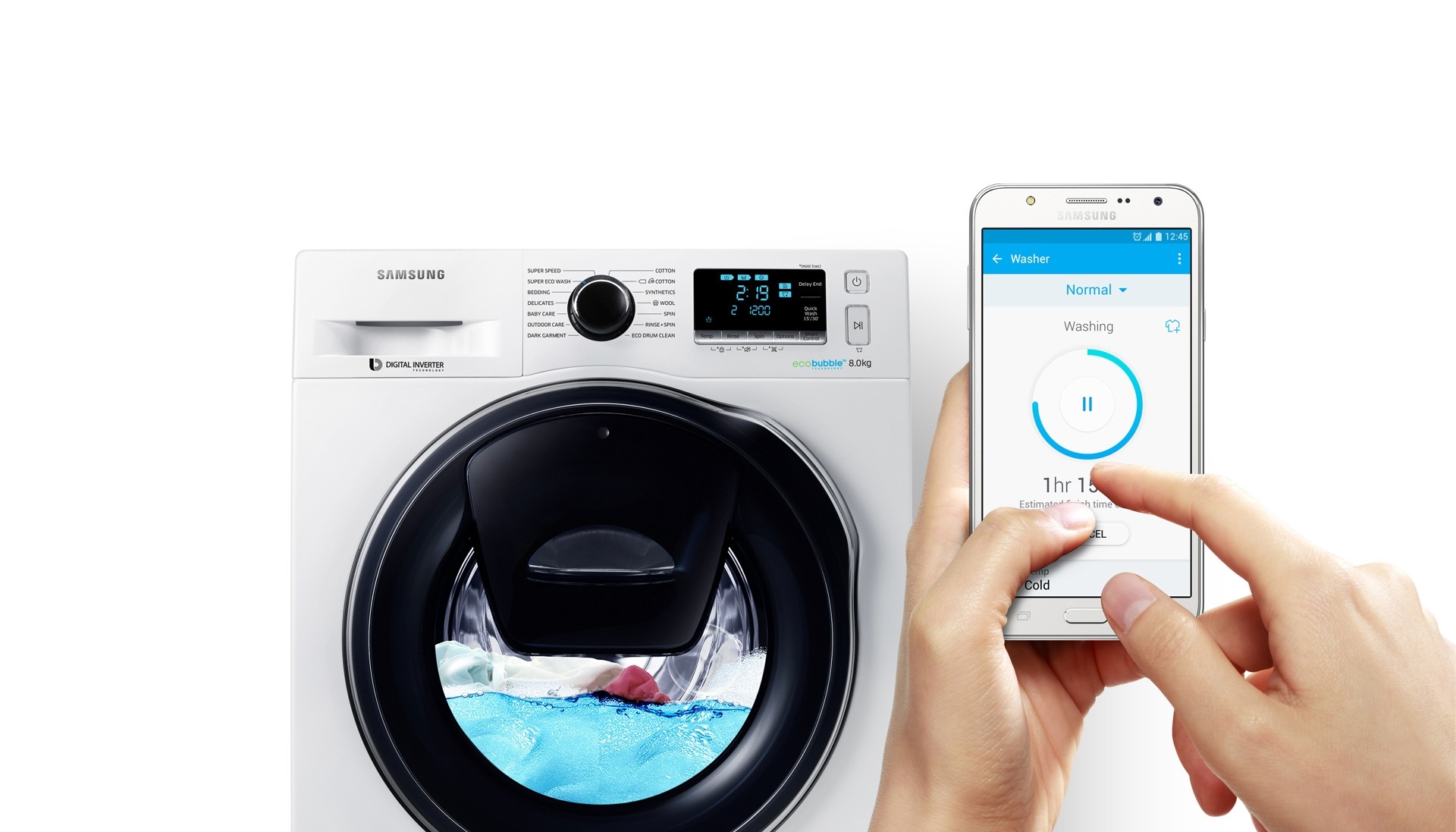 *Available on Android and iOS.
Undeniable performance of bubbles
Our efficient ecobubble™ technology mixes air, water and detergent to create bubbles that penetrate your clothes faster, helping you wash at cooler temperatures. Better for the environment and your bills.
* Tested in accordance with IEC 60456-2010 / 4 kg Wash Load / Super Eco Wash cold (WF80F5E5U4W) vs. Cotton 40° without Eco Bubble (WF0702WKU). Individual results may vary.
** Based on the Performance Lab Test report by Springboard Engineering on EMPA strips, between normal detergent solution and bubble technology without mechanical action.
*** Drum pattern may not be identical with actual product.
Powerful Cleaning in Less Than an Hour
Our Twin Water Supply fills your machine faster and a clever Spin Speed Rinse accelerates your cycle, cutting a standard 5 kg wash (that's 25 t-shirts) to just 59 minutes. Meaning less time waiting, more time for you.
Super speed
Speed spray
* Based on Super Speed at default settings with a 5 kg load.
Intensive Stain Removal
Whether its cotton, synthetics or baby clothes, add a 30 minute bubble soak to any of your preferred programmes at the touch of a button. Then let our unique ecobubbles penetrate deep into the fabrics to loosen tough stains – giving you a thorough and efficient clean after every soak.
* Tested in accordance with IEC 60456 5th edition / 8 kg Wash Load/Bubble Soak Wash (WF80F5E5U4) vs. Cotton 40 / 60°, Synthetic 60° and Denim 40° without Bubble Soak (WF0702WKU).
Extraordinarily beautiful design
The Crystal Gloss Door in Ocean Blue, offers the ultimate in aesthetic pleasure and can infuse your home with an ocean-like calm. The handle is also 45 degrees higher, so it opens easier.
Quiet, reliable performance
The quiet Digital Inverter Motor gives you long-lasting, reliable performance. Less noise, less vibration and less wear and tear – it even has a 10 year warranty.
Support at your fingertips
Smart Check is an automatic error-monitoring system that detects and diagnoses problems at an early stage. Using a Smartphone App*, this useful feature provides quick and easy troubleshooting solutions, saving you from the inconvenience of unnecessary engineer callouts.
*Available on Android and iOS.
Compare
WW6500, 9 kg

WW6500 AddWash™, 9 kg

WW6500, 9 kg

WW6500 AddWash™, 9 kg

WW8500, 12 kg

WW8500 AddWash™, 12 kg

Available colours

ecobubble™

AddWash™

Smart Control

Colour LCD Screen

VRT
9 

Washing Capacity (kg)

Bubble technology

Bubble technology

A+++

Energy Efficiency Class

600 x 850 x 550 mm

Net Dimension (WxHxD)
Rated

5

out of

5
by
Chris
from
A great washing machine
We are very pleased with this washing machine. It is easy to use and has a very good range of wash, rinse and spin options. The machine is very quiet. We particularly like the Ad Wash door and it has been well used. We would certainly recommend this product
Date published: 2017-09-13
Rated

5

out of

5
by
AlwaysWashing
from
Superb washing machine with great set of features
Looks wise, this is a very smart looking machine! As for features, I can't think of anything it *doesn't* have, with plenty of options and programs to suit all requirements. In terms of performance, it cleans better than any machine I've previously owned, even on lower temperature settings, and is significantly quieter. Whilst initially I thought the internet connected features were a little gimmicky, the simple fact of being notified that the wash is finished is really useful when you have a stack of washing piled up ready to go! The 'add wash' drawer is also a useful feature - when you turn around and notice that sock or shirt that fell from the pile of clothes you just loaded and the door is now locked, with this machine, you can simply pop them in with the rest. Definitely the most expensive washing machine I've ever bought, however so far it seems like it worth the extra money, especially considering how much washing my family generates!!!
Date published: 2017-08-25
Rated

5

out of

5
by
Redrum1965
from
Samsung Washing Machine ww90k6414qx
Needed a washing machine rapidly, chose this one on line. Very stylish easy to install washes well spins well with a top speed of 1400 rpm and a 9kg load great digital display with plenty of settings choice easy to use once you have flicked through the book. Registered the product and got a 5 year warranty as backup. The machine uses the modern inverter motor and is pretty quiet too. It plays a nice tune on switch on and turn off. Looking good for the future but time will tell. I will hopefully set my 6 edge plus up for notifications of the wash once i have installed the app.
Date published: 2017-06-28
Rated

4

out of

5
by
Ash7
from
Can't find the quick wash option...?
I have the 9kg addwash machine, it looks good, sounds even better (or rather hardly any sound!) however I can't find the quick wash option? The quickest cycle is delicates cycle which is still almost 1 hour long? Overall, fab machine and would defo recommend!
Date published: 2017-11-20
Rated

1

out of

5
by
Livermanx
from
Poor design on the rubber door seal
This gave a great wash with some smart features and easy to follow guides. This being a top end spec machine I expected the parts to be as good as comparable machines I've owned previously. Family 3 usage, 2 weeks over the warrenty and the rubber door seal at the top has developed a cut in it. On inspection its clear that its due to a plastic drain insert which has a sharp edge to it on the inside and this has over time cut into the seal as shown in the photos. classic its 2 weeks out of Warranty. So for a £700 machine its poor design. Back to Bosch.
Date published: 2019-05-23
Rated

1

out of

5
by
Harry S
from
The smart control feature is useless
I purchased this machine 2 weeks ago with the understanding that I can use smart control to remotely start and stop the machine but unfortunately been told that with this particular model you only get a cycle started and cycle completed notification to your phone ....you cannot pause or update any settings ...what is the point ?
Date published: 2019-04-24
Rated

1

out of

5
by
PaulPJ
from
Uses constant 25w when turned off. Not very ECO
Uses constant 25w when turned off. Not very ECO. This is actually turned off. like pressed off and all lights are off. With electricity prices in UK nearly trippled in the last 15 years i like to know what devices are leaching my electricityand doing nothing for it. Well this is one.
Date published: 2019-02-13
Rated

1

out of

5
by
Unhappy Ivan
from
2nd machine. This isnt balanced on spin either.
2nd machine. This machine doesn't spin correctly and unbalanced. No matter how much washing you have in it the drum doesn't spin in a circle. It spins in an elliptical manner and makes an awful noise. It is as though the gas shockers underneath are broken or simply not up to the job, relying solely on the top springs to keep everything in order. As it picks up speed the noise dissapates to a certain extent but you can tell it isn't spinning true. Machine is level and on a concrete floor. The previous one did exactly the same but much worse hence they swapped. Engineers agreed and couldn't fix. Water inlet valve is so harsh you get water hammer, had to purchase something on feed pipe to reduce. Same on both machines. Remote WiFi functionality on it is nothing more than pointless. Addwash is a pricey pointless function too. Positive is it cleans well and lots of different wash programmes. Trouble is it gets on my nerves if I'm in the house when its running.
Date published: 2018-10-01
User manual & Downloads
Live Chat