AddWash™
Bubble technology
Bubble technology
FEATURES
AddWash™ lets you add to the wash during the wash
Wash cool and save energy using ecobubble™ technology
VRT ensures peaceful washing, with less noise and vibration
Wash an average sized load in just 59 minutes with Super Speed Wash
Add to the wash during the Wash
Add to the wash during the wash
Open the innovative AddWash™ door to quickly drop in anything extra during the wash* – whether that's a stray sock you missed, extra softener, or a hand-washed garment for final rinsing.
* AddWash™ door can be opened at any time when the drum temperature is below 50 °C.
Undeniable performance of bubbles
Our efficient ecobubble™ technology mixes air, water and detergent to create bubbles that penetrate your clothes faster, helping you wash at cooler temperatures. Better for the environment and your bills.
* Tested in accordance with IEC 60456-2010 / 4 kg Wash Load / Super Eco Wash cold (WF80F5E5U4W) vs. Cotton 40° without Eco Bubble (WF0702WKU). Individual results may vary.
** Based on the Performance Lab Test report by Springboard Engineering on EMPA strips, between normal detergent solution and bubble technology without mechanical action.
*** Drum pattern may not be identical with actual product.
Powerful Cleaning in Less Than an Hour
Our Twin Water Supply fills your machine faster, and a clever Spin Speed Rinse accelerates your cycle, cutting a standard 5 kg wash (that's 25 t-shirts) to just 59 minutes. Meaning less time waiting, more time for you.
Super speed
Speed spray
Intensive Stain Removal
Whether its cotton, synthetics or baby clothes, add a 30 minute Bubble Soak to any of your preferred programmes at the touch of a button. Then let our unique ecobubbles penetrate deep into the fabrics to loosen tough stains – giving you a thorough and efficient clean after every soak.
* Tested in accordance with IEC 60456 5th edition / 8 kg Wash Load / Bubble Soak Wash (WF80F5E5U4) vs. Cotton 40 / 60°, Synthetic 60° and Denim 40° without Bubble Soak (WF0702WKU).
Extraordinarily beautiful design
The Crystal Gloss Door in Ocean Blue, offers the ultimate in aesthetic pleasure and can infuse your home with an ocean-like calm. The handle is also 45 degrees higher, so it opens easier.
Quiet, reliable performance
The quiet Digital Inverter Motor gives you long-lasting, reliable performance. Less noise, less vibration and less wear and tear – it even has a 10 year warranty.
Less noise and vibration
Thanks to our VRT technology, now everyone can enjoy a more peaceful wash with a drum that keeps in perfect balance, even at high spin speeds.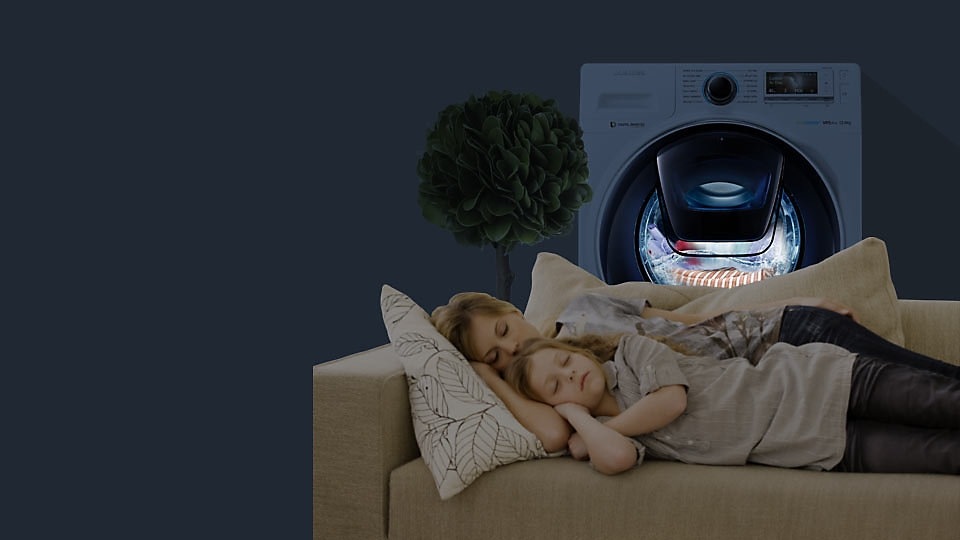 Support at your fingertips
Smart Check is an automatic error-monitoring system that detects and diagnoses problems at an early stage. Using a Smartphone App*, this useful feature provides quick and easy troubleshooting solutions, saving you from the inconvenience of unnecessary engineer callouts.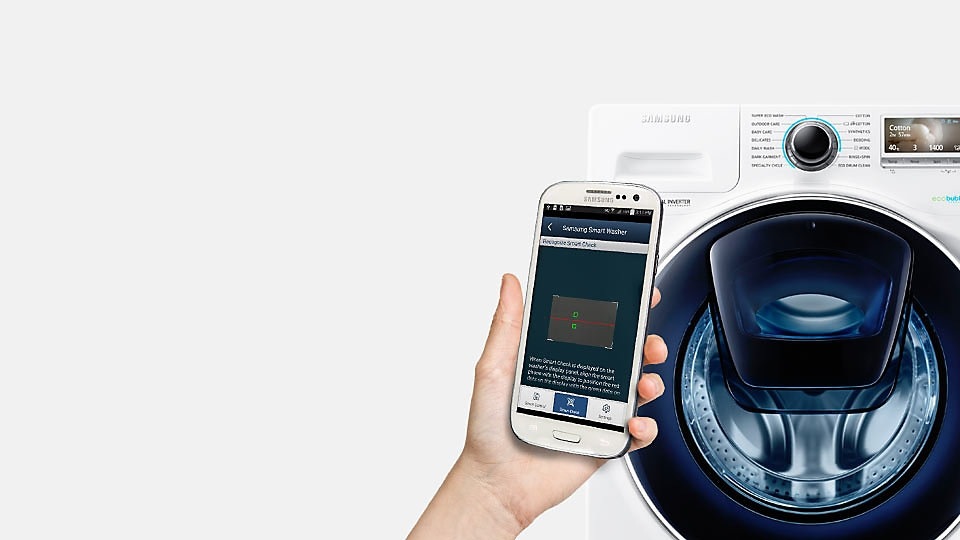 *Available on Android and iOS.
Compare
WW6500 AddWash™, 9 kg

WW6500 AddWash™, 9 kg

WW6500 AddWash™, 9 kg

WW6500 AddWash™, 9 kg

WW8500 AddWash™, 12 kg

WW8500 AddWash™, 12 kg

Available colours

ecobubble™

AddWash™

Smart Control

Colour LCD Screen

VRT
9 

Washing Capacity (kg)

Bubble technology

Bubble technology

VRT plus

VRT

A+++

Energy Efficiency Class

600 x 850 x 600 mm

Net Dimension (WxHxD)

75 kg

Net Weight
Rated

5

out of

5
by
JCEly
from
WW6500
We have had this machine for just over a week and so far its proven to be a good purchase. 9kg load is a good size and the simplicity of operation is excellent. So far all our clothes have been noticeable cleaner and we especially find the ecobubble setting a major benefit for general use and specially stains. The only complaint I have is the inability to select a custom setting or set a high spin speed on all of the cleaning options
Date published: 2018-12-07
Rated

5

out of

5
by
David 5671
from
Excellent product with a long guarantee.
Recommended by Which, a good price and a 5 year guarantee (ten years on the motor).
Date published: 2016-09-09
Rated

5

out of

5
by
gb51leeds
from
Add wash is a great idea for those missed items
Always find an odd item that's been missed from the main wash, addwash lets you pause and add after the programme has started. Really quiet machine
Date published: 2016-09-09
Rated

5

out of

5
by
Twinmum44
from
I love it
Very nice machine, love the add wash feature and the eco bubble. Does a good quick wash as well as a thorough wash. Also nice big wash load. Would definitely recommend.
Date published: 2016-08-29
Rated

5

out of

5
by
Pete
from
Reliable and pleasant to use - excellent product
The ecobubble is easy to use and reliable - an excellent product that I would have no hesitation in recommending wholeheartedly
Date published: 2016-08-29
Rated

5

out of

5
by
Balazs
from
Perfect!!
It is huge and very-very good! Quiet, lots of programs and easy to use.
Date published: 2016-08-29
Rated

4

out of

5
by
Alfie 1942
from
Extremeley effective and massive load.
We have had this machine for some weeks and we are extremely pleased with it. The actual washing performance appears to be superior to our previous Bosch (admittedly 15 years old!) The "price" of this effectiveness is long cycle times . The range of program options is impressive and the options within the programs cater for any possible need - for example the ability to spin only at any speed up to 1600rpm. Its relatively quiet, even on spin though the drain pump is surprisingly noisy. Criticisms - only two - the instructions for use are not good and manage to make the selection of programs sound much more complicated than it is. Also the critical information is scattered over several different tables while options get no coverage at all. Not a major complaint but tiresome till you get used to it. The second is the waste pipe - stiff and relatively inflexible it is a nightmare to fit if you have a waste stand pipe immediately behind the machine. Once again the instructions are poor.
Date published: 2018-10-12
Rated

1

out of

5
by
Gjones
from
Very poor don't buy
The eco bubble dose not work and I've had 3 machines sent from different batches and none of them worked and all had faults. So my advice is don't buy any EcoBubble as it's over priced and don't actually work!
Date published: 2018-03-23
User manual & Downloads
Live Chat