How to clean the heat exchanger on a dryer
If you have finished running a cycle and your load has not dried properly, you may need to clean the heat exchanger. We recommend that you clean the heat exchanger at least once a month or when the buzzer rings and the heat exchanger indicator lights up on the display.
How to clean the heat exchanger
Below are instructions for how to take out the heat exchanger and clean it.
1
Gently press the top part of the outer cover (A) to open.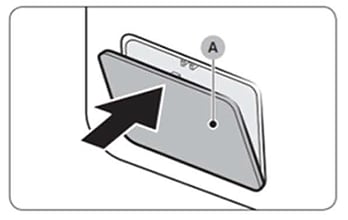 2
Unlock the levers (B).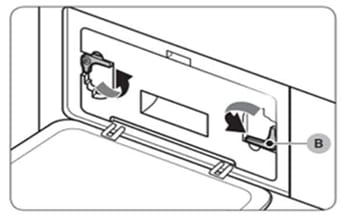 3
Remove the inner cover (C).
4
Clean the heat exchanger with the cleaning brush provided.
Take care to brush up and down in a vertical motion. Do not bend or damage the heat exchanger fins when cleaning (especially if using a vacuum cleaner with a brush attachment) as this may lead to a decrease in drying performance.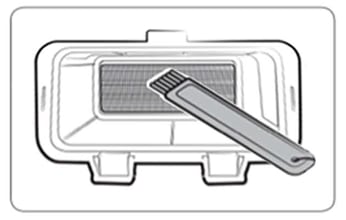 Please note: To avoid physical injury and burns, do not touch or clean the heat exchanger with your bare hands. Do not use water to clean the heat exchanger.
5
Clean the inner cover with a smooth damp cloth.
6
Reinsert the inner cover to its original position and the lock the inner cover by using the levers.
7
Close the outer cover and make sure the levers are locked.
How do I know if the heat exchanger needs to be cleaned?
Some dryers have an indicator which lights up or flashes during the cycle if the heat exchanger needs to be cleaned. Other machines have a buzzer that sounds after 25 uses until it is cleaned. Opening the inner cover or turning off the power plug will stop the buzzer sounding when the heat exchanger has not been cleaned. We recommend cleaning the heat exchanger in your dryer after every 25 cycles or at least once a month for the best drying results.
On some machines a "Filter" message lights up and alternates as shown below:
On other machines, the "Filter Check" and the "Heat Exchanger Filter Clean " indicators will light up in red on the display panel.
Please note: Both indicators will flash initially when you switch on the machine but will stop flashing after 5 seconds if no action is required.
Heat Exchanger Filter Clean indicator
Please note: Depending on the model of dryer you have the indicator may look different. Please check your user manual to confirm.
Please answer all questions.