Customise the keys on your Note10
Don't worry if you can't find the Power button on your Note10. It's no longer on the right side of the phone: it's now on the left! It has been combined to include Bixby functionality. This new button is called the Side key, and can be customised to perform different tasks, whether you want to turn off your phone, call Bixby, or do other stuff.
How to use the Note10 keys
The Note10 has two physical keys on its left side: the Volume key and the Side key. The Volume key adjusts the phone's volume. The Side key can be short-pressed, long-pressed, or double-pressed to perform various functions.
The keys have their own separate functions, but together can be used to create shortcuts for a more streamlined experience.
 
Here are the default key functions you can use:

Screen on or off: Short-press the Side key. 
Bixby Voice: Long-press the Side key. 
Launch Camera: Double-press the Side key.
Power on: Long-press the Side key while the phone is off.
Power off menu: Long-press the Side and Volume down key simultaneously while the phone is on. 
Screen capture: Short-press the Side and Volume down key simultaneously.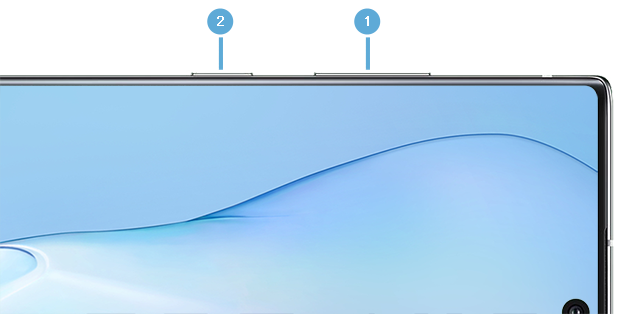 2
Side Key (Power + Bixby).
Please note: You can also power off your phone with the Notification panel. Swipe down from the top of the screen. Then, tap the Power icon in the top corner of the screen, and tap "Power off".

Customise the Side key
Maybe you're used to that key just doing one thing - like waking up Bixby. You can customise it to make it work for you.
1
Go to "Settings", then tap "Advanced Features".
2
Tap "Side key".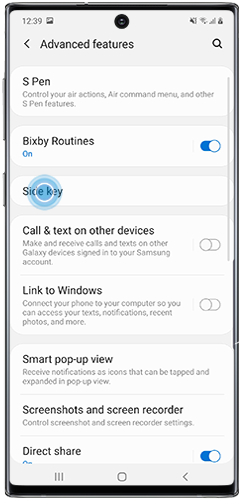 3
Choose your preferred settings for the side key.
For Double-press, you can choose between:

Quick launch camera.
Open Bixby.
Open app (tap the Settings icon to select an app).


For Press and hold, you can choose between:
Wake Bixby.
Power off menu.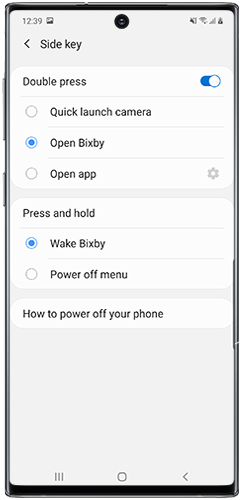 We would love to know your feedback to help us improve. Please click submit to tell us what you think.
Please answer all questions.