How to set-up Bixby on the Galaxy Fold
Bixby is an AI assistant that learns, evolves and adapts to how you use your devices. Bixby comes with a number of useful functions and features that make using your Galaxy Fold 5G more convenient.  
Text: you can write a message to ask Bixby to do something, for example 'remind me to feed the cat when I get home'
Bixby Home: Bixby Home creates a hub so you can quickly get important information from your apps without having to open them
Bixby Vision: Bixby can analyse what it is seeing from your camera, gallery and internet apps to provide you with more information about what you are looking at
Bixby Voice: speak to Bixby to ask it to do something for you. For example, 'call Mum'
Bixby Routines: allows you to create a customised routine for your device. For example you can set Bixby to dim your phone brightness and mute your phone after 11pm
Follow the steps below to set up Bixby on your Galaxy Fold 5G or find out more about what Bixby can do and how to use it.

1
Press and hold the side button
2
Select a language to use with Bixby
3
Tap Sign in to Samsung account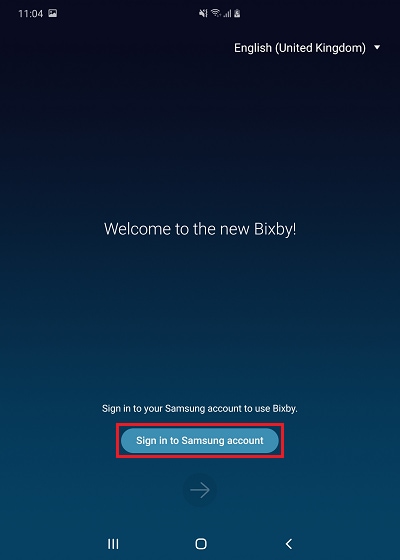 4
Sign in to your Samsung account with your username and password
5
Read and Agree to the terms and conditions
6
To issue a command to Bixby, press and hold the side button, then say your command
7
To access Bixby Home swipe right from your home screen
For more help...
Our trained experts are available 24/7 to help you get the most out of your Galaxy Fold 5G. 
Phone number: 03307267467
Hours of operation: 24 hours a day, 7 days a week
If you're experiencing unusual behaviour on Samsung mobiles, tablets or wearables, you can send us an error report or ask us a question in the Samsung Members app.
This allows us to take a closer look at what is happening. The data is anonymised and only held for the duration of the investigation. Find out more about sending an error report through the Samsung Members app.
We would love to know your feedback to help us improve. Please click submit to tell us what you think.
Please answer all questions.