Listen to your media with Galaxy Buds Pro's 360 Audio
Feel immersive, realistic sounds coming at you from every direction. With 360 Audio, Galaxy Buds Pro places you into the center of your favorite video, movie or TV show. The intelligent motion-tracking sensor pinpoints the direction of the sound as you move your head, enabling a powerful sense of realism in your listening experience.
Before you try out the recommendations below, be sure to check if your device's software and related apps are updated to the latest version. Please check how to update your mobile device's software in the following order.  
Step 1. Go to Settings > Software update.
Step 2. Tap on Download and install.
Step 3. Follow the on-screen instructions.
Surround sound with 360 Audio
Three-dimensional, 360 Audio provides 360-degree surround sound for an immersive environment while enjoying media content. It follows your head movements to make it feel like the sound is coming from the screen by changing the left and right sound volumes of the earbuds.
Note: 360 Audio support may vary depending on the app and content on compatible Samsung devices using One UI 3.1 or higher.
How to set 360 Audio
Step 1. Open the Galaxy Wearable app, and then tap the Advanced menu.
Step 2. Tap 360 Audio. Then you are ready to enjoy 360-degree surround sound.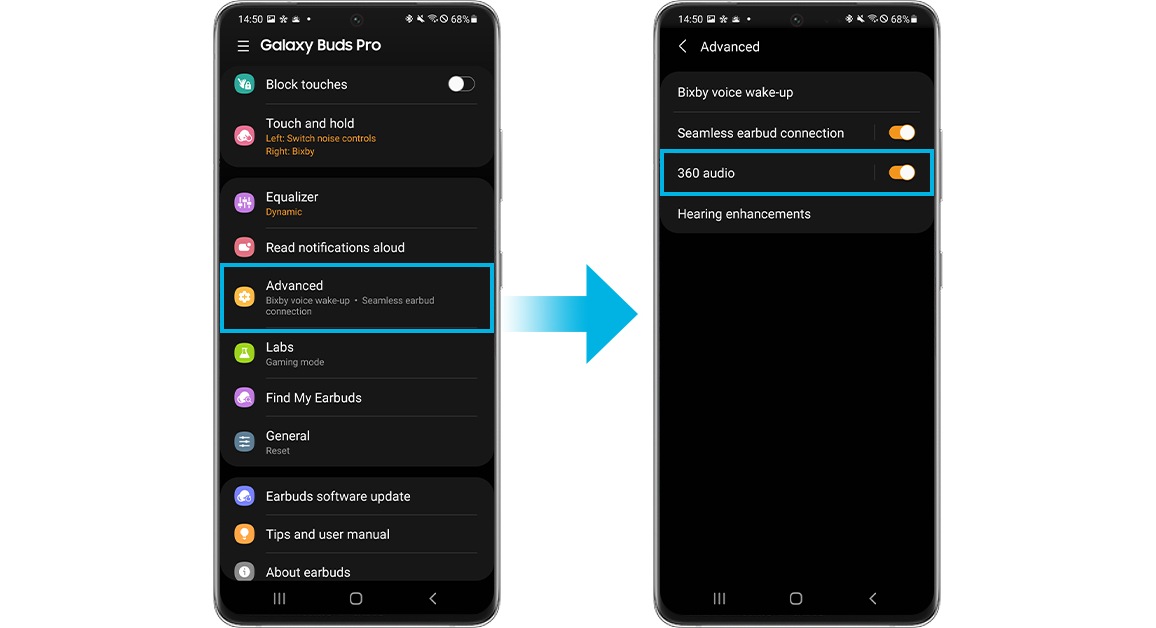 Tips for sound issues while using 360 Audio
• Check the earbuds are placed correctly in your ears
If you experience sound issues using the 360 Audio feature, make sure that the earbuds are placed perfectly in your ears. If you don't wear the earbuds properly, they may not work with the 360 Audio feature, or sound quality may be poor.
Hold the earbuds so that you see the imprinted direction marks, insert the earbuds into your ears, and then adjust the earbuds by rotating them until they sit comfortably in your ears. The touch-sensitive sensors will detect that you are wearing the earbuds when you put them on. Then, the earbud will emit a sound informing you that the earbud is detected.
• Check earbuds are close to the connected device
Make sure that your earbuds and connected device are close together, we recommend using this feature when your devices are within an arm's reach. If not, sound may not be played smoothly and could occasionally disconnect.
Note: 
This feature may not be supported by certain media because of how the media is played.
When you are in areas with poor signal reception, the connection to the mobile device may be lost temporarily.
Device screenshots and menu may vary depending on the device model and software version.