How to locate your Galaxy devices
If you lose your precious phone, tablet, watch, or even earbuds, don't worry. The Find My Mobile feature allows you to lock or unlock, locate, or if worst comes to the worst, completely wipe your data. Rest assured, even your Samsung Pay information can be locked or erased - and all this can be done remotely. There are also similar services available for your watch and earbuds within the Galaxy Wearable app.
Note: Available screens and settings may vary by wireless service provider, software version, and model.
Find your phone or tablet using Find My Mobile
Note: The phone must be turned on. 
Remote control must be enabled on the phone. This feature will be turned on by default when you add a Samsung account to your phone. 
Remote unlock must be activated in order to use the Find My Mobile unlock feature. 
If you've lost your phone or tablet, you can pinpoint its whereabouts using Find My Mobile. 
First navigate to the Find My Mobile website on a PC. Enter your Samsung account credentials, select I'm not a robot, and select SIGN IN.

On the left, you will find all the devices linked to the Samsung account you are using. If devices are powered on and connected to a network, they will be displayed under My devices. When you select a device, the right panel will display all the remote options available:
Ring: If you don't know where you put your phone or tablet, make it ring even if it was set to mute.
Lock and Unlock: If you're worried about your personal data, you can remotely lock your phone or tablet. This will activate a Lock screen and suspend your cards in Samsung Pay. If you forget your unlock method, you can also unlock your phone or tablet remotely.
Note: If locking or unlocking your phone or tablet was unsuccessful, a red exclamation mark will appear.
Track location: Check where your missing phone or tablet is every 15 minutes.
Caution: If you're using Find My Mobile to locate a stolen phone or tablet, do not go directly to the location on the map. Inform the authorities and let them retrieve it for you.
Delete data remotely: Stop that thief accessing your private data. Remember: your phone or tablet will be completely reset and you will lose all your data, including financial data in Samsung Pay.
Note: If a Google account is registered, you will need to sign into the account before you can use the phone or tablet again.
Back up: Before deleting your data for good, you can easily back up all your data to Samsung Cloud.
Extend battery life: The last thing you want is for your lost phone or tablet to turn off. Use this feature to get the most out of your phone or tablet's battery life, and increase the chances of finding it.
Retrieve calls/messages: You can view up to 50 recent calls and messages from your phone.
Set Guardians: You can designate guardians that can remotely locate the phone or tablet, activate Emergency Mode, or ring the phone or tablet.
Note: If you still can't locate your phone or tablet, your network provider may have a service to help locate or suspend your phone. Please contact them for additional information.
Find your phone using your smart watch
Accidentally left your phone somewhere? You can use your smart watch to locate it.
On your smart watch, press the Home key, and then swipe to and tap Find My Phone. Tap Start to begin locating your phone. The phone's ringtone will sound, making it easy to locate. Find your phone and then swipe down on the Dismiss icon.
Find your smart watch
Note: Make sure you have all the requirements, such as Remote connection, already set in place in the event that you lose your watch.
If you've lost your smart watch, you can find it using the Galaxy Wearable app. The Find My Mobile feature won't let you see the watch's location, but it does let you lock or erase Samsung services such as Samsung Pay.
On your phone, navigate to the Galaxy Wearable app, and then tap Find My Watch. (On fitness bands, tap Find My Band or Find My Gear.) If your watch is connected to your phone using Bluetooth, tap START. Your watch will begin vibrating so it's easier to find. When you find it, tap the X icon and swipe to the right.
If you've lost your watch somewhere out of Bluetooth range, you'll have two options available when Remote connection is turned on: 
Get location: Gives you the address of where the watch is currently located. You can tap Show on map to locate the watch on a map.
Set security: Access options to remotely set a lock, reset, or put a reactivation lock on the watch.
Find your Galaxy Buds
You won't need to buy new Galaxy Buds if you've misplaced them because the Galaxy Wearable app makes finding them super easy.
On your phone or tablet, navigate to the Galaxy Wearable app. Tap Find My Earbuds, and then tap Start. The earbuds will start beeping, gradually getting louder for a period of 3 minutes. Tap Stop to end the search.
The app will show the earbud(s) as disconnected and will not be able to locate the earbud(s) if out of Bluetooth range (32 feet), or the battery is dead.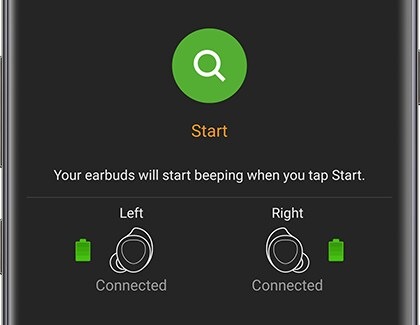 Note : The earbuds may not beep if there are foreign substances or debris inside of the IR sensor. 

Not finding what you're looking for? We're here to help.
Call
0333 000 0333General Support
Smartphone support | 24 hours, 7 days a week
All product support | 8am - 10pm, 7 days a week

0330 726 2677B2B Support
For business support
8am - 6pm, Mon - Fri
0330 726 7467Samsung Shop
For new and existing orders:
8am - 10pm, 7 days a week

For Business Shop related enquiries:
8am - 6pm, Mon - Fri


Calls to 0330 numbers cost no more than calls to geographic numbers (01 or 02).
Calls from landlines and mobiles are included in free call packages.
Call charges are subject to change and this information is provided as a reference only.
Calls maybe recorded for training and quality purposes.
For information on how we collect and use your details, please refer to our Privacy policy.

* For any printer related enquiries please visit the HP website.
Contact Us