SSG-3550CR 3D TV Glasses (USB)
SSG-3550CR/XC
SSG-3550CR 3D TV Glasses (USB)
is rated out of
5
by
8
.
Sorry! This product is no longer available
Stylish 3D glasses give Perfect Wearing Experience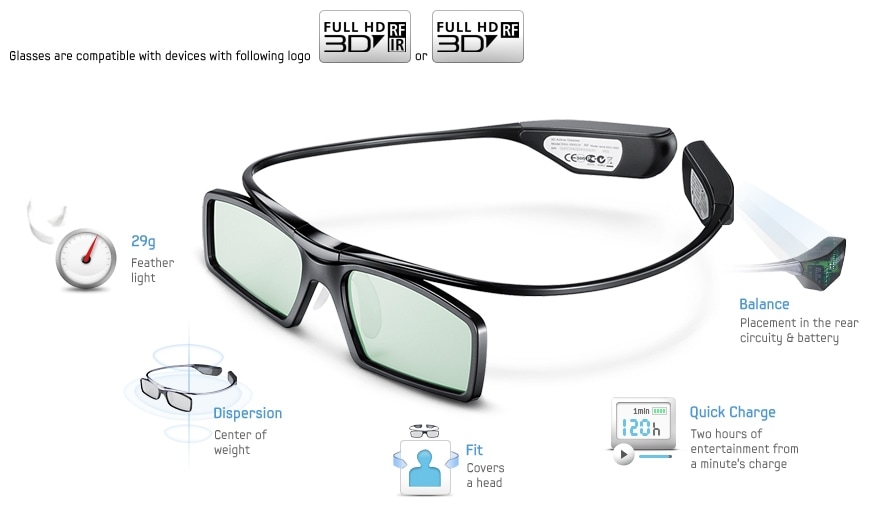 Take your 3D Perfect Wearing Experience to the next level with the Samsung 3D glasses SSG-3550CR. A unique ergonomic design, which guarantees the perfect fit, brings a touch of luxury to the whole 3D experience. The 29g featherweight frame design provides a flexible bridge, nose pad and perfect weight balance for total comfort. The 3D glasses are rechargeable and are available in optimised sizes for everyone. So, experience 3D in luxury with your new 3D glasses that are made to fit.
Bring 3D to life with advanced performance
Settle for nothing less than the absolute best 3D experience. With the advanced 3D effect, the Samsung 3D glasses SSG-3550CR deliver a 3D performance that is simply stunning. Both lenses work in perfect harmony to produce images that are true-to-life. These glasses are ready to transform an entire 2 hours of 3D viewing after charging for approximately one minute. And add to this the stable connection, which keeps a safety link to your TV via RF equipment, and you are ready for a new world of entertainment. *3D glasses sold separately in various regions.
Rated

5

out of

5
by
Ray B
from
Great Item, works as expected
A good item which is completely compatible with our 3D 'F' - series Samsung TV - recommended
Date published: 2014-12-30
Rated

5

out of

5
by
Madmaddy
from
samsung 3d glasses
Good value, great price, comfortable to wear even over glasses .
Date published: 2014-12-30
Rated

5

out of

5
by
buba
from
Does what is says it does.
Does what is says it does.
Date published: 2014-05-13
Rated

5

out of

5
by
eddtheball
from
they work with jvc35 projector
Bought these for my JVC 35 projector as the originals are very expensive They are TRUE HD 3D RF standard so worked great
Date published: 2014-03-05
Rated

4

out of

5
by
Sera1968
from
Active 3D glasses
I bought this product with and new 3d tv, opted for the rechargeable glasses. They seem to work perfectly well, charge fairly quickly and last about 40 hours on a charge according to Samsung website. I would say the legs don't fold up, and they are perhaps a little flimsy, and could be prone to break if you have kids using them, possibly take a little effort to break, and no better/worse than other glasses, well worth a purchase.
Date published: 2013-08-14
Rated

4

out of

5
by
rottyfaith
from
works great,but poor design
Ill start with the cons- the problem with these are way too flimsy. i would not recomend children use them.way to easy to scratch the lens,and the head band would break super easy.theyd be better if they were the fold type from the theatre.i dont see why they cant be made like that,and still have the rechargeable batter inside. Pros- awsome viewing experience! theres a tip over the noise,for easy placement when wearing (eye) glasses. also the charging is super fast,and battery last super long time. mine were expesive,but maybe depending where you live,they seem cheap.idk but their fine for someone like me,as beginer glasses.
Date published: 2012-12-03
Rated

1

out of

5
by
Jayne1980
from
Wrong product
These glasses were not rechargeable as described. Unfortunately it was put down to a typo online and so I haven't been able to take advantage of what seemed to be a great offer. I'm really disappointed as I very much wanted these.
Date published: 2014-03-04
Rated

1

out of

5
by
stuajam
from
In theory yes, in practice no
Having bought the new 8000 series 3D tv, i wanted something battery free and these seemed the logical choice. However, I am a big 6'3'' Rugby player and these glasses dangled uselessly on my head and refused to stay behind my ears, it got even worse for the wife and was a straight no for the kids. Promptly resealed and returned. Basically the just strapped on some ridiculous batteries onto the basic glasses and you cant even fold them shut. Also this extra bit stops them sitting on your head properly as they are far too wide. For the top of the range TV, these are the apparent glasses of choice, I dont think so!
Date published: 2012-07-10
User manual & Downloads
Live Chat
How It Stacks Up
Features and specifications are subject to change without prior notification.

Certain features with the Smart Hub may not be available without expressed consent regarding the collection and use of personal information. Content available through Smart Hub may vary among product categories, models and territories. Certain applications must be purchased and may not be available in all regions.