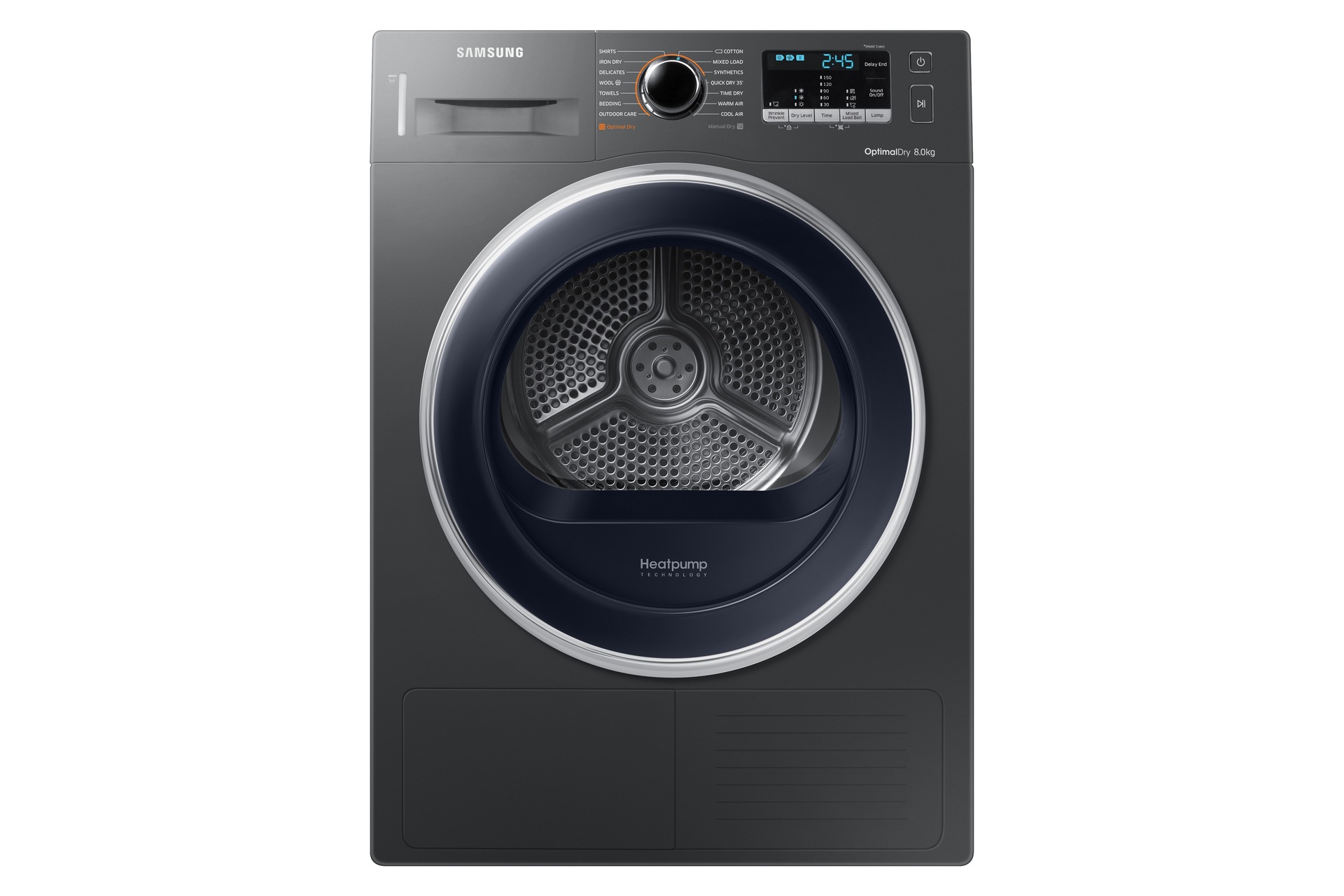 DV5000 Heat Pump Tumble Dryer A++, 8kg
DV80M5010QX/EU
DV5000 Heat Pump Tumble Dryer A++, 8kg
is rated out of
5
by
7
.
BUNDLE
Heatpump Technology
Smart Check
8.0 kg
Drying Capacity (kg)
A++
Energy Efficiency Class
Intelligent drying with great results
Our OptimalDry™ smart technology uses moisture and temperature sensors to adjust the drying time for the best result, which protect your clothes from damage while saving energy. Available on 10 drying programs.
Quickly dry your favourite outfits
Enjoy the convenience of quickly dried clothes for those times you really need them. Dry up to 1kg of clothes in 35 minutes.
Enhanced filtering
The easy to clean Filter helps maintain drying performance and energy efficiency by offering an additional layer of filtering that collects all the lint in one place. The bottom Heat Exchanger now only needs to be cleaned once every 25 cycles. Two alarms remind you when the Filter and Heat Exchanger need cleaning.
Easy Trouble Shooting
Smart Check is an automatic error-monitoring system. It detects and diagnoses problems at an early stage and provides quick and easy troubleshooting solutions using a smartphone App*. So it saves you time having to find the manual and avoids the cost and inconvenience of unnecessary engineer callouts – and potentially expensive repair bills**.
*Available on Android and iOS. **Service callouts will occasionally be required and may incur extra costs
*Available on Android and iOS. **Service callouts will occasionally be required and may incur extra costs
Water level check
A Water Tank Indicator is a simple gauge on the front that shows how much condensed water has been extracted from your clothes. So you can quickly see if the water tank needs emptying before you start another load.
8.0 kg

Drying Capacity (kg)

A++

Energy Efficiency Class

600x850x640 mm

Net Dimension (WxHxD)

50 kg

Net Weight
Rated

5

out of

5
by
Big Jim
from
Really good machine
Bought this a month or so ago. Works really well. Love that it plays tune on cycle completion.
Date published: 2018-10-17
Rated

5

out of

5
by
Alistair T
from
Quiet and efficient
Our old vented drier failed and we matched the new drier to the Samsung washer that we bought 2 yrs ago,they look great side by side and with the doors opening opposite ways it aids easy transfer of wet washing to the drier.
Date published: 2018-09-30
Rated

5

out of

5
by
Rustybear
from
Samsung = quality
Samsung tumble dryer.. another quality purchase.. extremely happy
Date published: 2018-09-30
Rated

5

out of

5
by
Jojo090276
from
Easy to use
This is a great dryer, best I've had. Even though it is a geat pump dryer it dries quicker than my old condenser dryer, could not do without it.
Date published: 2018-09-30
Rated

5

out of

5
by
Spotjack
from
Excellent so far
Only had for a short while so not really tested due to the lovely weather we have been having.
Date published: 2018-09-30
Rated

5

out of

5
by
KatherineRaff
from
A kinder way to dry.
Have been considering buying one of these dryers for a couple of years but was initially put off by the price and some of the reviews. This is an updated model and has had some of the issues of the previous model addressed. The opening to the heat exchanging used to be difficult to opening, it now has a push opening. There is no longer a sponge filter that needs cleaning. A few reviews complain that clothes aren't getting dried and a lot of time this is down to people using the manual drying feature. The program I use the most is mixed load, which I think people are avoiding because it is 3 hrs long. However, it has never taken this long. The sensors adjust the dryer time and it usually takes around an hour to dry a load. You also have to not overload as much as a normal dryer, as the heat pump dryer doesn't get as hot as a conventional dryer. To me this is a plus as items that I would normally avoid putting in the dryer, because of shrinkage I have now been able to. It is a lot kinder to clothes and dries more evenly as it has reverse drying. The other major plus there is no longer lots of condensation and a coating of fluff everywhere. The drier is also quieter and gives off a lot less heat. It also uses a lot less electricity. This dryer gives the option to plum it directly into the waste, which I have done. This was because a few reviews have said that the tank filled up quickly, which could problematic if you had a heavy load such as towels drying at night. My last condenser dryer developed a problem where it has an error where moisture built up and it kept coming up with a need to empty error, when it did not require it. So due to the cost of this dryer I though it would be better to plum it into the waste to hopefully prolong its lifespan. I am very happy with my purchase and so far have had the best results I have very had. My only gripe is that the drying rack didn't come with this particular model and it doesn't seem that I am able to purchase one either. It has clear controls, a large porthole, internal light, diamond drum and large reservoir. The filter needs cleaning after every use and I find some damp kitchen roll removes all the bits without getting the filter too wet. Hope this helps make your decision a bit easier.
Date published: 2018-07-30
Rated

1

out of

5
by
DONTBUYHEATPUMP
from
DON'T BOTHER WITH ONE OF THESE!!
I kid u not it takes 2 years just to dry a shirt and even then it doesn't actually feel dry, I returned the first one AO delivered assuming it was faulty...don't waste your money on heat pump as if you listen carefully you can actually hear the penguins falling over dead with the amount electricity it must consume whilst ruining our planet drying anything, lord knows what my next electric bill is going to be now the suns gone in...
Date published: 2018-09-30
User manual & Downloads
Live Chat