A day out with Galaxy Note 10.1
By Matt on 12th Nov, 2012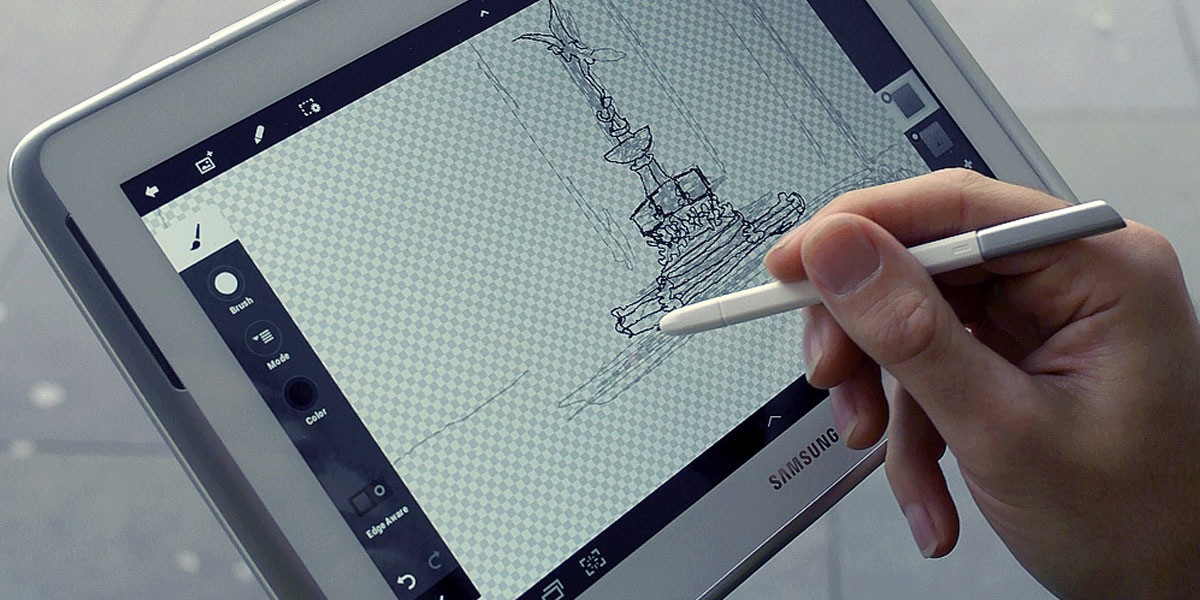 Find out why London-based illustrator Patrick Vale, creator of the 'Empire State of Pen' artwork, believes that the Galaxy Note 10.1 is a fantastic addition to the creative process.
To prove his point, he has hit the streets of London with nothing but a Galaxy Note 10.1 and his creative impulses. Take a look at the amazing results and see how it stood up to a cold and rainy day. First stop, one of the UK's brightest attractions.

9.36AM – Rush hour
in Piccadilly Circus

To start his creative tour, Patrick uses the pre-installed Adobe Photoshop Touch app to draw the iconic Piccadilly Circus. This app brings many of the creative tools normally found on a desktop computer onto the tablet, and is perfect for working on the go.
It is superb and, to be honest, noticeably better than other devices.
- Patrick
"With the Photoshop Touch app, you have access to 'Layers', and this is a great feature to have on a tablet device," Patrick said. "With this, I can easily edit my work as I go, but also take my work from my desktop and keep working. This is extremely useful." In no time at all, Patrick has captured the busy, tourist-packed location. When asked how the Galaxy Note 10.1 would fit in with his other creative tools, Patrick says, "just because I have a Kindle doesn't mean I am not going to read books any more; it's the same with the Galaxy Note 10.1, it is a great partner to my traditional sketch book."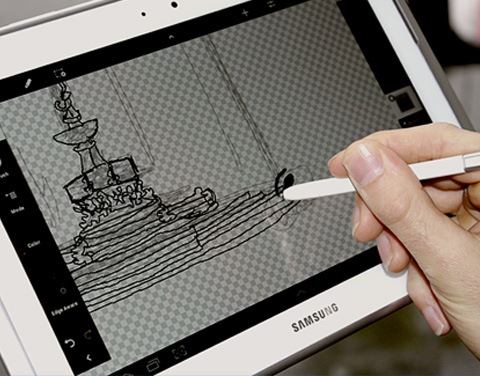 Before heading to his next location, Patrick quickly demonstrates how his traditional note pad and new Galaxy Note 10.1 can work well in tandem. In a matter of minutes, he has sketched his morning snack, photographed it, and then edited it. "The speed that I can add colour and richness to my sketch is really amazing. A normal drawing will require a little more time, but with Photoshop Touch I can create, finesse, and even correct my work when and where I feel."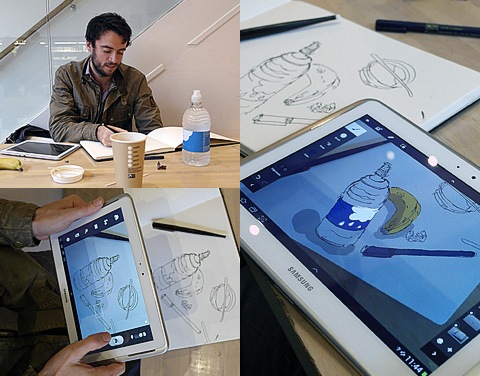 1.58PM – A stroll across Waterloo Bridge
Like so many artists before him, Patrick has chosen Waterloo Bridge as his next location. Accustomed to drawing large and detailed cityscapes, Patrick decides to utilise the S Pen and its precision within S Note.
The S Pen feels and draws just like a normal pen.
– Patrick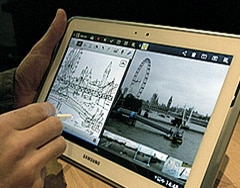 The S Pen features 1024 pressure points and is ideal for his creative work, with Patrick claiming that the S Pen feels and draws just like a normal pen. "What is also really nice, and better than other stylus pens, is the minimal gap between the tip and your on-screen drawing; some [stylus pens] are too far away." Patrick captures the famous view from Waterloo Bridge by drawing it in sections and then joining his canvasses together in Photoshop Touch. This way, he was able to zoom in, capture all the detail and finally merge together a finished piece of artwork. And by photographing the scene he is able to add further detail to his work later using Multiscreen.

"I am quite blown away by the capabilities of S Note. When paired with the S Pen, it is amazingly accurate. It is superb and, to be honest, noticeably better than other devices."
After a full day of testing, Patrick shares his final thoughts on the Galaxy Note 10.1 and reveals his amazing artwork. "I would absolutely use S Pen and S Note again. Quite simply, it is a great thing and is a practical creative tool. It has everything ready for you to use, regardless of the type of work you are doing.

Whether it is for illustrating, designing, photography, editing or whatever – it is a great tool." "And as I was in the rain most of the day, I couldn't help but notice how sturdy the tablet felt, which is a really good thing, as some devices feel as though you are going to break or scratch them. The Galaxy Note 10.1 really impressed me and was brilliant to work with."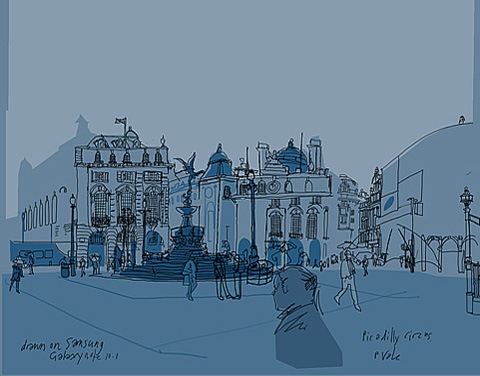 If you are interested in taking a closer look at the incredible illustrations that Pat created on the day using
the Galaxy Note 10.1, simply visit our Art of Note Facebook gallery.

Impressed by the Galaxy Note 10.1?
Find out more about the Samsung Galaxy Note 10.1 and its awesome capabilities. From S Pen to Multiscreen functionality, it truly is the new way. Or do you just have to have one right now? That's understandable. Find a dealer that is right for you.