Introducing the Samsung Galaxy S7 edge and S7
By Michael on 21st Feb, 2016
The wait is finally over. The new Galaxy S7 edge and Galaxy S7 have been unpacked in Barcelona, making everyone rethink what a phone can do.

Rethink what a camera can do
Barcelona buzzed with excitement, as a brand new era for smartphone camera technology was unveiled to a packed audience at the Mobile World Congress.
Now you never have to miss a moment with the first smartphones to use the latest dual photodiode sensor technology. This means professional grade technology in the palm of your hand and stunning photos at the touch of a screen. Even in lowlight conditions the Galaxy S7 edge and S7 shine through. Onlookers were amazed at the picture quality that could be captured, thanks to an F1.7 lens and larger pixel image sensor (1.4um), letting in 56% more light into each of your photos. Now night shots are a snap. Even focusing on objects takes a fraction of the time due to the instant focus provided by the Dual Pixel 12MP camera. And if breath taking vistas are more your thing, the new Motion Panorama mode brings a whole new lease of life to those striking landscape images.
" Samsung have made the best ever Android phone!"
— Holly Brockwell, Gadgette
Rethink how a phone is designed
Crafted from the very best materials, the stunning S7 edge and S7 are our most beautiful phones on the market. Measuring in at 5.1 inches and 5.5 inches, they fit perfectly in the palm of your hand thanks to the stunningly subtle curves on the back of each device.

It was clear when handling it that the sleek streamlined body fits into your daily life and your pocket. And there are no compromises on durability thanks to a dust and water resistant Gorilla glass build.

It's smarter in the screen department too, with an ultra-low power Always On Display meaning you'll never miss an important call or notification again.
Rethink how a phone performs
The Galaxy S7 edge and S7 are two of the best performing phones we've ever made. Jaws dropped and audiences were staggered at the announcement of a massive 4GB RAM in each device.

All this processing power means that you can do even more than ever before. But the biggest cheer of the evening was for the return of the much-loved microSD slot to expand storage memory.

This means that you can enjoy even more of your favourite music and videos. And with the width of your edge contacts doubled, you can have twice as many contacts at your fingertips.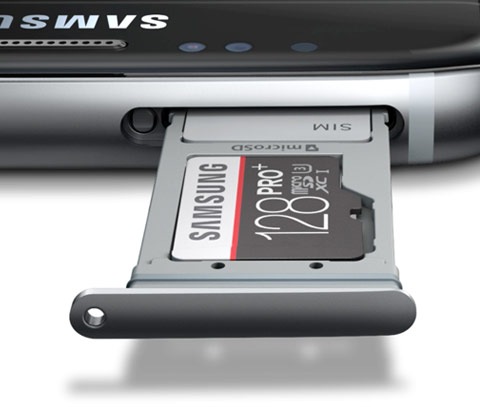 " Samsung may have just unveiled the world's greatest smartphone"
— Dave Snelling, Daily Star
Rethink entertainment
These smartphones are the first to take advantage of the new Vulkan API to bring incredible performance to mobile gaming experiences. Enjoy a whole new 360 degree world of entertainment with Gear VR experiences, made possible by unparalleled mobile processing power.

Control resolution and frame rate to save power and add the extra minutes you need to achieve that high score. Then choose if you want to be disturbed during a game by choosing whether notifications appear during play.

If you do get that high score, take an in-game screenshot or video and send it to your friends to get bragging rights.
" It's like a greatest hits of Samsung's flagship phone series."
— Max Parker, Trusted Reviews
Rethink Virtual Reality - Gear 360
And now we're enabling you to see, capture and share your world in a whole new way. The excitement surrounding the arrival of the Gear 360 was palpable. The clever, compact device allows you to take full 360 photos and videos and lets you create VR content like never before, whilst pairing perfectly with your Galaxy S7 edge or S7. You can even live stream video in 360 straight to your device.

With two fisheye, 15MP cameras on either side, a 360 field of view is effortlessly captured. And with a handy tripod that then folds into a handle, it fits perfectly around how you want to use it. Record precious moments to relive, or send them to friends and family across the world. A 128MB micro SD card fits seamlessly into an internal slot, allowing you to create all the content you need. And with the powerful processing power of the Galaxy S7 edge or S7, VR content is stitched together in seconds.

With the Gear 360, the Galaxy ecosystem is more complete then ever - from linking with the fitness-tracking Gear S2, to discovering new worlds with the Gear VR, the Galaxy S7 edge and S7 will make you rethink just what a phone can do.
" The Samsung Galaxy S7 edge is a stunning phone.
— Max Parker, Trusted Reviews
" The competition should be very afraid."
— Dave Snelling, Daily Star