Four Simple Tips for
Better Fridge Management
How to maximize your fresh space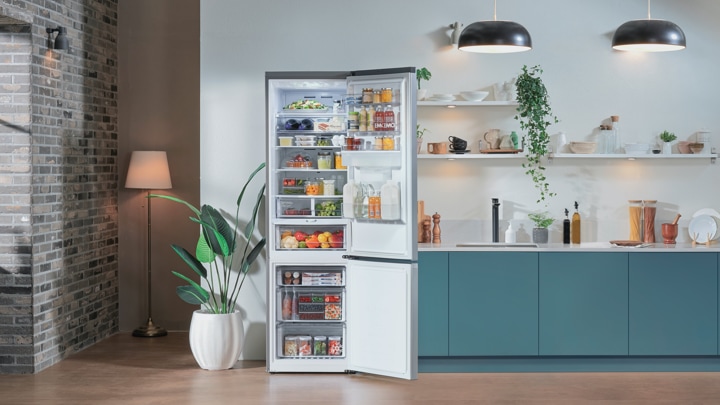 Be honest – have you ever forgotten what's lurking in the bottom of your refrigerator? You're not alone. In fact, 1/10 of every weekly food shop makes its way to landfill. Many of us have no system for storing perishables, which is why leftovers, half-eaten lunches and food that is past its expiration date ends up in the bin.

Food storage might seem like a basic concept, but it's one that few people have a good grasp of. For example, health experts recommend storing certain foods in specific areas of your refrigerator to prevent cross contamination. As well as preventing health issues, taking the time to reassess where items are stored reduces the chance of making duplicate purchases that contribute to clutter.

Tackling and reducing food waste is an important concern for many. If you want to do better for the planet, the answer might just be in your refrigerator. Of all the household appliances we rely on, the refrigerator is arguably the most dependable. Despite being in continuous use, most have a lifespan of 10 - 20 years.

Refrigerator technology has come on leaps and bounds in recent years. Features such as Total No Frost and All-Around Cooling helps maintain an even temperature and avoids ice build up, ensuring food stays fresher for longer and eliminates the need for defrosting – supporting our desire to create more sustainable lifestyles.

To tackle needless food waste, try going back to basics and make time to stock, clean and clear your fridge and monitor its contents. To get you started, here are four simple tips for better fridge management.

Streamline your shopping list
It may sound obvious, but spontaneous food shopping trips or badly organised 'top-up' shops are the biggest culprits for creating food waste. Be sure to carve out the time to do a complete fridge and cupboard inspection before making a carefully considered grocery shopping list. It will ensure you don't double buy (or conversely, forget) any important items. Don't just conduct a quick spot check either. Dig deep and see exactly what's hiding at the back and bottom of your fridge, as these are areas that often get forgotten about. When it comes to food waste, it's all too easy to overlook food you can't see. Sauces and condiments often block visibility and are among the items we are most likely to buy unnecessarily. For example, the nation is divided on where to keep ketchup, with 50% keeping it out of the fridge. While it can be stored in the cupboard when unopened, once opened, ketchup should be placed in the fridge. Understanding storage recommendations can help reduce waste and optimise space.

Consider a Smart upgrade
If it's time for a new fridge, you might be surprised to learn that Samsung's state of the art refrigerators do far more than keep food fresh. The Smart Fridge, especially, is a great investment. Samsung's Family Hub™ refrigerator is a more like a kitchen assistant than a traditional fridge, and is packed with features that help streamline your life. With built-in cameras that link to your phone*, it's easier than ever to monitor your groceries and cut food waste. You can even tag expiry dates and discover recipes to use up food that's close to perishing. As well as being amazingly functional, the Family Hub™ has a large display that is perfect for journaling, leaving notes, watching TV* and playing music while you cook.

Cook more creatively
Did you know there is a direct correlation between food waste and global warming? Food that ends up in landfill, rots and produces gases that are up to 25 times more harmful than carbon dioxide in terms of trapping heat in the atmosphere. Making an effort to cook more creatively can really help you make the most of food you would otherwise throw away. By making a conscious effort to eat up every last morsel and transform leftovers into an entirely new dish, we can save money on our food shopping – and help save the planet too. Spending more time at home has driven a rise in cooking from scratch, baking and overhauling our shopping habits. For example, in the UK, 63% of people believe they shop for food less often but buy more when they do shop in order to create more meals at home. At the height of quarantine, people also proved six times more likely to look for veg boxes than the same period a year before. Collectively, we're beginning to see the importance of wasting less and saving more – which is great for our purse strings, our health and for the planet.
Ready to overhaul your fridge?
Here's everything you need.

*Requires SmartThings app, available on Android and iOS. Registration and an internet connection is required
*Content must be streamed from a compatible Samsung Smart TV (2017 M5550 series+, 2018 NU7400 series+, 2019 Q60R series+, 2020 Q70T series)