Love is in the Air: Romantic Tech
Gift Ideas for Your Partner
A galaxy of gift ideas for the tech lover in your life.
Whether you want to go out of your way to make a birthday or anniversary unforgettable or simply surprise them with something special, choosing the perfect romantic gift for your partner can be quite the challenge. There's always the option to play it safe and stick to traditional tokens of affection such as flowers, chocolates, or even a fancy bottle of red. But 2021 is far from ordinary, and with many of us living under restrictions including social distancing measures, we need to get creative and go the extra mile to keep love and romance alive.

It might not be the first gifting category that springs to mind when you want to show your significant other how much you care, but technology has been a lifeline for many romantic relationships recently. Whether you are FaceTiming from opposite ends of the country or texting your partner to remind them to sanitise their hands, technology plays a huge part in keeping us connected in our current climate.

With all this in mind, here's a selection of high-tech treats to make your partner feel the love on that special occasion or simply 'just because'. There's a Samsung gift perfect for everyone, both beautiful and practical, to help you win their heart.
For artistic and creative types
Video content has truly exploded over the last couple of years thanks to the rise of TikTok and Instagram Reels. If your significant other loves to get creative with video content for their social channels, or spends their spare time making mini masterpiece vertical films, the gift of a Samsung Galaxy S21 is sure to capture their heart. With real 8K video, the Galaxy S21 is a pocket-sized creative studio on par with some of the most advanced video cameras on the market. This is a phone designed to bring out artistic passion in even the most challenging environments – it produces crisp and detailed footage even in low light, and the variable 60FPS frame rate captures mesmerising slow-motion footage of anything your heart desires.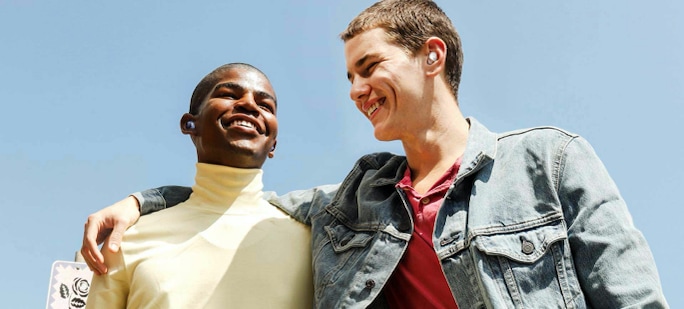 For music lovers
Every relationship has its own unique soundtrack, so why not trace the musical timeline of your love story? Create a playlist of tracks that mark your special moments as a couple, from the tune that was playing as you first locked eyes in that crowded bar to your signature karaoke anthem to the ballad that played at your wedding first dance. To make the gift of a personalised playlist extra special, give them the gift of Samsung Galaxy Buds Pro. Available in three timeless colours, these pro-grade headphones promise a new world of sound immersion. You can even connect two sets of Galaxy Buds Pro to the same Samsung Galaxy S21, allowing you and your partner to disappear into cherished memories together.
For film buffs and gamers
If your sweetheart is a certified cinema nerd or pro gamer, why not encourage their passion with the unique and surprising gift of a Samsung Soundbar? A sound bar is a brilliant piece of tech that takes home entertainment to the next level. These special speakers amplify the power of sound with deep bass and high frequency, adding immersive impact to games and a new dimension of drama to films. There are a range of stylish soundbars to choose from – and just like humans, soundbars have their own perfect match. There's a soundbar soul mate for the QLED, designed to strengthen audio from all angles, and another to amplify gaming with directional sound. Best of all, you can control your soundbar easily using the SmartThings app on smartphones such as the Galaxy S21, S21+ and S21 Ultra 5g.
For fitness enthusiasts
As we all spend more time at home and take extra care to keep safe, many of us have become more conscious of our own health, and are keen to encourage the wellbeing of our loved ones. Whether your partner is a long-time lover of the gym or just starting out on their fitness journey, a Galaxy Watch 4G is a great piece of tech to complement a healthy lifestyle. It tracks up to 40 different exercises, from biking to running and swimming, helping them achieve their goals. And it's not merely functional. The Galaxy Watch 4G is a beautiful, personalised gift. Choose from three colours – Rose Gold, Midnight Black or Silver – each with customisable faces. You can also select between two sizes – sleek 42mm or statement 46mm. From the rotating bezel to the crystal-clear sAMOLED circular screen, every element of the design has been carefully refined, making it the ideal romantic gift.
Seeking a tech gift that
makes your partner feel special?
Here are some ideas.
Samsung T420 2.1ch Soundbar