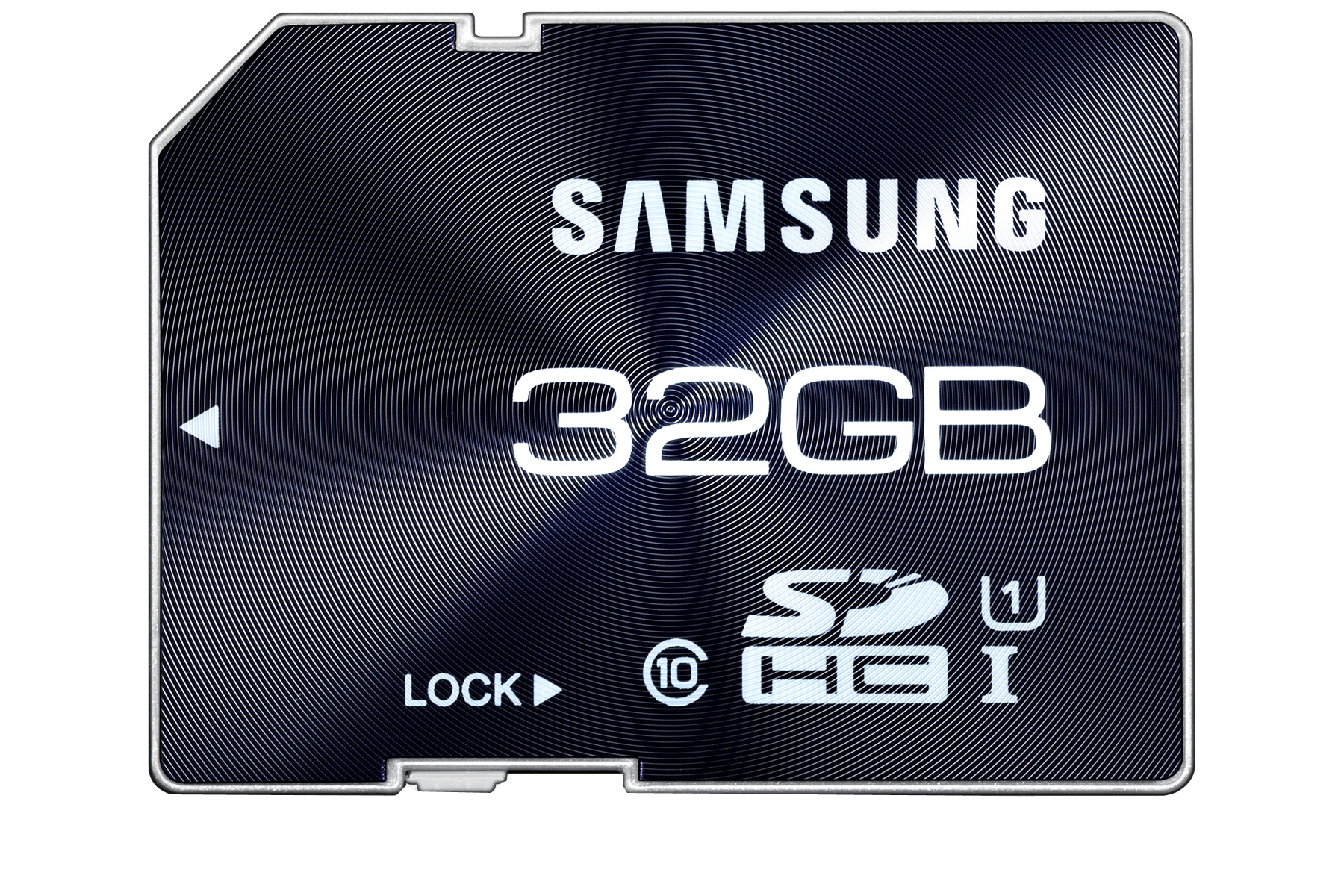 PRO 32 GB SDHC Card
MB-SGBGB/EU
PRO 32 GB SDHC Card
is rated out of
5
by
3
.
BUNDLE
Sorry! This product is no longer available
Perfect storage for Digital SLR and 3D video
Your Samsung Memory SD Card: Pro has all the storage you need for your digital SLR or camcorder. Now you can capture all the photographs and video want. Superfast performance means you aren't kept waiting when you need to save or access data. Thanks to 4-proof technology, it's all protected from water, magnets, extreme temperatures and x-rays
Complete line-up ­ Standard, Plus, and Pro ­ for all your memory needs
Samsung's new memory card line-up features Standard, PLUS, and PRO versions of all of its SD cards and microSD cards, covering a diverse set of needs for both general and professional users.
High capacities for bigger memory needs
With Samsung's full lineup of Memory cards, you can capture more photos and videos and download more media files and apps to your mobile device without worrying about speed or capacity. Samsung offers the fastest large-capacity (64GB) microSD cards for those who seek both high capacity and speed.
Faster speed with UHS-1 for extreme performance
All of Samsung's microSD and SD Card lineup feature the highest quality NAND and are available with UHS-I Support (PLUS and PRO), offering Samsung's fastest speeds at up to 70MB/s Read and 20MB/s Write, ideal for use in high-end Smart phones and Tablet PCs.
Our Fastest microSD Cards with UHS-I
Samsung's PRO microSD Card lineup features the highest-quality NAND and UHS-I support, offering Samsung's fastest speeds at up to 70MB/s Read and 20MB/s Write. They are ideal for use in high-end Smart Phones and Tablet PCs.
Choose the right memory card to store your precious moments
Reliable 4 Proof Technology protects your precious data Samsung microSD cards can endure 24 hours submerged in water and survive the perils of airport X-ray machines, magnetism and extreme temperatures. So your memories will survive ­even if your camera doesn't. Trust Samsung with your precious moments.
Rated

5

out of

5
by
cs97jjm3
from
One of the best i ever used
This sd card work as per information. sheet, very quick access to data and great protection offered when travelling through airports....
Date published: 2016-09-09
Rated

5

out of

5
by
MarlonZA
from
Good value/performance threshold
As an enthusiast photographer, I cannot afford the best of the best. The Pro range gives me super reliability, and very decent write speeds in the African nature reserves I shoot in. Happiest I have been with my SD cards in quite a while.
Date published: 2016-06-25
Rated

5

out of

5
by
bamajoeschmo
from
Compatability?
I have a Nikon Coolpix L820 long zoom point and shoot that I recently purchased. I also purchased this card to use in it after doing some research about high speed SD cards. Just tonight I saw the compatibility check section on this page and did a check for compatibility with my camera and was surprised to see it's "not compatible" and "not guaranteed to work with my product". Hmmm... I've been using it for about a week taking various types of photos from nature to tech to macros of flowers and insects and even 1080 videos, and so far it is working flawlessly. Don't understand why they would say it's not compatible. Perhaps it just hasn't been officially tested with the Nikon L820. So if you own a L820 don't shy away from this incredibly fast, durable and affordable SD card from Samsung.
Date published: 2013-09-28