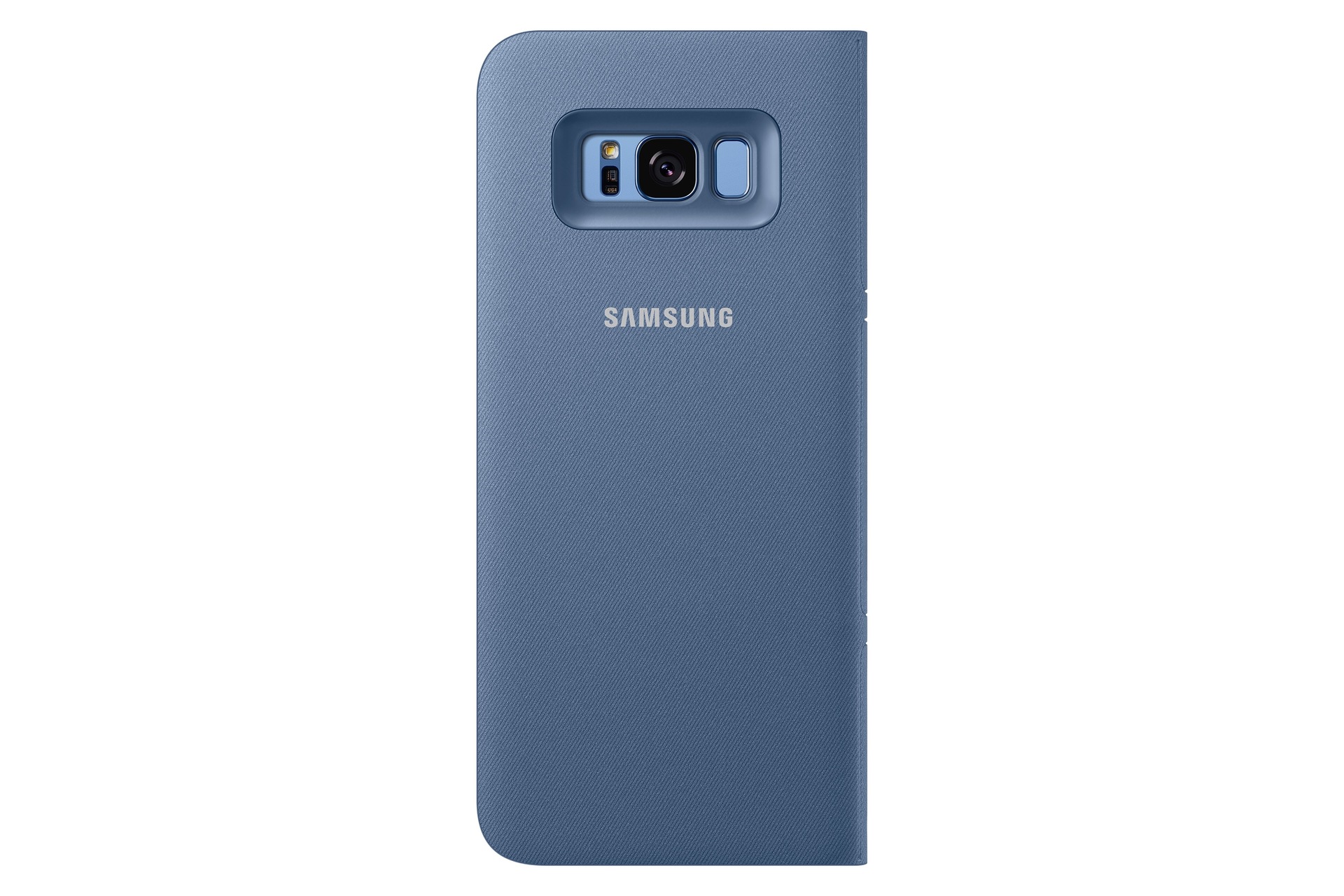 Galaxy S8+ LED View Cover
EF-NG955PLEGWW
Galaxy S8+ LED View Cover
is rated out of
5
by
10
.
Galaxy stays active
even when the cover is closed
Use without
opening the cover
No need to open the cover, you can still answer and reject calls and control the timer with one simple drag.
Choose or create
your own LED icons
Be unique and show off your style.
Choose from 54 LED icons or come up with your own.
A smart cover
that recommends
the best colour theme
Activated by the NFC tag, it recommends themes that go nicely with the colour of your cover.
A smartphone cover, as well as
a card holder
Make it personal
Make your phone as sleek on the screen as it is on the outside. The LED View cover comes with custom themes, so you can change your phone and reflect your style with ease.
Control on the cover
LED lights provide pertinent information, so you can control your phone without opening the cover. Turn off alarms or answer and reject calls with a swipe. And by setting custom contact icons, you can make caller ID fun.
Rated

5

out of

5
by
Emma
from
Great product
Really happy with my purchase... looks great
Date published: 2018-01-09
Rated

5

out of

5
by
DFitz
from
Great cover
A clever cover where you can program different icons to flash on the cover when you have messages from different people. It's a well designed cover so keeps the phone perfectly safe. Glad I took the risk and spent the money on this.
Date published: 2018-01-06
Rated

5

out of

5
by
Kt
from
Amazing!
Can't believe how much this phone cover can do compared to the previous Samsung covers!
Date published: 2017-11-01
Rated

5

out of

5
by
Meher
from
Very beautiful .my son like a lot
Date published: 2017-09-28
Rated

5

out of

5
by
AneelaQureshi
from
Great
It's great where it's durability is concerned as it's very good quality, material and weight. The digital display is awesome too but what I thought it would do is, that the display clock/time would stay on constantly, as would other digital displays of incoming messages, missed calls or notifications. But it doesn't, it fades away only after a few seconds, four seconds to be accurate, and for me, that was the selling point. My bad, as it doesn't mention that in the specifications of the product, that the digital display is displayed at all times, constantly. That is a huge disappointment for me as it isn't cheap, but that's me. Had it been cheaper, then perhaps I wouldn't be too disappointed. And that's why I wouldn't recommend it as such, as you can purchase a cheaper durable cover from anywhere. Other than that, it fits it's purpose. Oh talking of fits, it actually holds your mobile in very very well. In other words, once attached, it's actually quite tough to pull it out again, like it's sucked in to it. That is a huge plus point. Also I chose the colour black assuming, again, that the white digital display will be more prominent. Now that I know that the display fades out, I'd recommend you buy the colour that appeals to you, don't compromise like I did (l really liked it in the Gold and Pink).
Date published: 2017-08-04
Rated

4

out of

5
by
Wendy
from
My new cover is just amazinh
This cover is awesome and easy to set the screen. We can choose a different icon for each app and if we are getting a call we can select an icon for our special people.
Date published: 2017-05-09
Rated

3

out of

5
by
sommerke
from
A very stylish case but doesnt offer real protection since it has no magnetic closing or strap to keep it closed in case the phone falls down
Date published: 2017-11-22
Rated

2

out of

5
by
Nicki
from
Looks good, doesn't protect the phone
Looks nice, and LED cover is cool - though I dropped from around 1.5m and my screen broke through the case - you can even see on the case where the glass has broken so the impact went right through it.
Date published: 2017-11-19