G-Series with SpaceMax Technology, 615 L
RSG5UURS1/XEU
G-Series with SpaceMax Technology, 615 L
is rated out of
5
by
27
.
BUNDLE
Sorry! This product is no longer available
More Space Inside, Same Space Outside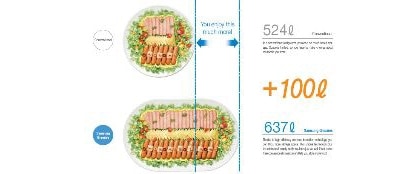 If you have a large family, you eat more. If you entertain often, you need to store more food. Storing a cake for a birthday or a whole watermelon is a big challenge for conventional refrigerators. Plus, it's more efficient to stock up on groceries in one trip rather than having to go shopping for groceries often. It saves time, energy, and money. You simply need more refrigerator space, but you don't want to sacrifice style. What do you do? The Samsung G-Series gives you ample storage space and still maintains built-in refrigerator dimensions so you can have both.
Buy Foods in Bulk!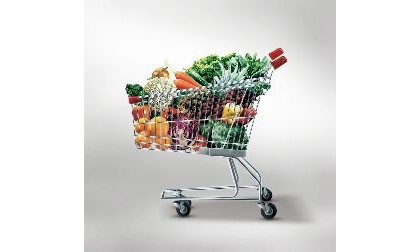 The more storage space you have, the more shopping hours you save. You simply save more time by buying more groceries at once, so you can use that time doing things that are important to you.
Fresh-Keeping Technology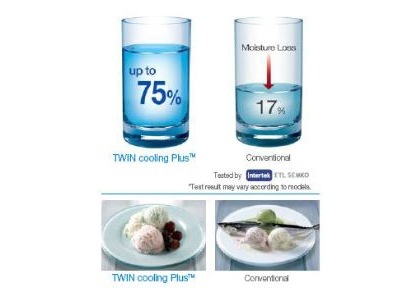 Samsung's Twin Cooling™ Plus system keeps the fridge and freezer compartments completely separate and cools each with its own evaporator, ensuring cold air from the freezer cannot travel into the fridge. This means the fridge retains its high humidity level of 75%, which is essential for preserving the freshness and flavour of your food. It also prevents any odour transfer between the two compartments.
Tilt Can Carry
This flexible can holder even folds up to offer more space for taller bottles.
Big Boxes
Overall size of the boxes are bigger for more storage space.
Dairy Guard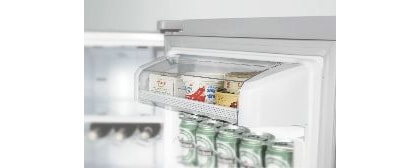 Ideal for dairy products with transparent lid for an easy view of food stored.
ClearView Icemaker
This space-saving icemaker in the freezer door is seethrough for an easy view ofice stored.
Multi Flow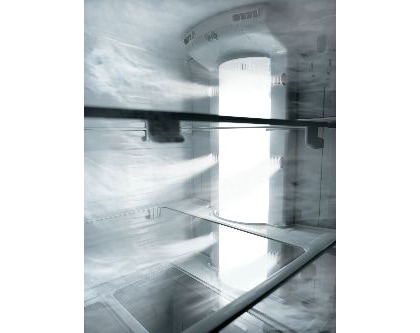 Cooling air flows out through multiple outlets on every shelf, providing even cooling throughout the refrigerator, as well as quickly cooling the refrigerator back down to its optimal temperature after the door has been opened. By keeping the temperature steady, your food is kept safely chilled and better preserved.
LED Tower Lighting
The lighting is space-saving, semi-permanent, and has no heat emission.
Foldable Shelf
With the unique foldable shelf feature, you'll never struggle to find space for bulky items again. This easy-to-use three-step folding shelf makes storing over-sized items easy, providing greater flexibility to suit all shapes and sizes.
Rated

4

out of

5
by
Kwax69
from
Great looking fridge!
Received this a few weeks ago and have been using without plumbing (until today) - so far, so good. Both fridge and freezer compartments have more than ample space to cope a major shopping journey - Water tastes great from the filtered dispenser and now just looking forward to using ice (as i say, only had it plumbed in today). All in all, a good looking fridge with good features and very easy to use
Date published: 2015-04-21
Rated

5

out of

5
by
Loulou80
from
So glad I brought this *****
I brought this fridge freezer 6 moths ago and I im so glad I did as a young family of 4 it has so much space it keeps food fresher for longer. Great purchase and would highly recommend
Date published: 2017-11-20
Rated

5

out of

5
by
Healthysean
from
Great size, great space, lovely cold water
Only had the fridge/freezer a week, with a lovely new kitchen. So happy I chose Samsung, and ask our kitchen designer to buy this model. So Spacious, perfect for keeping all the fruit and vegetables, space for everything. I really wanted this especially for the cold water and ice.. So nice to have fresh filtered water.
Date published: 2017-03-28
Rated

4

out of

5
by
airplane
from
Overall performance & look is good. Experienced the white edging on the fridge shelves has started to crack .
Disappointed with the durability of the shelving which has started to deteriorate.
Date published: 2012-03-11
Rated

5

out of

5
by
Nigel3 Update
from
Update following origina review for Samsung RSG5UU
I posted a previous review on the arrival of my fridge and felt disappointed with the issue related to the fridge filter. Following a discussion with Samsung they have stepped up to the plate and in pretty rapid time sorted out the obsolete filter housing in my new fridge and I am now very pleased with both the fridge and after sales service. The water tastes great and there is loads of room for all our shopping. Well done Samsung! I wholeheartedly recommend this fridge and Samsung. Many thanks and I look forward to many years use of this excellent fridge!! Nigel
Date published: 2018-04-21
Rated

5

out of

5
by
Luvmycoolfridge!
from
Great looking appliance
Only had my new Samsung fridge freezer for a short time but I love it. Great space and design. My son just loves the water/ice dispenser - he keeps dispensing ice for the dog as well, so I find icecubes on kitchen floor or water puddles!! Not so good..... Great buy and great value, hopefully it lives happily in my new kitchen for a very long time. It really looks so good.
Date published: 2017-10-11
Rated

3

out of

5
by
Missi
from
Short term good product
Had this fridge freezer for around 18 months -2 years Everything was great until last year the door had water leak into the outer skin from the water unit Can't get a replacement door anywhere so stuff with a fridge that looks awful in my new kitchen If it wasn't for this ugly fact I would be happy with product
Date published: 2018-07-19
Rated

5

out of

5
by
SukeyA
from
Love Love Love it,
I bought this last month, and after quite an issue of getting it through the door by the logistic delivery company. (It will not fit through a standard size external door without its the doors or handles being removed) Anyway third attempt and the right people arrived with a screw driver and got it in the house. I am absolutely delighted with it now. So much space, so many great features. Stainless Steel finish. Looks and is amazing. Very happy I purchased this particular model.
Date published: 2018-05-05
User manual & Downloads
Live Chat
Features and specifications are subject to change without prior notification.

* Contains PF-5056(GWP>150) as foam blown additive