How to check phone storage space & access settings
Follow the below steps to check the amount of storage space remaining on your device:
1
From the home screen, choose Apps or swipe up to access your apps
2
Choose Settings
3
Choose Device maintenance or Device care. If you do not see this screen, go to step 4.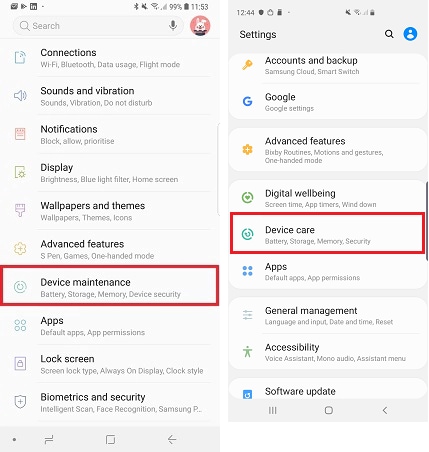 4
Choose Storage (you may need to scroll down a little)
5
This will now show you how much storage you have left on your device. If you have an SD card, the remaining space on the SD card will be shown at the bottom of the screen.
PLEASE NOTE: that some devices may take a minute to calculate. While it is calculating, the line will be grey.
If you're experiencing unusual behaviour on Samsung mobiles, tablets or wearables, you can send us an error report or ask us a question in the Samsung Members app.
This allows us to a closer look at what is happening. The data is anonymised and only held for the duration of the investigation. Find out more about sending an error report through the Samsung Members app.
We would love to know your feedback to help us improve. Please click submit to tell us what you think.
Please answer all questions.