How do I change the theme on my Galaxy device?
Themes allow you to change the look of your Samsung Galaxy device by changing colours, icons, and menus.

Your device will come with a number of pre-set themes which you can use to personalise your device. The number of themes and the theme options you have will depend on your model.


Themes are not the same as wallpapers. Themes change colours, icons and menus, while wallpaper allows you to set the background image or picture on your screen. You can find out more about changing your wallpaper here. 

PLEASE NOTE: that the steps below may appear slightly different depending on your model and the theme you already have in place. 
How to change your theme (provided themes)
There are two ways to change the theme on your device.
1
On the home screen, press and hold an empty area of the screen, then tap Themes
2
Using the Settings menu.
You can change the theme of your device through the setting menu by:

Settings > Themes

Settings > Wallpapers and themes
This will take you to the themes you have available on your specific device and model.
 
To choose one of the provided themes, simply tap on it, then select Apply. On some devices you may need to download the Theme before selecting apply.

Downloading new themes
The availability and options you have for downloading new themes depends on your device. 
 
Samsung's Theme Service 
The Samsung Theme Service allows Galaxy users to choose from over 1000 diverse themes to personalise your device.
PLEASE NOTE: that not all devices support the Samsung Theme Service.
Depending on your devices operating system, the themes you have currently used or download can be found under My Themes (you may need to scroll up for this). Some devices will have the option to STORE the themes in the top right corner of the screen or More Themes to view additional themes.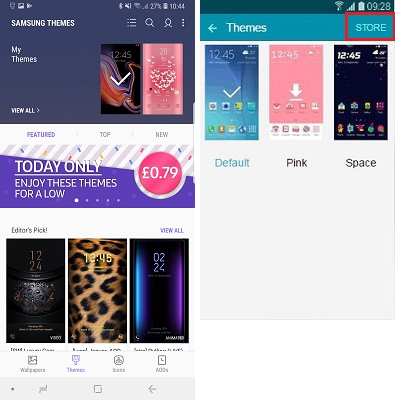 Other options
 
If you do not have access to the Theme Store, you can still download themes for use on your device via the Google Play Store or Galaxy Apps.
Troubleshooting
I changed my theme but not all of my icons changed to match the theme.
Each theme has separately designed icons for that theme.
However, if you have downloaded third-party apps or are using an independently designed theme, the designers of the theme or app may not have designed an icon for that particular combination of app and theme.
I updated my device but it went back to my old theme.
Depending on the updates made, your device's theme may revert back to the default design. If you want to use a theme that you have previously downloaded, simply follow the steps above to return to your chosen theme.
If you're experiencing unusual behaviour on Samsung mobiles, tablets or wearables, you can send us an error report or ask us a question in the Samsung Members app.
This allows us to a closer look at what is happening. The data is anonymised and only held for the duration of the investigation. Find out more about sending an error report through the Samsung Members app.
Please answer all questions.