How do I install the Facebook app on my Samsung Galaxy device?
The Facebook app comes pre-installed on newer Samsung devices, but will need to be downloaded and installed on older devices.
If you are having difficulty installing Facebook, check that you have enough storage for the app. If you have an older device or limited storage, it might be worth considering installing Facebook Lite which uses less space and data.

Facebook is not an official Samsung app. If you are having difficulty with the app, we recommend contacting Facebook directly. You can find Facebook Help here.
1
From the home screen, choose Apps or swipe up to access your apps
2
Touch Play Store
3
Enter 'Facebook' in the search bar at the top and then touch Facebook in the pop-up auto-suggest list
4
Touch Install
PLEASE NOTE: Facebook is a large app and it may take a few minutes to install. 
5
Check you are happy with Facebook's permissions, then touch Accept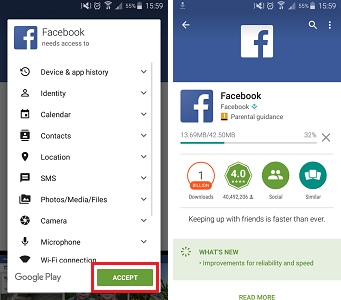 6
Once Facebook has downloaded, it will appear in your apps tray. Tap 'Apps', then 'Facebook' to open.
7
Login with your Facebook details or follow the instructions to set up an account
If you are having difficulty logging in or setting up your account, you can visit Facebook's Help page here.

If you're experiencing unusual behaviour on Samsung mobiles, tablets or wearables, you can send us an error report or ask us a question in the Samsung Members app.
This allows us to a closer look at what is happening. The data is anonymised and only held for the duration of the investigation. Find out more about sending an error report through the Samsung Members app
Please answer all questions.