How do I turn international data roaming on or off on my Samsung Galaxy device?
Data roaming is when your phone uses a mobile network that is not owned by your network provider to send and receive data. This most commonly happens when you use your phone abroad. Your provider may charge you extra for data roaming.
If you have two SIM cards in your device, find out how to use or manage dual SIM cards.
1
Open the Settings app
2
Tap Connections
3
Tap Mobile Networks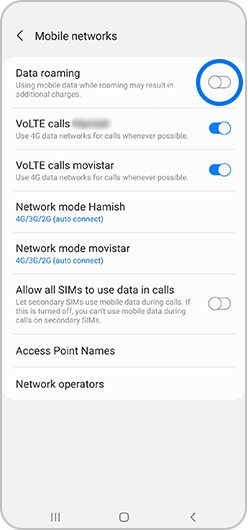 4
Tap the switch to activate or deactivate Data Roaming
Please note: If the Data Roaming switch is greyed out, check that Mobile data is activated. Go to Settings > Connections > Data usage > Mobile data.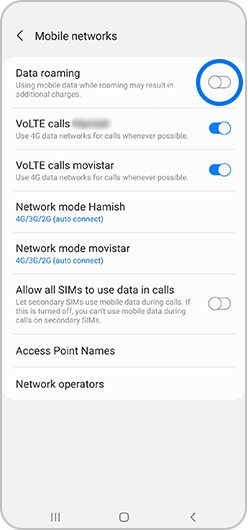 You will now be able to use mobile internet when abroad.
If your device is not connecting to mobile data when you are abroad, try the following troubleshooting steps:
Check that your network provider has permissioned your device and plan for data roaming.
Reboot your device.
If your data roaming is still not working, please contact your network provider to make sure that roaming is activated for your plan.
Until 1 January 2021, there were no extra charges for using mobile data, making calls, or sending text messages when using your phone in the European Union. However, since then, some mobile providers have reintroduced roaming charges. You can check whether your network provider has roaming charges, along with more information about using your mobile abroad, here:
Please answer all questions.