Locate a file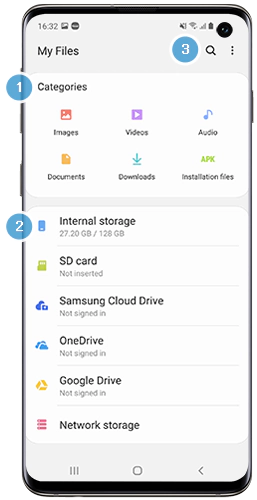 1
Categories
My Files sorts your files into categories, such as Images, Videos, Audio and Downloads. If you have recently downloaded a file and are trying to locate it, tap "Downloads" to access or delete the file.
2
Locations
My Files also sorts your files by location. You can view all files that are saved in a particular location, for example on an SD card by tapping the relevant location. From there, you can view, move or delete each file.
If you are looking for images from your camera, you can find these under My Files > Internal storage or SD card > DCIM > Camera.
3
Search
Search a file using the Search icon.

Analyse storage
My Files can perform an analysis of the storage usage of the files stored on your device. 
1
Scroll to the bottom, then tap "Analyse storage". Alternatively, you can tap the More options icon, then "Analyse storage".
2
A breakdown of the files on your device will be displayed on screen. If you scroll down, My Files will also display any duplicate, large or unused files so you can decide whether to keep.
We would love to know your feedback to help us improve. Please click submit to tell us what you think.
Please answer all questions.