How to update or upgrade your Samsung Smart TV software
If you are having trouble with your Samsung Smart TV, you should always check to see if there are any software updates available as these may contain a fix for your problem.
The easiest way to update your software is directly through the settings menu on your TV. If your TV isn't connected to the internet or your internet connection isn't stable, you can also update using a USB stick.
If you aren't sure whether your TV needs an update, find out how to check what software version your TV is using. If you've followed the steps and can't find an available software update, then your TV is already updated to the latest available version.
Find out how to update the software on a Galaxy smartphone or tablet.
Update software using your TV menu
Please note: the following steps may look different depending on your TV model and the version of the smart menu it uses. If you're not sure of the exact steps, follow your printed user manual or download the e-manual from Samsung Support
1
Open the Settings menu on your TV
2
Select Support
3
Select Software Update
Please note: if you have a USB stick connected for video/photo/music playback or recording, the TV will ask if it should look on the USB stick for an update file. Select No to continue updating using Wi-Fi
4
Select Update Now
Please note: if there is no update available then your TV is already updated to the latest version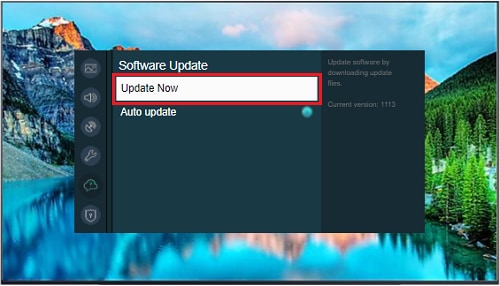 Update via USB
Please note: you will need, your TV model number, a USB stick and a PC or laptop
You can find your model number by checking the sticker on the back of your TV or by going to the settings menu and choosing Support > About this TV
2
Search for your TV's model number
3
On the site for your model, scroll down to the Manuals & Downloads section
4
Download the latest Upgrade File onto your computer. There may be more than one upgrade file. In the description it will state what computer operating system the file is for.
5
Insert a blank USB stick into a USB port on your computer
6
The file you downloaded will have been compressed to save space and must be extracted before it can be read by your TV. Depending on the format of your download, the process for extracting will be different. If your file ends with .zip follow steps 7-8. If your file ends with .exe go to step 9
7
Find your download and extract the contents
Please note: the process of extracting files may differ depending on your operating system. Refer to your device specific manual for more information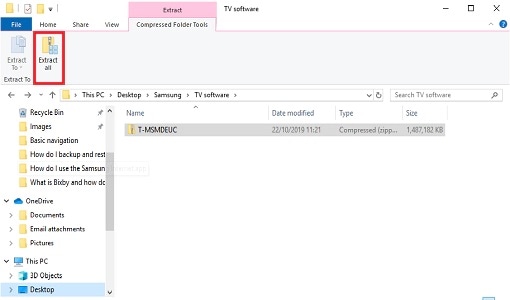 8
Move the extracted folder onto a USB stick. The folder should not be placed within another folder and should be the only item on the device. You can now skip to step 12
Please note: do not change the name of the folder as your TV will not be able to recognise it
9
Double click your download to open it
10
Select your USB stick as the Destination folder
11
Select Extract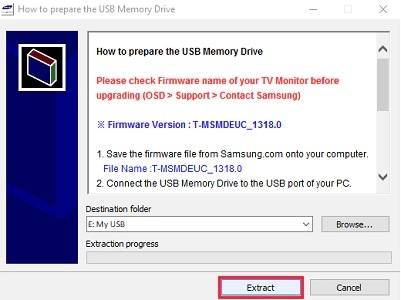 12
Turn on your TV and insert the USB stick into the USB port
Please note: if your TV has more than one USB port, make sure that there are no other devices plugged into any USB port
13
Open the Settings menu on your TV
14
Select Support
15
Select Software Update
Please note: on older devices you may have to wait a minute or two before you can select Software Update
16
Select Update Now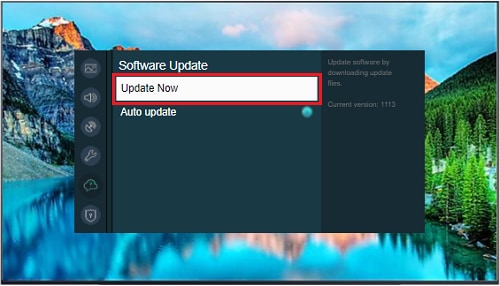 Follow the on-screen prompts to begin the update process. Once the update has completed, your TV will turn itself off and then on again.
Please note: while the TV is updating, do not pull out the USB stick, unplug the power cable or turn off the TV as this could cause a firmware error
We would love to know your feedback to help us improve. Please click submit to tell us what you think.
Please answer all questions.