How Samsung Foldables Are
Changing the Way We Use
Our Smartphones
By Drew Blackard, Vice President, Product Management, Samsung Electronics America
When Samsung unveiled its first foldable smartphones, we began a new chapter of innovation. Since then, foldable form factors have been redefining what you can expect out of a smartphone — inspiring us to capture, connect, and communicate in entirely new ways. Today, the foldables market is growing rapidly, and Samsung is leading the charge.

As we continue to refine the foldable user experience, we're listening and adapting to meet the needs of today's smartphone users. Now more than ever, people want phones with the flexibility to switch seamlessly between working, playing, sharing, and everything in between. We want phones that can adapt to fit our lives in any moment. Phones that enable powerful multitasking and immersive entertainment. Phones that inspire us to do more.

But from person to person, not everything we're looking for in a smartphone is the exact same. That's why we created two different foldable form factors.

Our foldable Galaxy Z series devices open up a new world of possibilities. Whether you're unfolding the main display on our Galaxy Z Fold2 for a tablet-like experience to game, watch or multitask, or positioning the display on our Galaxy Z Flip at the perfect angle for a hands-free video chat, these are experiences you simply can't have on any other smartphone.
And the experiences keep getting better. Many of the most popular apps have been tailored to take full advantage of these foldable formats, and the list continues to grow. With Flex mode — which enables you to use the device display at a folded angle¹ almost like a laptop — you can unlock new ways to watch your favorite YouTube channels, video chat through Google Duo, stream a show while you chat with friends.
With more screen, more flexibility, and more multitasking capabilities, you can do more with foldables, and our foldable owners are seeing the difference. Galaxy Z Fold2 users love their phone's tablet-sized screen — they told us it's the number one reason they bought the device². They use their Galaxy Z Fold2 to join video calls hands-free, read e-books and game on its 7.6-inch screen, and work more productively with emails and documents³.
Galaxy Z Flip users said they love their phone's sleek, fashionable design and having a full-sized smartphone that folds to fit in the palm of their hand. The iconic and compact design is the top reason why they chose Galaxy Z Flip — and they enjoy using its unique Flex mode to capture photos and videos in new ways.³

The flexibility these devices offer is revolutionary — and our customers are noticing the foldables difference.

As Samsung continues to push-the-envelope and bring customers more of what they want, it's no surprise the response to foldable devices is so strong. Galaxy Z Fold2 has 96% user satisfaction in the U.S, and nearly 9 in 10 surveyed customers say they would purchase a foldable phone again⁴.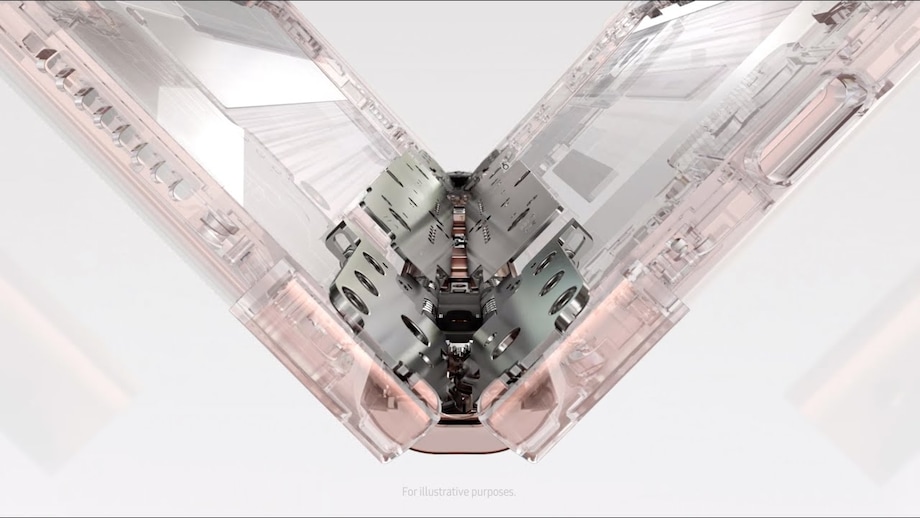 What's more, according to a survey conducted just last month, half of all U.S. consumers are interested in buying a foldable phone as their next device.⁵

The global outlook is just as impressive. This year alone, the foldables market is expected to triple over last year⁶ — a year when Samsung accounted for three out of four foldable smartphones shipped worldwide.⁷

While many are beginning to see all the possibilities of foldables, this isn't the first time Samsung has introduced a new form factor that changed the game.
When Samsung first pioneered large screen smartphones over a decade ago, we saw how they enabled people to do more with their devices, from gaming to streaming to working. Today, large screens have become the industry standard.

At Samsung, innovation is about more than introducing a new piece of technology. It's about delivering breakthrough experiences. That means continuing to explore, evolve, and expand our portfolio of foldables — a commitment that TM Roh, Head of Samsung's Mobile Communications Business, reaffirmed last year.

And recently, as part of our drive to make foldables more accessible, we've introduced new, creative ways for people to enjoy the foldable experience.

We've reduced the price of our latest foldable devices and include access to Samsung Care, our customer support service complete with benefits such as set up help, health checks, repairs and more.⁸

Foldables have come a long way in a few short years, but we're only at the beginning of what this game-changing technology can do. From transformative viewing experiences to boundless flexibility, the only limit is our imagination. Stay tuned — we're just getting started.
¹ Galaxy Z Flip and Galaxy Z Fold2 can stand on its own from 75 to 115 degrees; a broader range of angles may be accessible for users depending on environment and use case. Certain applications may not support Flex mode.
² Samsung US Z Fold2 consumer study
³ Samsung US Z Fold2 consumer study
⁴ Samsung US Z Fold2 consumer study
⁵ https://business.yougov.com/content/35362-foldable-phones-gauging-interest-america
⁶ 2.7M in 2020 to 8.7M in 2021; CAGR 113% from 2019 – 2025; Strategy Analytics global display Technologies, Oct 20
⁷ CounterPoint Research via https://www.sammobile.com/news/samsung-retains-foldable-smartphone-crown-with-record-2020-shipments/
⁸ Compared to price of previous generation models. For more information about Samsung Care, see https://www.samsung.com/au/samsung-care/