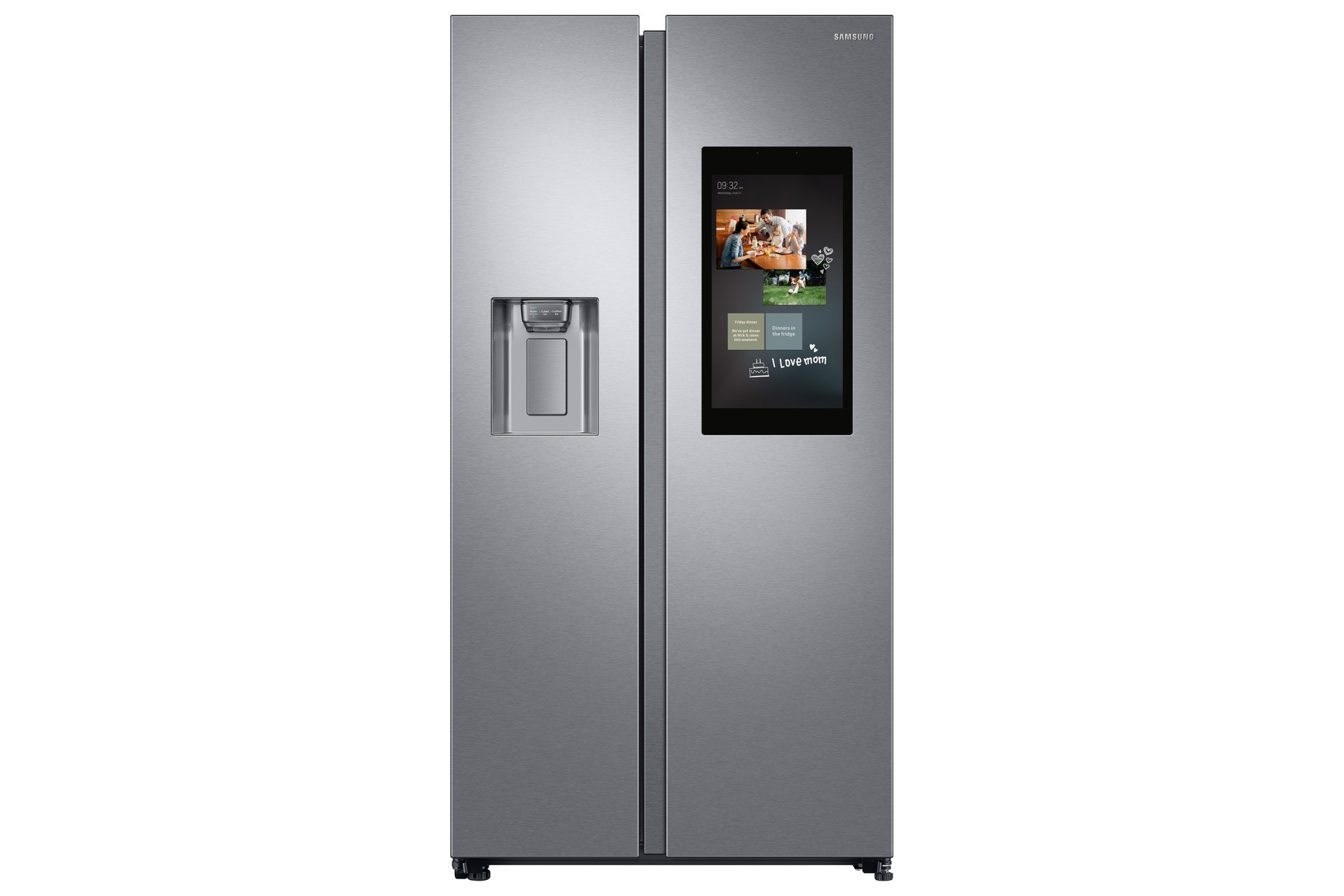 Family Hub™ American Style Fridge Freezer, 593L
RS68N8941SL/EU
Family Hub™ American Style Fridge Freezer, 593L
is rated out of
5
by
24
.
BUNDLE
SpaceMax Technology™
Twin Cooling Plus ™
Family Hub
Auto Ice Maker
Plan meals, save time
Meal Planner
The Meal Planner App gives you inspiring recipes based on the food in your fridge and the preferences of your family. It is also integrated with your Family Calendar so you can prepare for the week ahead. Easily add ingredients to your shopping list so you only buy what you need.
View inside from anywhere
View inside
View inside your fridge without opening the door. Using a smartphone*, you can look inside the fridge when you're out shopping. The View Inside allows you to tag items with expiry dates and will then remind you when items need to be used.
* Requires SmartThings App available on Android and iOS.
Never forget important family events
Family Calendar
We get just how busy you are, juggling work duties and family outings. The good news is that the Family Calendar remembers all those key dates for you and everyone else in the family. Syncing with Google and Microsoft 360 calendars, it's just as easy to update via the touchscreen or your smartphone*; or better yet, simply ask Bixby to read it out for you. So that's one thing off your list!
* Requires Family Hub App available on Android and iOS.
Easily stay in touch
Memo, To-do, Gallery
Whether you've left a note or posted a picture, anyone can see what you've put up there the minute they step close to the fridge. Let your creativity speak for itself using text, voice recordings, pictures or hand-drawn sketches
Enjoy endless entertainment
Entertainment
Enjoy endless entertainment in the kitchen. Simply choose to play almost any song or musical artist using Spotify. Or access 100,000+ radio stations, news, podcasts and comedy shows on TuneIn. You can also watch your favourite TV programs on the Family Hub's screen or play music stored on your mobile phone using the Smart View feature*.
* requires Samsung Galaxy S6 and above or Samsung Galaxy Note 5, 7 and 8 series
Connected Living
SmartThings
Use your smart devices more easily and maintain your home effortlessly with the SmartThings App*. It lets you monitor, control and schedule smart appliances from the Family Hub screen. It also provides an easy way to order water filters**. And it helps you identify and fix issues or get technical support***.
* Available on Android and iOS devices. A Wi-Fi connection is required. A Samsung application account is necessary. ** The water filter replacement service is only available in certain countries in Europe. *** The remote management service is only available in certain countries in Europe.
Large Capacity
SpaceMax Technology™
The Samsung RS8000 Family Hub™ offers a huge 593L storage space. SpaceMax™ Technology creates extra internal capacity without increasing the external dimensions, so you will never have to worry about fitting everything in.
Keep food fresh for up to twice as long
Twin Cooling Plus™
Ensure food stays moist and fresh for up to twice as long*. Twin Cooling Plus™ optimises the temperature and humidity in the fridge and freezer with independent cooling systems, as well as preventing odour and flavour transfer.
*Compared to RSA1UHMG1/XEF.
Sleek & Seamless Design
Flat Doors & Recessed Handles
Give your home a sleek & seamless look. The beautiful flat doors and recessed handles won't look out of place in any kitchen.
*This image is for demonstration purposes only and some features and colours shown may not be available with this model.
Looks as good on the inside as the outside
The Metal Cooling Interior adds an extra touch of style to your fridge. With the beautiful reflective metal interior, this fridge looks as good on the inside as it does on the outside.
640 ℓ

Gross Total (Litre)

593 ℓ

Net Total (Litre)

912 mm

Net Width (mm)

1780 mm

Net Case Height with Hinge (mm)

716 mm

Net Depth with Door Handle (mm)

127 kg

Net Weight (kg)
Rated

2

out of

5
by
Daniel444
from
Noise from the fan
I was happy for a 6 months, last 6 days I can't sleep. the fridge has become loud, it only helps opening the door. as soon as it closes, it starts buzzing. I started reading about this problem and a lot of people have similar problem with other models. it looks like the problem is known to Samsung and does nothing. I paid 3300euro and now I regret my choice. the solution I found on the internet is defrost the fridge every few months, but why should I do if this is frost-free fridge.
Date published: 2019-10-21
Rated

5

out of

5
by
Laybster
from
I love how it connects to my smartthings!
WOW... Amazing fridge freezer and fabulous piece of technology! The tablet is amazing and connects to all of my smartthings in the house. The Ring doorbell pops up on the screen straightaway with a lonely bell! Love it!!
Date published: 2019-10-22
Rated

2

out of

5
by
RFCsteve
from
Features Limited
View what's inside your fridge? Yes, through a blurry image, cameras are useless! Mirror your TV ? Yes, but ONLY if it's a Samsung TV, and not just any Samsung Smart TV! it has got to be the latest models, my 2yr old 55" KU6000 is no good, it comes up in the list but cant be mirrored! This could probably be fixed with a software update for the TV's but why would they do that if they can get you to buy a new TV too? Buy a cheaper fridge and a new TV for your kitchen with the money saved! The same applies to mirroring from your phone, MUST be Samsung The rest of the apps are mostly one's you'd have to sign up for, and I can't see that you can add any different ones
Date published: 2019-04-08
Rated

5

out of

5
by
DKB75
from
Fantastic family fridge freezer
We've always wanted an American style fridge freezer, so came across the Family Hub series when looking for one to go into our new kitchen/diner. Installation was relatively simple, however I feel the manual could be more specific on the size of the connector for the water connection. I had to go online and find the information. There is an enormous amount of space available inside and the kids love the 'Family Hub'. The 'Look Inside' function is useful as well as the shopping list app. Overall, very happy with the product.
Date published: 2019-04-13
Rated

5

out of

5
by
tatikprice1
from
An ultimate kitchen upgrade with Samsung
Having now used the shiny new Samsung RS68N8941SL in our household for over two weeks all I can say is… we are absolutely loving it! From competently performing its primary functions (safely storing fresh and frozen food and dispensing ice and filtered water) to being stylish and beautiful with its sleek stainless steel look and an amazing gadget that the Smart Hub is, this fridge freezer has truly become the centre of our kitchen. This impressive piece of equipment is much more than the fridge freezer: we rely on it as our daily organiser - a quick glance at the calendar sets us up for the day, Bixby helpfully updates on the weather forecast in the morning (who would have thought that one day you end up talking to your fridge?), I can have access to online recipes - we bookmarked a few favourite websites straight in the browser of the Smart Hub so they can be accessed in a flash. I really enjoy the selection of apps on the Smart Hub - the Ring doorbell, Uber, TuneIn Internet radio, Photo viewer, Shopping list, Whiteboard, and more. Tesco grocery is great - if only there was an Ocado one, too! Perhaps one day other apps will be added to the already generous selection. So far all of our friends and neighbours who have got to see our new gadget fridge freezer are in awe! I have noticed that fruits and vegetables last much longer in this fridge without drying out. We have been using Samsung's RSH1DTMH for almost a decade and the difference is very noticeable. I also really like the way Samsung has optimised the use of space in the freezer section by moving the ice making element to the door. The fridge section has two built-in cameras which allow a peek inside the fridge even from miles away - all you need is a Samsung Smart Hub app on your mobile device. This fridge freezer is quiet in operation, even the ice making machine is quiet. The lighting is using low energy LEDs which illuminate the interior from the front to the back and do not get blocked by the contents of the fridge. The A++ energy efficiency rating is a welcome bonus - after all, energy saving is something every household should strive for not only for money saving purposes but also for driving manufacturers to come up with more energy efficient product designs. I would not hesitate to recommend Samsung RS68N8941SL Smart Hub fridge freezer to anyone: what a great product it is, a delight to use! Thank you, Samsung and The Insiders UK, for the opportunity to use this fantastic product!
Date published: 2019-03-18
Rated

5

out of

5
by
Usman
from
The Smartest Fridge Freezer Around!
Well I have had this American Style Fridge Freezer for over a month now. Albeit with some teething issues at the beginning, we are now fully set up and working. Moving into a new home with my wife and two children would mean many new gadgets/items to fall in love with, but unanimously all 4 of us love the smart hub fridge freezer. As a fridge, there is ample amount of space. The shelves are still half empty after a £100 grocery shop, freezer space is so good literally we have dedicated shelving for different meats etc. And the tablet, well my two year old doodles on it all day, in browser Videos keeps her entertained and the Ring doorbell connectivity is a fantastic feature. There is so much to like about this fridge freezer, but as I mentioned not without teething issues. The smart hub runs off tizen and is it not the quickest. The app selection is no where near to other app stores. And the smart integration with the in built cameras is a tad slow. It's quicker to open up your fridge and check what's in there. However the fun factor it brings into the kitchen for the family is amazing. Early morning we listen to our favourite music or the radio. I come home everyday to see a drawing my daughter has made for me (and all her hand print marks) . As long as Samsung push software in time this will be perfect for both children growing up. Tracking chores, homework, family notes. Still working on my smart things integration to my house lighting and washing machine, but I can see that working perfectly. The amount of attention the fridge freezer brings when guests are in the home. They love it and so do we!! One feature I do have a complaint about is the "crushed" ice. It literally cuts an ice cube in half. I thought we would have mojitos on tap literally when I saw it had a crushed ice feature, but the cubes come out in big blocks. Nevertheless we have ice continuously and filtered water which saves me so much on bottled water. That saves me money and reduces our plastic intake! Win win. Overall it's a good piece of kit as a fridge freezer. The family hub tablet in built is an eye catcher for all. And mainly a source of entertainment for the children whilst the cooking is being done or when the football is on. Keep innovating Samsung. It makes our lives easier!
Date published: 2018-11-13
Rated

3

out of

5
by
Nathan111
from
Good fridge freezer, rubbish drip tray
Recently bought this fridge freezer and overall fairly happy. However, the 'drip tray' is useless, as soon as you use the water dispenser, naturally a few drops will drip after you finished and this water just sits there. There isn't a removable drip tray so you essentially have to keep wiping it after every use, just a slight annoyance.
Date published: 2020-01-04
Rated

5

out of

5
by
billyboy1
from
Another class
Absolutely love our new fridge, the touch screen is suprisingly responsive and speak for streaming radio is loud and clear. Too much space inside to fill it most of the time!!
Date published: 2019-12-29
User manual & Downloads
Live Chat
*By redemption within 90 days of purchase. T&Cs apply.