How do I change the wallpaper on my Samsung Galaxy smartphone?
Setting wallpaper on your Samsung Galaxy device
You can change the background (wallpaper) on your Samsung Galaxy smart device. Your device will include a choice of wallpapers, or you can choose to select your own image to use as a wallpaper.
 
Depending on which device you have and its specifications, you may also have the option to choose to set a Live Wallpaper (moving wallpaper), or a Travel Wallpaper (showing a changing selection of travel destination pictures), amongst other device-specific options. Note that if you choose a wallpaper that isn't static, it will use more battery power than a still picture.
 
There are two main ways to set wallpaper on your device, you can either press and hold on any home screen to bring up wallpaper options, or you can go into your Gallery directly and select a picture or photo from there. Please see below for step-by-step instructions for each.
Setting wallpaper from your home screen
1
Select any empty space on your home screen, then press and hold the screen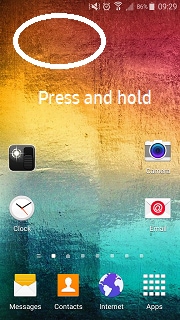 2
You will now be taken into your home screen options.
Please note that this screen will differ slightly depending on the model of your device.
 
You will either see the option to tap Wallpapers or you will see Add to Home screen as per the second image.
 
Tap Wallpapers if you see the first image.
If your device more closely resembles the second image, skip to step three.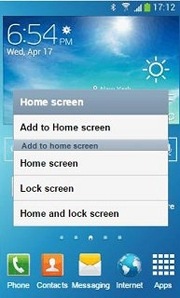 3
Choose where you want to change your wallpaper and tap that option. In the below example, we will change the Home Screen wallpaper.
You can choose different wallpapers for your Home and Lock screens. Simply repeat the steps for each screen.
 
Home Screen: this is the background of your device while you are using it.
Lock Screen: this will be the background of your device when it is locked.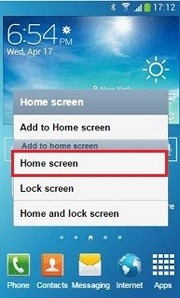 4
Tap the wallpaper you wish to choose (from the already included) or tap Gallery to choose a picture from your personal photos and downloads.
Please note that this screen will differ slightly depending on the model of your device.
 
If you wish to use a wallpaper or image from the Internet, you will need to download this onto your device first.  You can usually do this by pressing and holding the image until you get a pop-up with the option Save Photo or Save Image. You will then find it in the Downloads folder in My Files and Gallery. Ensure that you have permission to download or copy any image you download.
5
Tap SET AS WALLPAPER
Note that if you have selected an image that is not the same size as the screen, you have to crop it first. Do this by using your finger to drag the box provided to the section of the image you want to use.
Your wallpaper will now be set.
Setting wallpaper from the Gallery
If you wish to use a personal picture or photo, or other image, you can also do this directly through the Gallery.
1
Open the Gallery (if it's not available on your home screen, tap Apps first to see all apps)
2
Select the picture you wish to set as wallpaper. You may need to open a folder first.
You can set your own folders in the Gallery but some will be automatically created for you such as Downloads or Whatsapp.
 
Once you are in the image, tap Menu (this may appear as three dots)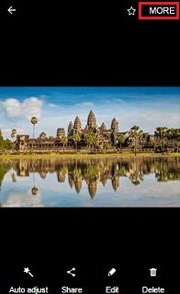 3
Tap Set as wallpaper
4
Choose where you wish to set it: Home screen, Lock screen or Home and lock screens.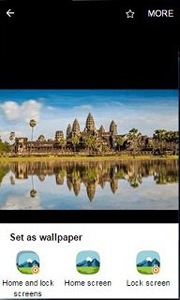 5
Confirm SET AS WALLPAPER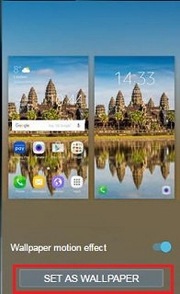 Not finding what you're looking for? We're here to help.
Online
Twitter
Tweet us | 9am to 9pm, 7 days a week.
Monday to Sunday | 8am to 10pm
SmartThings Monday to Friday | 9am-5:30pm
Email
We'll respond within 24 hours of your request.
Call
B2B Support
Monday to Friday | 9am to 6pm
0330 726 7467Samsung Shop
For new and existing orders:
Monday to Sunday | 8am to 10pm

Calls to 0330 numbers cost no more than calls to geographic numbers (01 or 02).
Calls from landlines and mobiles are included in free call packages.
Call charges are subject to change and this information is provided as a reference only.
Calls maybe recorded for training and quality purposes.
For information on how we collect and use your details, please refer to our Privacy policy.

* For any printer related enquiries please visit the HP website.
Contact Us