How to use your Galaxy phone as a flashlight or torch
The location of the torch or flashlight function on your device will depend on the operating system your device is using. Most Samsung phones allow you to to quickly access and turn on the torch from your quick settings, but if this is not available you can also add the torch as a widget.
For devices running Android Ice Cream Sandwich and lower you will need to add a widget.
For devices running Android Jelly Bean and higher you can use your quick settings.
Find out how to check what Android version your device is using or follow along with the steps that are similar to your device.
Adding the torch using Widgets (Android Ice Cream Sandwich and below)
1
Tap and hold any blank space on the home screen
2
Tap Widgets
3
Tap and hold the Torch or Flashlight option, then drag it onto your home screen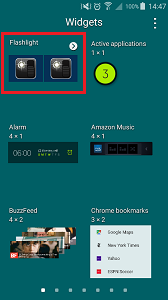 Accessing the torch through the quick settings (Android Jelly Bean and above)
1
Swipe down from two places at the top of the screen, to access your quick settings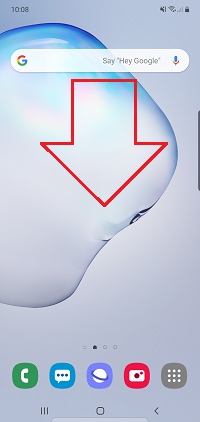 2
Tap Torch to turn it on or off
Please note: if the Torch option is not displayed immediately, swipe left to see more quick settings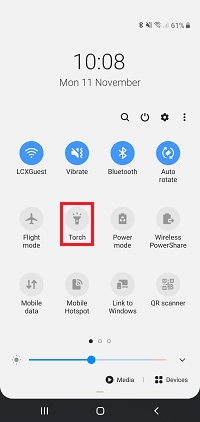 Adjusting the torch brightness
1
Swipe down from the top of the screen, to open the notification panel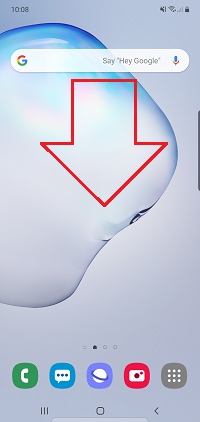 2
Tap the word Torch, beneath the quick settings icon
4
Tap the switch to turn the torch on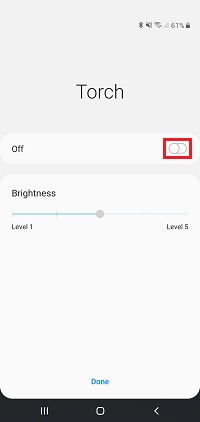 5
Drag the slider left or right, to adjust the brightness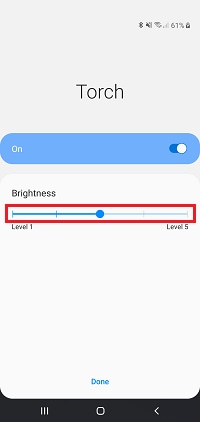 6
Tap Done to confirm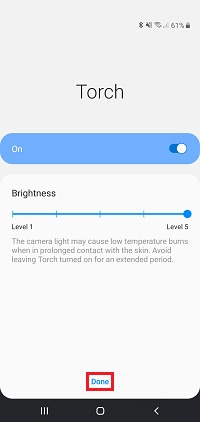 If you're experiencing unusual behaviour on Samsung mobiles, tablets or wearables, you can send us an error report or ask us a question in the Samsung Members app.
This allows us to a closer look at what is happening. The data is anonymised and only held for the duration of the investigation. Find out more about sending an error report through the Samsung Members app.

Please answer all questions.