Generation17: Meet
Today's Changemakers
and Global Leaders
How four visionaries, advocates and entrepreneurs are building a better tomorrow.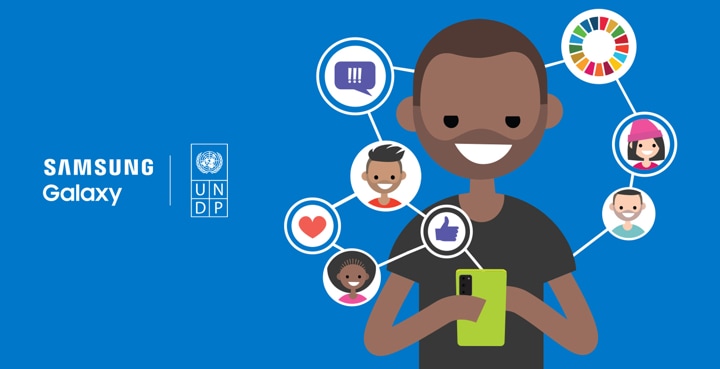 By 2030, we hope to unlock a healthier planet and a more just and peaceful society for all. That's the plan for the 17 Global Goals, a universal blueprint for the world to address pressing global challenges including poverty, inequality, climate change, environmental degradation, and peace and justice.
With less than 10 years to act, Samsung has partnered with the United Nations Development Programme (UNDP) to magnify the voices, stories and ingenuity of young leaders who are hustling to deliver on these goals.

The inaugural cohort of Generation17 Young Leaders is a group of inspiring 23- to 30-year-old leaders dedicated to innovating for humanity and mobilizing global communities. To support the young activists, Samsung and UNDP will provide mentorship, technology and networking opportunities to advance their agendas and bring their stories to the forefront of change.
Máximo Mazzocco,
30, Argentina
"I told myself I was going to lead my own life to make the lives of others better. It's the only way I know."
As a teenager in Buenos Aires, Máximo wondered what he could do about his city's garbage problem. One day, he stopped wondering and started working on it. Máximo created a pamphlet on recycling and knocked on doors—teaching, persuading and rallying 400 families in his community around waste reduction.

He later created Eco House, a nonprofit inspired by the idea that small actions can add up to big changes. The group operates 30 programs and soon will be in 23 countries—advocating for the environment, teaching companies to recycle and compost, mobilizing youth and educating more than 70,000 children in Argentina, in addition to youth in many other countries.
Shomy Chowdhury, 26, Bangladesh
"We're empowering young activists, giving them the skills to follow their passion and take action in their communities."
Tragedy struck Shomy Chowdhury at age 20, when her mother died just a day after contracting diarrhea. The experience leveled Shomy, especially after learning that 1.5 million people die from diarrhea annually. Shomy gave her first presentation four days later on practising hygiene to prevent deadly disease.

Many presentations followed to sex workers, sanitation workers and others who are often marginalised and live in extreme poverty. Today, Shomy funnels her strength through Awareness 360, an organization she cofounded that now trains 1,500 young activists in 23 countries and has already reached more than 150,000 people.
Tafara Makaza, 24, Zimbabwe
"I think it's my job, and the private sector's job, to figure out how to break down these big problems into small problems we can tackle."
When Tafara Makaza sees a problem, he can't resist—he works relentlessly to solve it. Take intercity travel in Zimbabwe, where as a boy he'd walk miles to his father's teaching job, or the lack of opportunity that drove his highly-educated mother to work abroad for a month at a time.

After arriving in the United States in 2017, Tafara discovered ride-sharing apps and realized how he could help drive change. He learned to code and eventually helped launch two apps in Africa for intercity travel and gig economy workers. Tafara now helps run both startups from his dorm at his university.
"The Global Goals are very personal for me. I think they should be personal for everyone. And I think we can achieve them before 2030."
Sadya Touré was subjected to female genital mutilation (FGM) at the age of four. And she has been on a mission of female empowerment ever since. At 13, she joined Mali's National Parliament of Children, where she skipped school lunch to save money and travel to events promoting girls' education.

Later, Sadya educated older, all-male village councils about FGM's disastrous effects on women's health, and founded an organization, Mali Musso, that provides full university scholarships, housing assistance and career training to girls from rural Mali. She is also a blogger and the author of Being an Ambitious Woman in Mali, a book about supporting the empowerment of women in Timbuktu and surrounding communities.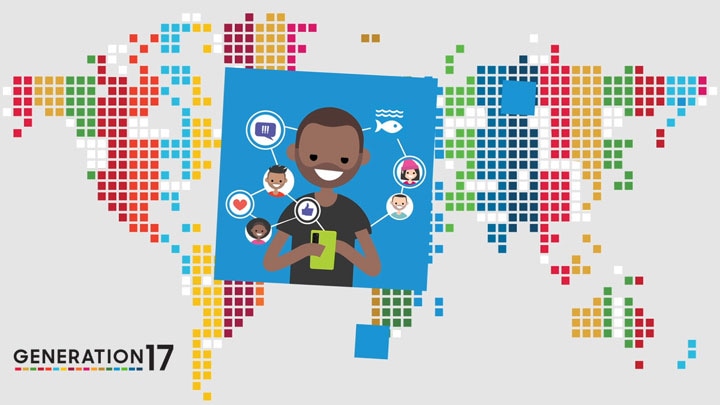 Generation17: Accelerating Progress for the Global Goals
Take the first step to join the young leaders in making the world
a better place
Learn about the 17 Goals, earn money and donate to your favorite cause. Whether it's eliminating hunger, fighting inequality or cleaning up the planet—Galaxy users can download and use the Samsung Global Goals app­ to put their newfound knowledge into action.