When you're watching TV, do you notice that the colors can come across as a bit dull? Or maybe something disappears into the shadows onscreen that totally takes away from the storyline. No more of that! The combination of HDR 1500 with the features included in the new QLED TV lineup make your TV experience the best yet.* From crisp, true-to-life colors to clear details and stunning contrast, the picture quality is exciting every time you turn on the TV. QLED is the next innovation in TV and HDR 1500 is right there with it for a great TV experience. So kick back, grab a snack, and read on to find out more about HDR 1500 and its spot as a major player in QLED TV.
Bigger HDR number means a brighter screen and better detail†
HDR is a big name in the TV game these days, and for good reason. Without HDR, you're unable to see a lot of detail that could make all the difference. For example, if you took a video of your little black dog in a room that's not well lit and then played it on your TV, without HDR she'd be imperceptible in the dark. But with HDR, there she is, clearly playing around.
In general, HDR speaks to how bright the screen on your TV will be, which in turn determines the quality of other aspects like color and contrast. The 1500 next to HDR means the equivalent brightness of 1500 candles is contained in your TV screen. Can you imagine what 1500 candles in your home might look like? Luckily, when that light power is harnessed in the QLED TV, it keeps colors true and details clear. But even though it's so bright, you won't have weary, tired eyes after doing a marathon of your favorite series. This level of brightness is comfortable for your eyes because it's close to what we encounter naturally.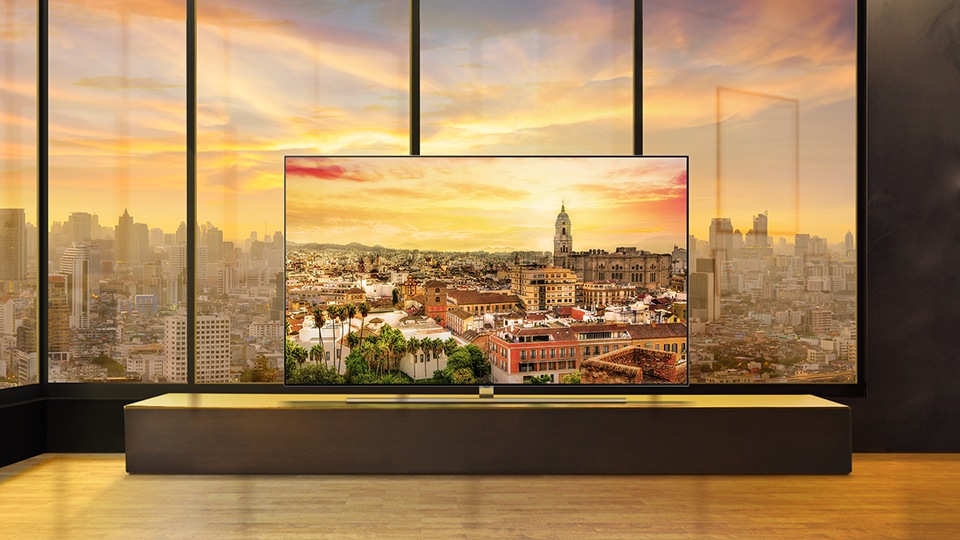 Lifelike color lets you see HDR scenes as if you were there
Speaking of nature, now you can see basically every color of the rainbow on screen as if you were there witnessing it in person. Say you're filming a beautiful sunset that you saw on the last day of your vacation. Every color is so vibrant—the orange, pink, and purple hues that spread across the horizon—but when you get home and look at the video on your TV, it looks drab. How disappointing! Now, when HDR 1500 meets QLED TV's New Metal Quantum dot, beautiful things happen to produce lifelike colors that make the scenes on screen come alive. It's because the New Metal Quantum dot produces color in a way that's incredibly fine and dense so it's super real and spans a huge amount of the DCI-P3 color space.
And thanks to HDR 1500's brightness, it also portrays 100% color volume, which is the spectrum of dark to light for colors.‡ So QLED TV can accurately display almost every color. So you don't have to just tell your friends about the stunning sunset you saw, you can show them with accurate, pure color that is displayed just as you saw it happen.
4K HDR is four times the pixels for even better definition
4K is another feature that you may hear about and wonder what exactly makes it better. The short answer is more pixels on your screen, the more definition and clarity you get, and 4K delivers four times as many pixels as Full HD televisions (1920 x 1080). So that movie you were watching that seemed just a little fuzzy on your other TV will be crystal clear on any of the 4K TVs in the QLED TV lineup.
And with the HDR 1500 brightness ensuring that you can see details equally well in both dark and bright scenes, the 4K pixel count means every detail comes through with shocking clarity. So you're watching a mystery for the second time to see if there were clues you missed—you're much more likely to see them now with this clear combo of HDR and 4K. And with HDR+ capabilities, you can upscale non-HDR content to appear as HDR so even old movies will look great on 4K. HDR 1500 is in total sync with this TV feature to give you an amazing view.
Ultra Black defeats glare for top-notch HDR TV
We all know how frustrating it can be to settle in for a film and be unable to see half the screen due to the glare of the lamp in the room. But you don't want to turn off the light because you run the risk of knocking over your popcorn in the dark. Not to mention that the picture gets dull due to the glare and you miss some important details. Ultra Black takes care of all that for you. In order to really up the contrast effect that HDR 1500 creates, the QLED TVs have Ultra Black technology in the screen to minimize glare and make sure that bright scenes and dark scenes are clear, even if the sun's out or your lamp's on.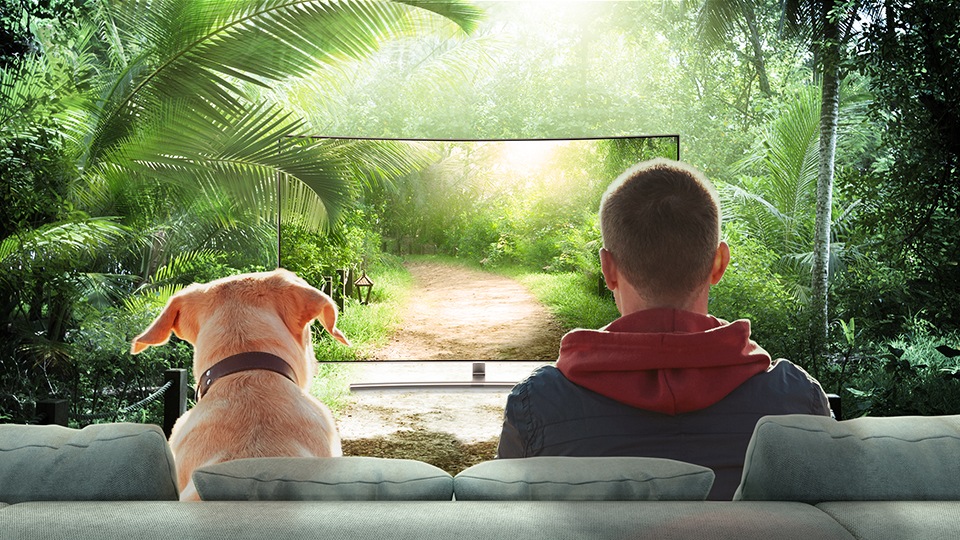 HDR 1500 + QLED TV = A New Era of TV
Overall, the HDR 1500 capabilities on the QLED TV make it an outstanding TV experience, especially when paired with New Metal Quantum dot, 4K, and Ultra Black. If you were to do a side by side comparison to your old TV—it's not even a competition! These features in the QLED TV lineup are all bolstered by HDR to give you a crisp, clear, colorful, and beautiful view on your screen.
So, to sum it all up: For lifelike color, incredibly crisp detail, and clear contrast, look no further than the QLED TV with HDR 1500.

We've got a lot of information about HDR here, but we know it can be helpful to see it with your own eyes. So we've made a video that will give you a better idea of just how the combined power of HDR 1500 and QLED TV affects contrast, color, and detail. Press play to see it in action!
Topics : QLED TV, Samsung HDR, HDR 1500, HDR TV, 4K HDR, HDR+
* According to the UHD Alliance , HDR creates contrast in the images—the difference between the brightest whites and the darkest blacks. Images with high contrast can be shown with much greater clarity and detail. It's designed to deliver an image that has greater details in the shadows and highlights.
† The peak brightness may vary depending on the model and size of the TV.
‡ 100% color volume measured to DCI-P3 Standard.