How to use Parental Controls on Samsung TV?
Last Update date :
Nov 20. 2020
Parental Controls are features available on Samsung TVs that help parents reduce the risk of their children encountering inappropriate content for their age or maturity level while watching TV or using internet apps.


Your Samsung TV has many parental control options to block certain over-the-air content based on ratings, and lock down any apps so children cannot access them
Block programs by rating
Your Samsung TV has a parental control options to block certain program based on ratings so you can make sure your child only views shows that are rated G and PG.
1
Navigate to and select Settings > Broadcasting
2
Select Program Rating Lock Settings, and then enter the PIN (the default PIN is "0000.")
3
Turn on Program Rating Lock, select TV Rating or Movie Rating, and select a rating category to lock. All programs at that level and rated higher will require a PIN to watch
Note: To unblock a rating category, select the lock icon, and to unblock all the rating categories in a row, select the lock icon under ALL.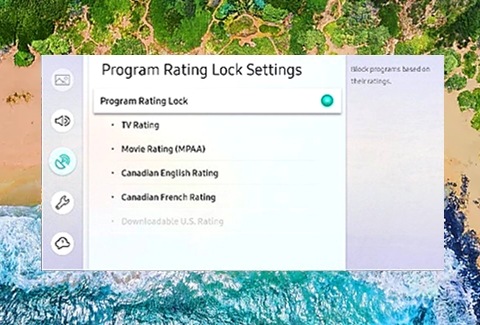 Lock and Unlock apps
 Please note that you will be asked for a PIN to open the app.
1
Press the Home button on your remote control. This opens your smart TV's home screen.
2
Navigate to and select APPS and then select the Settings icon in the top right corner.
3
Select the app you want to lock or unlock, and then select Lock/Unlock.
Note: the PIN code you enter will be the same as your TV security code. By default this is 0000
Please note that certain apps may provide their own additional Parental Controls that can vary from one app to another and must be configured separately.