How to troubleshoot a Samsung TV that keeps turning off by itself
If your TV is turning off by itself, there are several possible causes. The common reasons for a TV that turns off by itself are your settings and the external devices connected to the TV.
Method 1: Unplug the TV for 30 seconds
Unplug the TV from the outlet for 30 seconds and when plugging it back in, plug it directly into an outlet that you know works properly. This is called a 'soft reset' and should recalibrate the TV.
Method 2: Check your TV settings
Eco Solution settings
Auto Power Off is a Samsung TV's default setting, which saves electricity by turning the off automatically after 4 hours if there is no interaction with the TV from the user. A warning pop-up screen appears before the TV is turned off. There is a way to turn off the feature by following the path.
(Settings -> General -> Eco Solution -> Auto Power Off -> Select Off)
Sleep Timer and Off Timer settings
Sleep Timer or Off Timer could be enabled if the TV suddenly turns off by itself. You can turn this feature off with the path below.
(Settings -> General -> System Manager -> Time -> Sleep Timer or Off Timer -> Select Off)
Note: Sleep Timer works as a one-time operation and Off Timer setting operates periodically.
Software updates
Keep your TV's software up to date.
(Settings -> Support -> Software Update -> Update Now)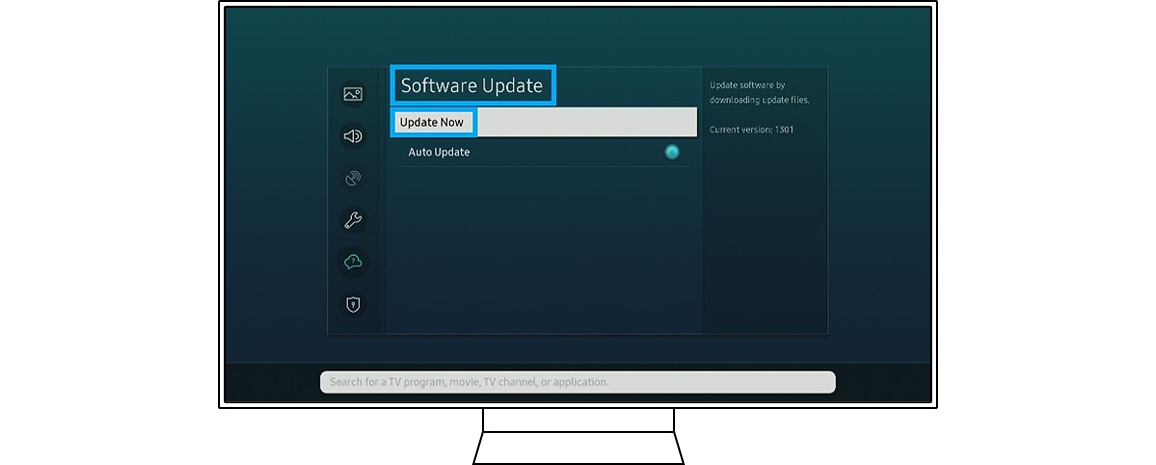 Method 3: Check your connections
The Set Top box remote controls connected to the TV can send out standby commands.
IP connected "Smart devices" such as Google Alexa or SmartThings that could issue a Standby command.
When there are no external devices connected to the TV, set the Sources to TV. (Settings -> Source -> TV)
Note: 
Device screenshots and the menu are only a sample in English - they are also available in the language of your country.
If you've tried all of the methods above but you are still having trouble with your TV, please contact the Samsung Service Centre to get help from trained technicians.