The harmonious collaboration of directional sound from both your soundbar and Samsung QLED TV
Q-Symphony
A system that has the ability to work in perfect harmony by synchronising together to play sound simultaneously from both devices. Heighten your viewing experience with the benefit of great sound quality delivered from both the TV speakers & soundbar without any complicated set up. Get the audio experience your QLED TV deserves, exclusively to Samsung.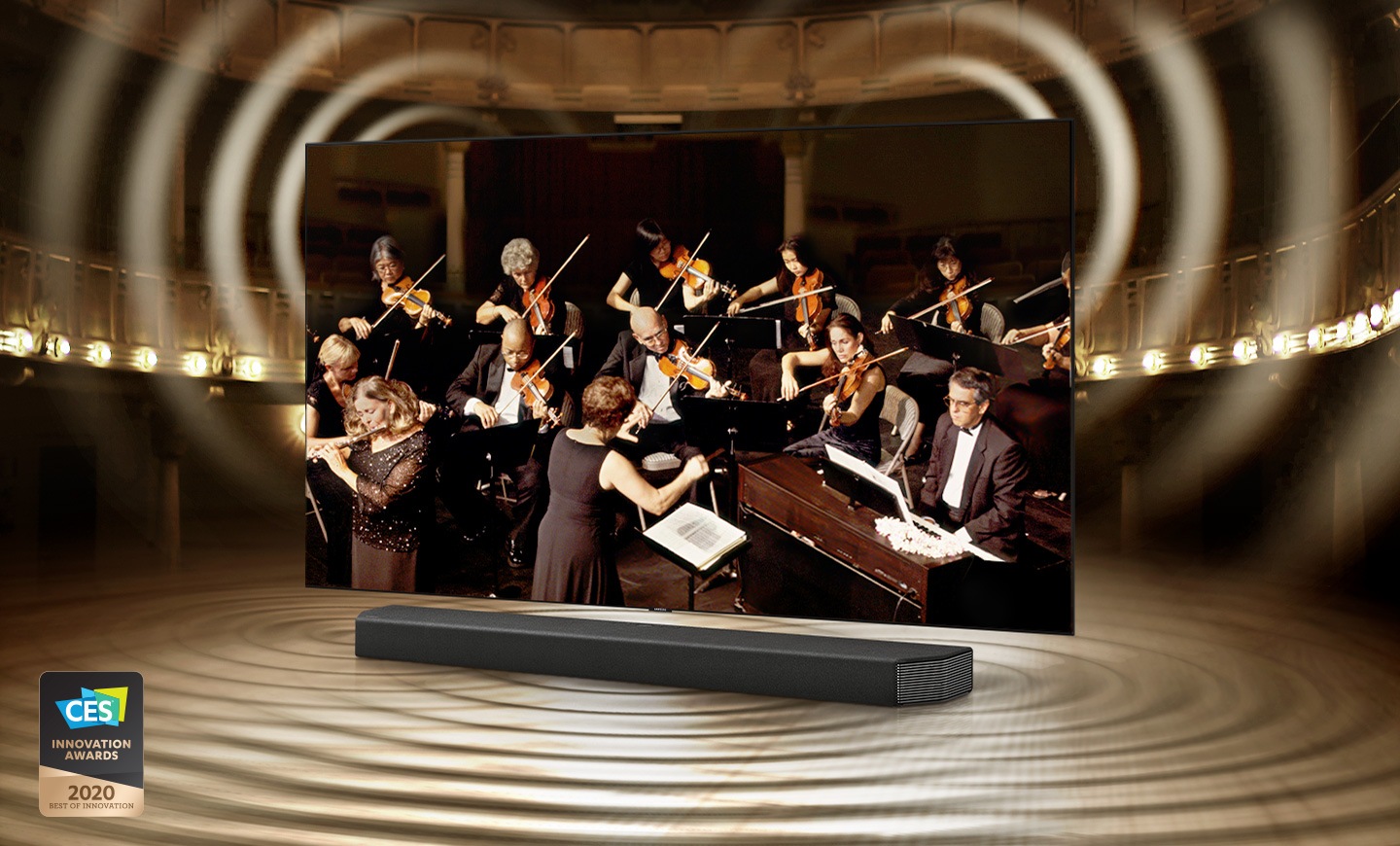 * Availability of this feature may vary by TV and soundbar model.
* Q-Symphony requires a wired connection between the soundbar and TV to function.
Elevated sound from every direction
3D Object Based Sound
The incorporation of true object-based audio formats including Dolby Atmos and dts:X allows this soundbar to place you in the heart of the action with a truly immersive 3D sound experience.

* This function may vary by model.
Immersing you in captivating sound
Experience impressive panoramic sound
Samsung Acoustic Beam
Breathe new life into your favourite music and make movie nights memorable. Put yourself at the heart of a concert or into every scene of a blockbuster with Acoustic Beam technology that steers sound around your room.
'Our focus starts at the ear of the listener, then expands out to the listening environment – the transducers (woofers and tweeters), amplifiers, and digital signal processors (DSPs).'
* Allan Devantier, Vice President of Samsung Audio Lab R&D
Ready to hear your command
Built-In Voice Assistant
Easily control your smart soundbar and other compatible devices using Amazon Alexa voice control. You can play music, check weather, get questions answered completely hands-free. So sit back on the sofa and let Alexa skip the track or crank up the volume.
* Amazon, Alexa and all related logos are trademarks of Amazon.com, Inc. or its affiliates.
* This service which is not affecting to product performance are subject to change without notice.

Expand the sound with one simple tap
Tap Sound
Just tap your smartphone anywhere on the Soundbar to hear the rich sound mirrored without any need for manual pairing.
* Tap sound works through Bluetooth, and is compatible with Samsung mobile devices with Android 8.1 and above.
This service availability may not yet be available at the time of purchase of this product.

One remote to control them all
One Remote Control
Declutter your coffee table with just one universal remote to control them all. A completely connected experience at the press of a button to control multiple connected devices. Samsung's Smart One Remote Control has the ability to control more than just your soundbar and can connect to multiple compatible devices from TV to set-top box.

Choose your Q-Series Soundbar
Channel (Ch)

Up-firing speakers

Rear kit included

Wireless Surround Sound Ready

3D audio codec support

Q-Symphony

Voice Assistant