Four Ways to Upgrade Your Cooking
With Michel Roux
4 quick cooking tips inspired by Food Network's Michel Roux's French Country Cooking
Entertaining can be daunting. You want to delight guests with a tantalisingly good meal, while also being able to enjoy their company and relax. So who better to help elevate your cooking than renowned international chef Michel Roux?

Fans of Food Network will know that Michel has been serving up some of his favourite show-stopping, yet simple recipes as part of his new series, 'Michel Roux's French Country Cooking.' And helping him at every step are Samsung's latest kitchen products – the Infinite Line Dual Cook Steam Oven, Infinite Line Combi Hob and Bespoke Fridge Freezer. Because when you're a two two-star Michelin chef like Michel, only a home kitchen that delivers professional level cuisine will do.

Below are four of Michel's simple recipes to try at home, with the man himself guiding you through various delicious techniques—from expertly roasting and steaming a chicken at the same time, to cooking a healthy fish to perfection.
Bon appetit!
Roast and steam the perfect succulent chicken
Roast chicken is a classic dish that deserves to be cooked to juicy, yet crispy perfection—as exhibited by Michel's succulently well-roasted bird. Using the Dual Cook Steam Oven, Michel cleverly steams the chicken on the inside, while simultaneously roasting it to achieve a crispy skin on the outside. Prepared and served with an array of sweet roasted vegetables, it's the perfect Sunday dinner, and by letting the oven do the work, you can relax, sit back and enjoy nibbles with your guests while it's cooking.
Steam and bake simultaneously
Every minute saved in the kitchen is another minute you can spend enjoying the company of your guests—so why not cook every course at once? With any other oven, you'd have to cook your entrée and your dessert separately to prevent any transfer of flavours or odours—after all no one wants a garlic-infused tart tatin—but with the Dual Cook Steam Oven, you can manage an entire meal with a single appliance. Using our Dual Cook technology, Michel shows you how to cook two different dishes simultaneously - his garlicky steamed vegetables and buttery apple tart. Both at different temperatures, with absolutely no cross-contamination of odours.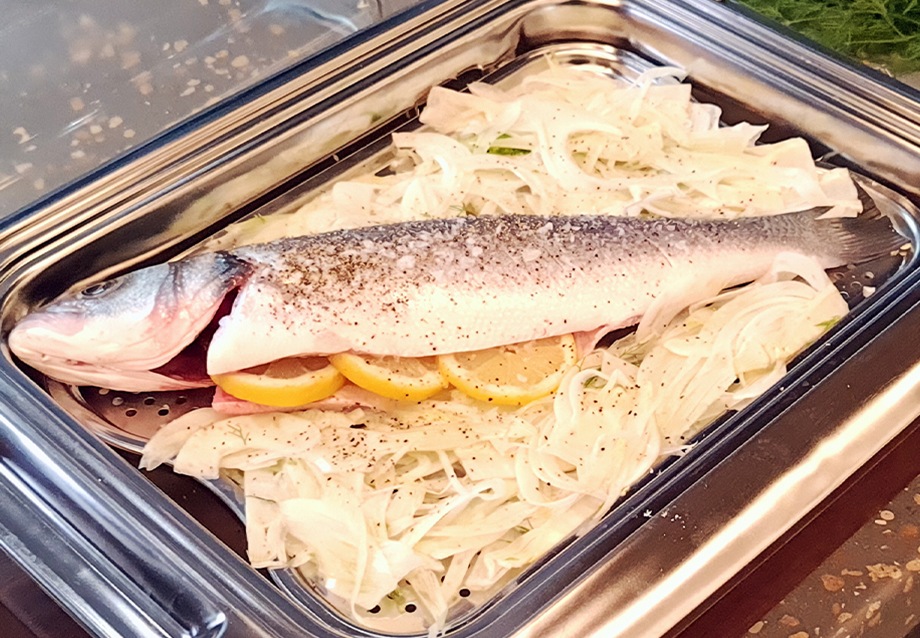 Steaming a healthy, tasty fish to wow your guests
A wonderful steamed fish is all about good quality produce and careful cooking, with the cooking part often putting people off. Here, Michel talks you through easily steaming fish using the Dual Cook Steam Oven - taking away the stress of 'careful' cooking, to produce perfect results every time. The fish lightly fluffs onto the fork, while delivering a flavour so exquisite, you'll be shocked that it's healthy.

Don't waste the leftovers
Don't want to waste those leftovers in the fridge? Here's how to get creative with a simple, tasty meal with nothing more than last night's dinner and a hob. Michel whips up a scrumptious, left-overs frittata using the previous night's steamed vegetables, and the Infinite Line Hob with integrated extractor fan. You can swap out vegetables for various leftovers, including meats, cheeses or fish, depending on what you had the night before. And by adding different herbs and spices into the mix, you can put your own spin on leftovers cuisine.

Raising the bar on home cooking
Our Infinite Line and Bespoke ranges take kitchen technology to a new level, and have been designed to assist and elevate all of your cooking needs—all with a show stopping design finish. Exquisite materials and extraordinary features come together to create a beautiful, modern kitchen aesthetic, backed by professional performance.
Want more?
Check out this exclusive look behind the scenes of the shoot in our Samsung KX Connected Kitchen.
A new standard in kitchen design
With bold designs and state-of-the-art culinary tech, discover what makes a Samsung kitchen the smartest kitchen around.
Hob with integrated extractor