Cooker hood buying guide
Keep the heart of the home fresh
Cooker hoods remove stale air and cooking smells, helping to keep kitchens fresh and clean. Ultimately, you want an extractor fan that gets rid of smells effectively and efficiently, but that also looks stylish and matches your interiors.

Choosing a cooker hood
Below, we run through different types of kitchen extractor fans, features and sizes, and cover things like installation and maintenance too.

Extraction or Recirculation: What's the Difference?
You may have come across the terms 'extraction' and 'recirculation' where cooker hoods are concerned; here's how each of them works.

Extraction hoods
An extraction (or ducted) cooker hood will remove stale air from your kitchen and release it outside through a vent.

Recirculation hoods
Sometimes referred to as ductless hoods, recirculation hoods take in air and filter it, before pumping it back into the room.

No vents? No problem.
Recirculating hoods are a good option for anyone living in a rented property with strict leasehold regulations, which may prevent external vents from being fitted, or in kitchens without windows or an external wall.

No more grease or bad smells
Both options – which are available on all Samsung cooker hoods* – will reduce and eliminate the build-up of grease and unwanted food smells.



* Recirculation kits must be purchased separately.
What type of cooker hood do I need?
There are several types of cooker hood available to suit a variety of budgets, tastes and spaces.
Vertical Wall Hoods
These hoods are wall mounted, meaning they look great in contemporary kitchens; the angled positioning also saves space overhead, without compromisng on efficiency.

Made to fit in anywhere
That said, vertical wall hoods are suited to almost any kitchen – even smaller ones. And if you like modern, clean lines or have a high-tech kitchen, a vertical wall hood will fit right in.

Vertical and versatile
Quiet, and with different speed options, vertical wall hoods can connect to your hob and have sensors which can boost the extraction power when needed (called Auto Connectivity* on Samsung models).



*Available on selected models and when paired with selected Samsung hobs.
Chimney Cooker Hoods
Chimney cooker hoods are also mounted to the wall, and are a good option for anyone who wants to make a feature out of their kitchen appliances. Samsung's T-shape, Curved and Pyramid cooker hoods all use the canopy/chimney design that defines these fan types.

Chimney hood options
Ducted and recirculating options are available, and they come with a range of practical features like touch displays, easy-to-wash filters and different extraction speeds.
Telescopic cooker hoods
As they can be hidden away when not in use, telescopic cooker hoods are best suited to smaller kitchens, or anyone who prefers a minimal finish in their kitchen.

How telescopic hoods work
Cleverly stored out of sight until you need them, telescopic hoods free up space in your kitchen. Simply pull the hood down to enjoy powerful extraction and replace when done. Some models also come with washable alumunium filters and different speed settings.
Features to look out for
Cooker hoods can do much more than extraction. Find out which additional features you may find useful below:
Lights
Illuminate your cooking with built-in LED lights, making food preparation easier.
Quiet ventilation systems
Discover quiet (but still effective) ventilation. Continue your conversation in the kitchen or listen to your favourite music while cooking, without any noisy interruptions.
Extraction speed settings
Different power settings let you choose the speed that works best, based on what you're cooking. Most Samsung cooker hoods offer a boost extraction setting too, providing powerful ventilation when you need it most.
Easy-to-clean filters
Easy-clean grease filters save you time and protect the hood motor. Washable aluminum filters are durable, as well as being easy to remove and clean. All Samsung filters can be popped in the dishwasher, making it even simpler to keep them clean.
Touch controls
Touch controls are intuitive and easy to clean. LCD panels – which feature on some Samsung models – are clear to read and respond to a gentle touch.
Auto connectivity
Pair your hob and cooker hood with Samsung's Auto Connectivity feature. This switches on the cooker hood automatically, as soon as you start cooking*.
* Available on selected models and when paired with selected Samsung hobs.
Auto sensor
Selected Samsung Wi-Fi hoods come with Auto Sensor technology, recognising when – and how much – extraction power is needed, depending on odours, fumes and smoke particles.*
* Available on selected models and when paired with selected Samsung hobs.
Motion sensor
Motion sensors trigger your extraction fan with a simple wave of the hand. This is useful whenever your hands are full or messy from cooking, so your cooker hood stays smudge-free.
Extraction rate explained
Extraction rates are used to identify how quickly stale air can be removed from your kitchen. Larger kitchens require higher extraction rates to properly remove smells.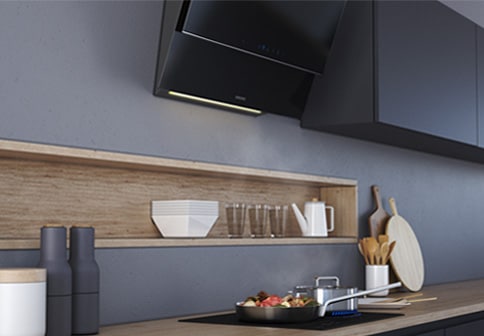 Calculate the extraction rate you need

Work out the level of extraction you'll need with this simple calculation, which is based on the size of your kitchen:
Measure the width, depth and height of your kitchen.

Multiply these measurements to find out the volume of your kitchen.

Multiply the volume by 10; this is the extraction rate figure (or maximum extraction) you'll need.
What size extractor fan do I need?
Ideally, your cooker hood should at least match the length of your hob. Samsung hoods come in at 60 or 90 cm, and are designed to work in tandem with Samsung's range of hobs.
Fitting a cooker hood
It's always best to hire a professional to fit your cooker hood. However, to make sure your new appliance will fit in the space that's available, there are some questions you should ask:

What's the minimum distance between a cooker hood and hob?
As a general rule of thumb, cooker hoods should be placed at least 650mm above electric hobs, and 750mm above gas hobs. To ensure you have enough room to cook, you should leave a minimum clearance of approximately 500mm for induction hobs, up to around 650mm for gas hobs.

How high should a cooker hood be?
You don't want to fit a cooker hood so high that it doesn't properly remove steam coming from your pans. The optimum height will largely depend on how tall your ceilings are. Telescopic hoods are ideal for lower ceilings.
Cooker hood maintenance
Once you've purchased your new cooker hood, you'll want to keep it in good working order; keep your extrator fan clean to ensure that it continues to work efficiently.
How to clean a cooker hood
Washing filters regularly is a priority to extend the lifespan of your cooker hood motor.

Aluminum filters can be washed easily, though carbon filters on recirculating models need to be replaced every 4-6 months

Wipe your hood and display panel down after use, so it doesn't become sticky or smeared with food
Whether you're just refreshing your kitchen décor or starting from scratch, the right cooker hood can really make your home a more stylish and comfortable place.