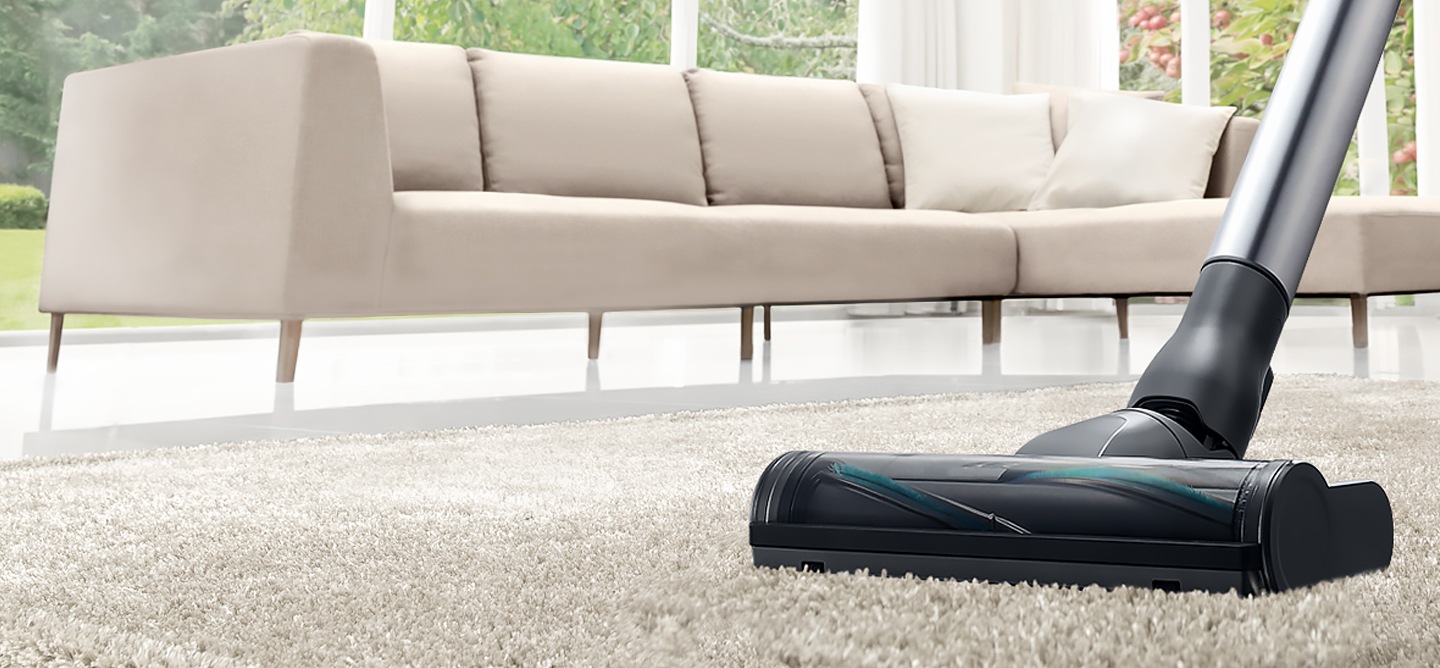 Vacuum cleaner buying guide
When deciding which vacuum cleaner to buy, consider what's right for your home. Start by thinking about your budget, lifestyle, floor type, cleaning needs and house size; then factor in things like features. In this vacuum guide we give you everything you need to know about modern cordless vacuum cleaners and modern robot vacuums.
Types of vacuum cleaners
When shopping for a new vacuum cleaner, it's helpful to know the differences between various models, to know whether they will clean your home efficiently and effectively.
Cordless vacuum cleaners
Cordless vacuum cleaners are a great option for most homes, but those with multiple floors will appreciate how easy they are to carry up and down stairs, without being plugged in.
Samsung POWERstick™ vacuums
Like conventional cordless vacuums, Samsung's POWERstick™ models are lightweight, with most types coming in at just 2.8kg.

Designed for modern living
They're ergonomic too, with an adjustable Telescopic Pipe which you can lower or extend, to suit your height and reach every nook and cranny.

Deep cleaning technology
With an impressive suction power of up to 200W*, a Digital Inverter motor and Jet Cyclone technology, the POWERstick™ provides deep cleaning on a range of surfaces.

Sweep and mop features
A Spinning Sweeper, which is available on selected models, even doubles up as a "mop" for hard floors.

Easy to clean
Our bagless and cordless vacuum cleaner features an easy-to-wash dust bin too.

HEPA filtration
A five-layered HEPA filtration system captures fine dust; an ultra-fine dust filter traps 99.999%** of micro dust, including 0.3~10µm sized particles and allergens.***

More POWER
POWERstick vacuums are designed with a long lasting battery, offering up to a 1-hour run time.**** Plus, its stand-alone charging dock (the Z Station) means you don't need to drill or mount anything to your wall.
* Suction tested based on IEC62885-2 Cl. 5.8, tested at the inlet of the non-accessorized tool, at the Max mode. Based on SLG (Schubert Leiter Geratesicherheit) tests.
** Tested based on IEC62885-2, Cl. 5.11, Max mode. Based on SLG (Schubert Leiter Geratesicherheit) tests.
*** 0.3~10µm size is the particle size which is generally invisible to human eyes, such as pollen, mould.
**** Stated run time applies to the minimum power level with a non-motorised tool attached. An extra battery will be sold separately.
Features to look out for
Cordless vacuum cleaners – including selected POWERstick models – are available with these additional features:
Two-in-one models
Two-in-one models offer more flexibility, allowing you to use the cordless vacuum in its upright position, or detach one section to use as a handheld appliance.
Filtration systems
Keeping your home free of dust is especially important for allergy sufferers and for those who live in homes with pets. As already mentioned, Samsung cordless vacuums use a multi-layered HEPA filtration system to remove allergens, capturing 99% of dust particles.*
*Tested based on IEC62885-2, Cl. 5.11, Max mode. Based on SLG (Schubert Leiter Geratesicherheit) tests.
The right cleaning tools for the job
Most vacuums come with a range of interchangeable cleaning tools that adapt to different surfaces or cleaning needs, though these vary across different models.

Samsung cleaning tools
Samsung cordless vacuum cleaners come with the following mini tools:

• The Spinning Sweeper gives you extra shine on hard floors, and with two rotating wet pad, there's no need to mop after you've cleaned
• The Soft Action brush picks up pet hairs and tiny particles, thanks to its anti-static silver threads
• The Long Reach Crevice tool allows you to access those hard-to-reach areas
• With its fast spinning brush and greater suction, the Turbo Action brush is perfect for carpets and hard floors
Extra running time
Selected Samsung cordless vacuums can last up to one hour before they need to be charged, giving you plenty of time to clean the house from top to bottom.*
*Stated run time applies to the minimum power level with a non-motorised tool attached.
Robot vacuum cleaners
Using the latest technologies, robot vacuum cleaners are a good solution to everyday, stress-free cleaning.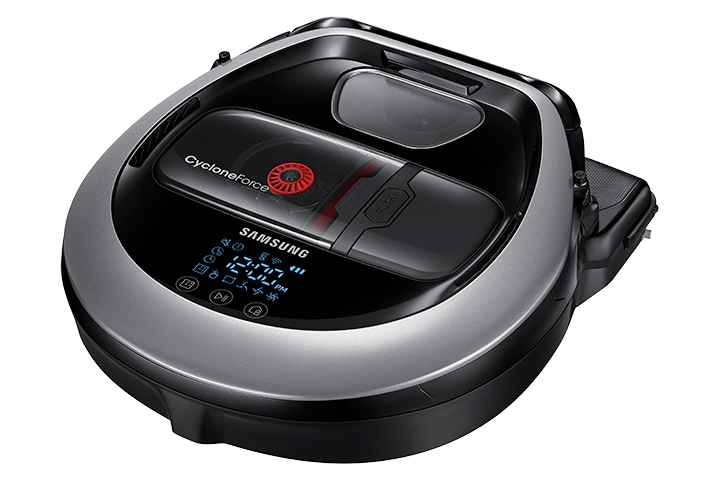 Should I buy a robot vacuum?
Robot vacuums are great for people short on time or away from home frequently. You can schedule some robot vacuums, so that they can start cleaning your home remotely*.

Clean hard-to-reach places
Light and slim in design, a robot vacuum can easily slip under furniture too, accessing those places normally difficult to reach, like underneath low-level furniture, making them potentially indispensable for anyone with mobility issues.
*Requires SmartThings App available on iPhone and Android. A Wi-Fi connection is required.
Additional features
Selected robot vacuum cleaners come with a host of additional features that can make cleaning even easier.
Sensor Technology
Samsung's Full View Sensor™ technology can detect obstacles and small spaces, so it won't get stuck in-between furniture. It can also recognise corners in rooms and cleans these with up to 10% more suction power.*
* Generates 10% more suction than Max, Normal and Quiet Mode respectively.
Wide brushes
Wide brushes can clean larger areas in fewer movements and less time.
Remote control
Samsung's Point Cleaning™ lets you direct the vacuum to a specific area using a light beam from a remote control. Point the light in front of the vacuum, and it will follow the beam, cleaning as it goes.
Docking stations and longer battery life
Many robot vacuums come with docking stations that charge the battery when the vacuum isn't in use. In some cases, the vacuum will find its way back to the station to power up, and once it's fully charged, it will resume cleaning.
Different cleaning modes
With a choice of cleaning modes, you can set schedules and cleaning settings to suit your needs.
Energy efficiency and suction power
All vacuum cleaners made or imported in the EU must have a motor of 900w or less.¹ There is no evidence to suggest that vacuums with lower wattages are worse at cleaning.² Vacuum cleaners are given an energy efficiency rating, the most efficient models are A-grade.³

Samsung vacuum power
Samsung models offer an environmentally friendly 200w, with a Turbo Mode function for trickier areas.
Vacuum cleaner maintenance
Just like any other appliance, you should take steps to keep your vacuum cleaner in good condition by carrying out simple maintenance.
Empty and clean out the dust bin whenever you notice it's getting full or a little grubby

Remove and wash the filters regularly, to ensure that the motor suction continues to work efficiently

Removing hairs from the brushes will enable them to spin faster, cleaning your home more efficiently