Important product information for fridge freezers
IMPORTANT SAFETY NOTICE
FAQs
IMPORTANT SAFETY NOTICE
Samsung Electronics have announced a programme to visit the homes of customers in the UK and Ireland to resolve an issue that is potentially related to certain now-discontinued RS21 and RS60 range of fridge freezers, manufactured between March 2005 and June 2006.

Samsung Electronics have decided to take this action following investigations into a possible defect in the assembly of the models' defrost system.

In very rare cases, there is a possibility of internal sparking which may pose a potential fire risk. In even fewer cases, it may lead to a personal safety issue or structural damage to the appliance.

Although the possibility of this occurring is very low, Samsung have decided, for the safety of our customers, to undertake a free, in-home inspection and repair programme for all fridge freezers with a similar defrost system. The models included in the programme are: all RS21 and RS60 and selected RS23, SN62, RSE8, RSH1, RSH3 and RSJ1 based on the date of manufacture.

The quality of our products and the satisfaction and safety of our customers are Samsung's highest priority. We thank you for your cooperation and apologise for any inconvenience.
This is an example, and your unit may vary.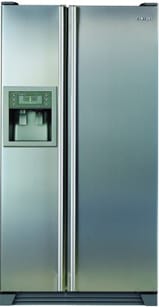 This is an example, and your unit may vary.
FAQs
1.) Look inside your fridge freezer on the right-hand inner wall. Write down the model name and serial number printed there.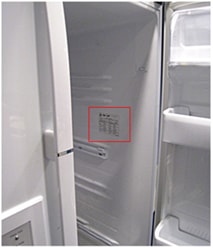 2.) Contact Samsung support through any of our channels.
3.) Give your details to the customer-support agent who will determine if your fridge freezer is among the models and manufacture dates eligible for the programme.
4.) If you are eligible, the agent will get the home-visit team to arrange an appointment that suits you.