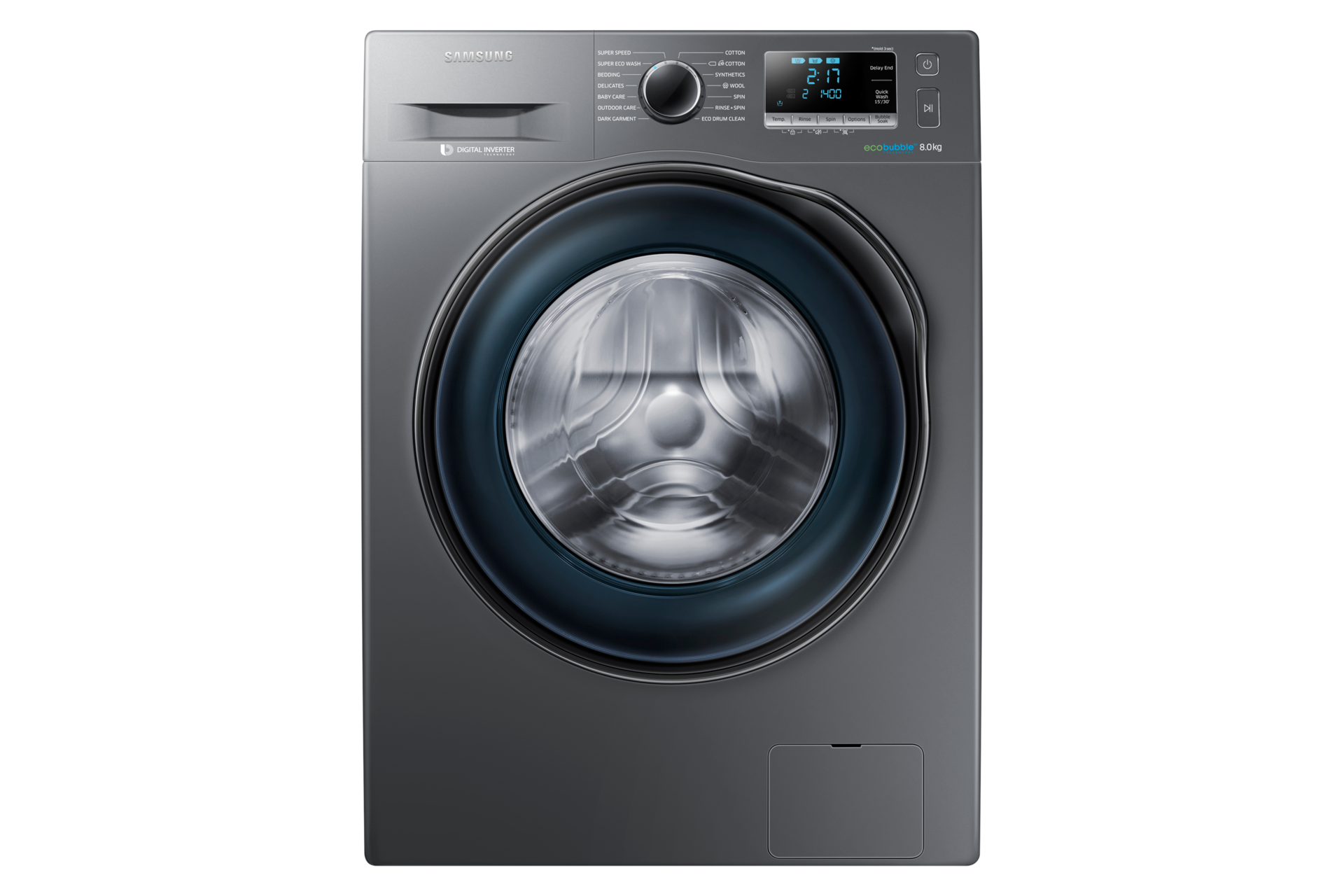 WW6000 Washing Machine with ecobubble™, 8 kg
WW80J6410CX/EU
WW6000 Washing Machine with ecobubble™, 8 kg
is rated out of
5
by
9
.
BUNDLE
EcoBubble
Diamond Drum
Super Speed
FEATURES
Wash cool and save energy using ecobubble™ technology
Get rid of stubborn stains with the powerful Stain Away
Add style to your home with a premium look and feel
Finish a full wash in 1 hour using the Super Speed Wash
Wash Cool, Save Energy
Save a huge amount of energy* by washing large loads at low temperatures using ecobubble™ technology. Bubbles activate detergent, so it quickly penetrates fabric and removes dirt easily – even in cool water (15 °C).
* Tested in accordance with IEC 60456-2010 / 4 kg Wash Load / Super Eco Wash cold (WF80F5E5U4W) vs. Cotton 40° without ecobubble™ (WF0702WKU). Individual results may vary.
Powerful Cleaning in Less Than an Hour
The new Samsung washing machine can complete your washing in just 59 minutes. It uses Speed Spray to rinse the clothes more powerfully, and accelerates the spin speed to complete the washing in just 59 minutes.
* Based on Super Speed at default settings with a 5 kg load.
Intensive Stain Removal
With the touch of a button, Bubble Soak technology helps remove a variety of stubborn stains. Clothes are thoroughly soaked in bubbles, so stains are loosened and removed effectively.*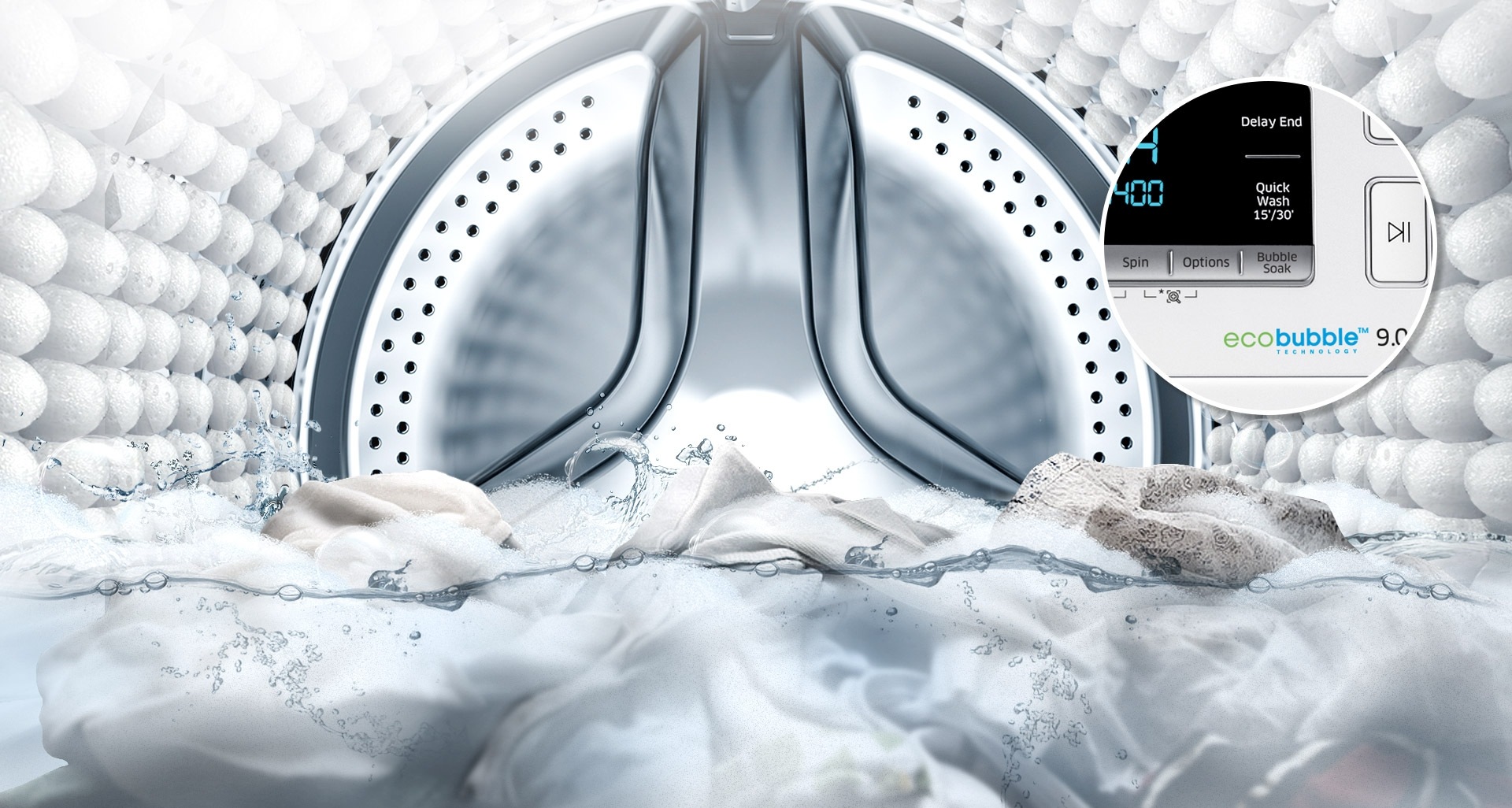 * Tested in accordance with IEC 60456 5th edition / 8 kg Wash Load / Bubble Soak Wash (WF80F5E5U4) vs. Cotton 40 / 60°, Synthetic 60°, and Denim 40° without Bubble Soak (WF0702WKU).
Guaranteed Durability
A Digital Inverter Motor delivers superior energy efficiency, minimal noise and exceptionally long-lasting performance, so it's certified to work for 20 years* – backed-up by a 10 year warranty.
* Awarded a 20 year durability certification by the Association for Electrical, Electronic & Information Technologies in Germany (Verband Deutscher Elektrotechniker – VDE).
New Crystal Gloss. All the More Beautiful.
The New Crystal Gloss Door, in transparent White or Ocean Blue, offers the ultimate in aesthetic pleasure and can infuse your home with an ocean-like calm. The handle is also 45 degrees higher, so it opens easier.
Easy Trouble-Shooting
The Smart Check automatic error-monitoring system detects and diagnoses problems and provides easy troubleshooting solutions using a smartphone App.* So it saves you time and avoids the cost of engineer callouts.**
* Available on iPhones and Android devices. ** Service callouts will occasionally be required and may incur extra repair costs.
Chemical-Free Drum Sanitisation
For the ultimate in convenience, Eco Drum Clean technology keeps your front load washer fresh without using harsh chemicals. And it can even notify you automatically when it needs cleaning.
Save Time on Smaller Loads
The Quick Wash program is the perfect solution for your busy life – cleaning lightly soiled clothes quickly and efficiently, so you can enjoy more time for yourself.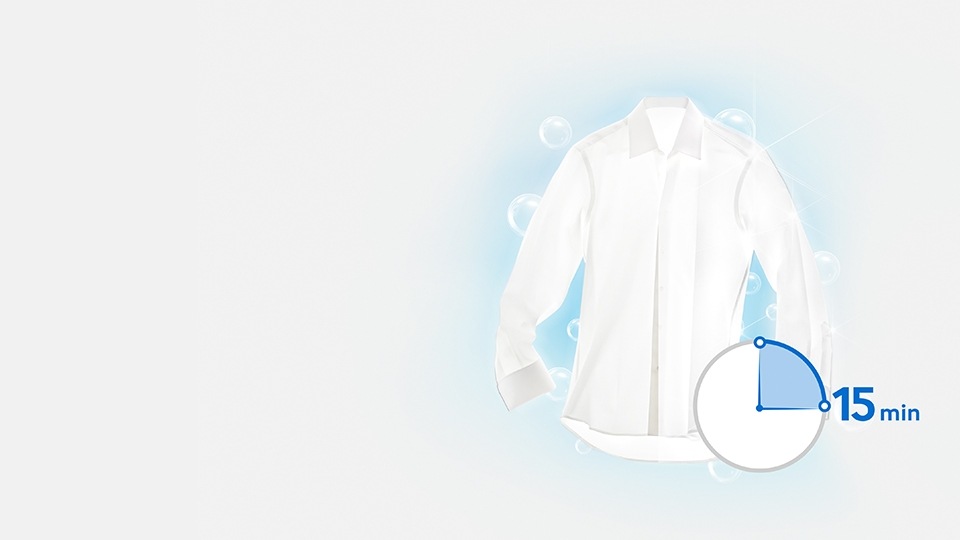 Gentle Fabric Care
The Diamond Drum's unique "soft curl" design with smooth, diamond-shaped ridges is supremely gentle on your clothes. Its small water exit holes also help protect fabric by preventing clothes from becoming trapped.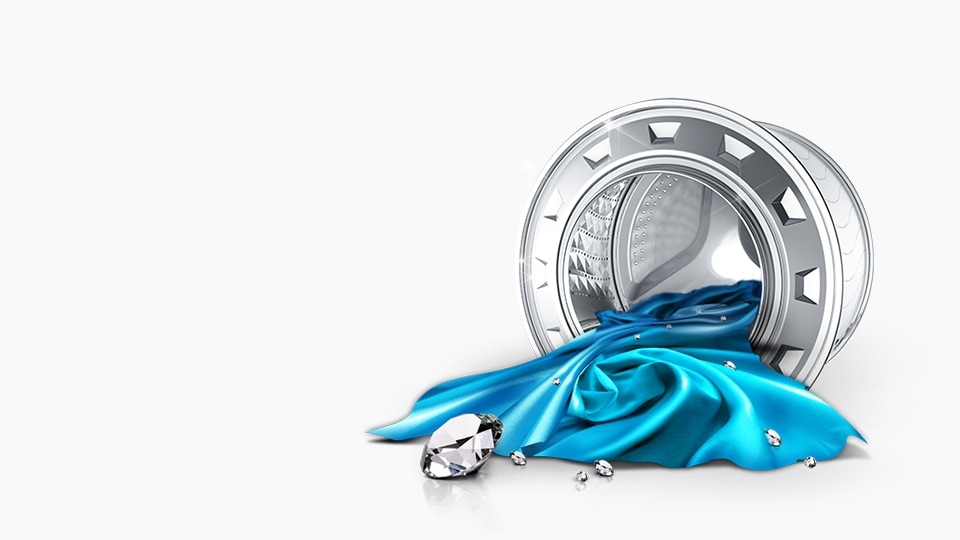 8 

Washing Capacity (kg)

Bubble technology

Bubble technology

A+++

Energy Efficiency Class

600 x 850 x 550 mm

Net Dimension (WxHxD)
Rated

5

out of

5
by
I do not have a nickname
from
Good choice of features
I am happy with this choice of washing machine and the features it has
Date published: 2018-10-08
Rated

5

out of

5
by
Littleloulou123
from
Perfect
Would not buy any other machine, perfect in every way, love it
Date published: 2018-06-06
Rated

5

out of

5
by
Oddjob
from
This machine has a really good and easy selection of programs
Found the initial use frustrating to understand but when we did the first couple of tasks it did all that was required. My other half got really pleased with the results. So far we consider it a very satisfactory investment.
Date published: 2017-03-27
Rated

5

out of

5
by
BobbyC
from
WOW! What a washing machine
Been meaning to buy a nice Direct Drive washing machine for some time, so finally went out and bought this one. My!!! Im not disappointed at all lovely modern looking machine and as I live in a flat I can put a wash on at night knowing its not going to wake others up its so quite! It definitely washes better on a quick wash what i use for my work clothes. Bubble soak is excellent.
Date published: 2015-07-04
Rated

3

out of

5
by
Gilly76
from
Brilliant Wash but Spin problems
Purchased Model WW80J6410CW in September 2018 on recommendation of Which magazine. Good washing but unhappy that there is no 600 rpm spin option which I have found over many years to be the best spin speed for synthetics. Samsung advised me on querying that none of their machines have that facility. I find 400 rpm leaves clothes too wet and 800 rpm too creased. As a solution I have to manually stop the machine before the 800 rpm cycle finishes. Defeats the idea of automatic programming !! Also Samsung's program is set to spin synthetics at 1200 rpm. That must be fun trying to get the creases out of those clothes !!
Date published: 2018-11-04
Rated

1

out of

5
by
Honest john
from
Waste of money
I brought this in june 2016 rubber seal has broken 3 times & had drum replaced, so complete waste of time. Machine has also got louder & clothes have been ruined by rubber from broken seal. Poor customer service from Engineers & Samsung
Date published: 2018-06-01
Rated

1

out of

5
by
Washedout
from
Think again
Who produces a washer with a manual that tells you how to turn the music the machine plays on and off, but fails to tell you Quick Wash only works with a certain program? Samsung. I have had the machine under a month, the press buttons to choose options within a programm, ie temperature on a cotton wash are very hit and miss. It is only this week when scrolling through the temp, available in a cotton wash it has given me the option of a 95 degree hot wash. Previously it has scrolled, cold, 20, 30, 40, 60, then back to cold. Now it goes up to 95. All selections on the buttons Temp, Rinse, Spin, Options sometimes work sometimes not. it is intermittent problem . If it does not show when their engineer comes out, I will have to pay. I am a loser. I lost buying this machine, I lost spending time trying to get help with the machines problems. I would not like to think of others joining this losers club. The time I have spent failing to resolve the problems, is unpaid labour which puts up the cost of this machine.
Date published: 2017-04-23
Rated

1

out of

5
by
pj1000
from
The worst washing machine i have ever owned.
I have had this machine for 14 months. in this period it has already broken down three times and having major overhall parts replacement on all occassions. I keep wondering how long till i get in contact with samsung to send an engineer, it is that unreliable. I will not buy another washing machine from them and surely would not recommend it to anyone.
Date published: 2015-08-27
User manual & Downloads
Live Chat