Water & ice dispenser
The water and ice dispenser provides continuous filtered water and crushed or cubed ice at the touch of a button, and has now been made even taller to accommodate taller glasses or pitchers.
FreshSafe vegetable drawers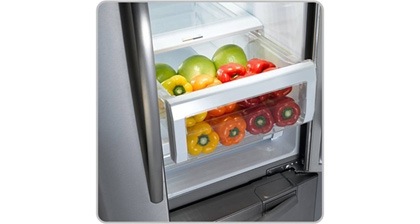 Two large drawers provide the optimum humidity level to preserve vitamins and nutrients in fruit and vegetables.
Multi Flow Cooling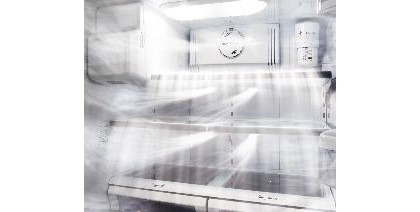 Cooling air flows out through multiple outlets on every shelf level. This provides even cooling throughout the refrigerator, and quickly restores the proper temperature after the door has been opened.
Bright LED Lighting
The space-saving, energy efficient light makes every corner brighter than ever.
Twin Cooling System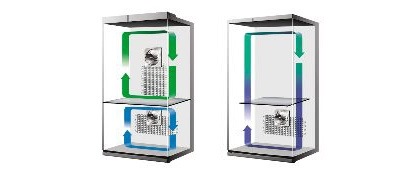 The refrigerator and the freezer compartments are controlled separately. No air moves from one to the other - so the fridge maintains the right humidity to keep vegetables fresh, while the freezer is kept dry and odour-free.
EZ-Open Handle
Opening the freezer door is a breeze without any extra force thanks to Samsung's unique EZ-Open handle. Simply lift the handle slightly and open the freezer easily.
Auto Pull-Out Drawer
The large slide-out drawer features a movable divider that separates various types of food for easy organisation.
CoolSafe Lock
This innovative sealing feature is designed to keep the cool air in the fridge to help minimise energy loss.
SoftArc Design
The smooth-arcing door contours add a touch of elegance.
Tilt Can Carry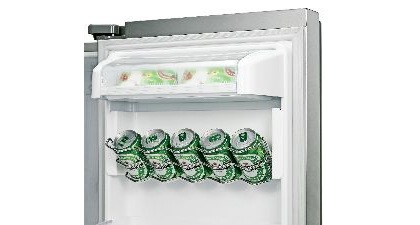 The can rack is located in the fridge door and offers an excellent solution for storing cans.
Full Width CoolSelect Pantry
This flexible drawer lets you choose from three different temperatures, so you can store your food at the optimum temperature. The easy sliding rails and wide open top makes getting items easy and fast.
Flexible shelving options
Foldable, flip-up and slide-out shelving gives you the ultimate in convenience, no matter what kind of food or drink you are trying to store in the fridge.
Tasty settings of the CoolSelect pantry
1. Deli - Deli foods like ham, salami and chicken slices are delicate and perishable. This setting helps them keep their delicious taste and texture. 2. Fresh - This mode maintains optimal humidity levels for the freshest, crispest fruit and vegetables, keeping them ready for you to grab-and-go. 3. Chilled - Ideal for the storage of fresh meat, poultry and fish, at this temperature, the natural moisture in foods is contained, preserving taste and freshness.
Twin Cooling Plus™
Water Dispenser
Auto Ice Maker
Three-Door with Twin Cooling Plus, 520 L
is rated out of
5
by
12
.
Rated

5

out of

5
by
zayerman
from
Excellent Design
Having the two door fridge at the top stops the necessity of having to stoop down to find what one wants at the lower floor end, akin to the long door models. The designed adjustments to the shelves have been cleverly thought out to accommodate all size types of containers. The different temperature pantry compartment is a brilliant idea too in keeping different foods at their appropriate coolness. The freezer compartment is surprisingly cavernous and again has well designed partitioned sections. The cooled water and ice dispenser works a treat. It's stainless steel build gives it a robust feel and the only noise it generates is a ever so gentle hum and a surprise clatter when it's making ice cubes. Overall, very impressive.
Date published: 2017-09-24
Rated

5

out of

5
by
Luv2shop2
from
Fantastic french style Fridge Freezer
Bought RFG23UERS1/XEU French Style Fridge Freezer. Looks fantastic, from Appliancecity. Excellent customer service and Sales team. Arrived on time and very happy with delivery man..(.not grumpy!!!!!)......Just extremely helpful, knowledgable and simply a very nice man. A very delighted customer
Date published: 2017-07-08
Rated

5

out of

5
by
Grimupnorth
from
So many great features
I have had this product since early June after doing reviews on french style fridge freezer i choose this one. The cooling system in the fridge is so good what a difference it has made to keeping food fresher and longer,the fridge has ample space with different shelving,the freezer has two big draws and the ice and water dispenser is so cool.The lighting in the fridge is pretty cool too would recommend this fridge at a great price 5 ⭐️ From me
Date published: 2017-06-20
Rated

5

out of

5
by
Ossy
from
This is an awesome fridge/freezer
My last American fridge freezer broke down after just 4 years so I wanted a replacement that was robust, quiet, well lit and plenty of refrigerator space. This one has delighted me. The food stays fresher for longer, the shelves and drawers are strong and well finished. It is lit magnificently so there are no dark corners and the door seal is fantastic. I love the special pantry with the fridge which I use for meat and cheese. Everything works very,very smoothly. I was a little unsure about the position of the freezer underneath the fridge so I was delighted to find that it was so easy to put my hand on anything I wanted. Looking down on the contents of the drawers which are also well lit is much easier than using a side by side type American fridge freezer. And when I say it is quiet it really is almost silent. I've never bought a domestic machine before that pleased as much as this and as I am in my 70's so I've had a few. I can find no fault this.
Date published: 2016-12-17
Rated

5

out of

5
by
Shallybu
from
Amazing
Food lasts so much longer. Well past sell by dates on fruit and vegetables Looks great too
Date published: 2016-09-12
Rated

5

out of

5
by
Harry
from
Brilliant family fridge freezer
Excellent American fridge freezer, loads of space and features, from ice to chilled water, fresh drawers for veg to plenty of shelves for different fridge and freezer products.
Date published: 2016-09-10
Rated

5

out of

5
by
Peter
from
Great fridge
I have had this fridge for some time now and well it works like a dream and looks great in Black hardly any noise, bags of space I have connected a R/O water system to the water supply.
Date published: 2015-11-30
Rated

5

out of

5
by
Charlie
from
Well you get what you pay for
I bought one of these when my last fridge freezer reached 17 and was constantly an ice block in the fridge! I wanted a new larger fridge with freezer that would also be the best economically and practically. The double width fridge is one of favourite parts and the nifty thoughtful layout on the interior - is what sold me on it - owning it it a dream and totally what I hoped it would be. The freezer draw is non drying to the food as I've noticed my old chest freezer is but the best part of the freezer has to be the distinct lack of ice. My only reason for knocking one star off a full slate is its price, had I not inherited some money, I would never have been able to afford my dream fridge I never knew existed.
Date published: 2015-07-16
User manual & Downloads
Live Chat
How It Stacks Up
Three-Door with Twin Cooling Plus,
520 L
RFG23UERS1/XEU
Free delivery

Get free delivery on all orders with no minimum spend


Free returns

Free, easy and convenient returns.

28 days to return

Change your mind? Just let us know and return your order within 28 days.

24/7 parcel tracking

Once you've place your order with us, you can track when it's coming.
Features and specifications are subject to change without prior notification.

*Contains PF-5056(GWP>150) as foam blown additive
Get stock alert
Get alerts when this item is back in stock and available to buy, by adding your email to opt into alerts.
We will email you when inventory is added.
Thank you.
Create your wishlist
Don't miss out on the products you love.
Sign in/Sign up now to access your wishlist on all your devices and get updates on great promotions.
Add to wishlist
Do you want to add this product to your wishlist?
Wishlist
This product has been added to your wishlist.
Sorry, the product you added to wishlist is not available anymore.
Installment Calculate
Installments are provided by Santander Consumer Bank S.A.
Estimate your installment plan