What is SmartThings Energy Control?

It's our simple, easy-to-use and free service that gives you control over your home's energy from your phone through the SmartThings app.

Get detailed, up to the minute information via the app so you can view your home's energy usage and cost by the hour, day, or month. This gives you and everyone in the house the power to make informed decisions about your energy use at home wherever you are.
Empowering change
We all have a shared responsibility in reducing our carbon emission. Getting better visibility of our homes' energy use gives us the opportunity to use less energy, saving on bills and lowering our homes' carbon emissions.

Changing when we use energy can also make a real difference, by shifting demand from carbon intense peak hours (4-7pm) it's possible to support a more sustainable energy system.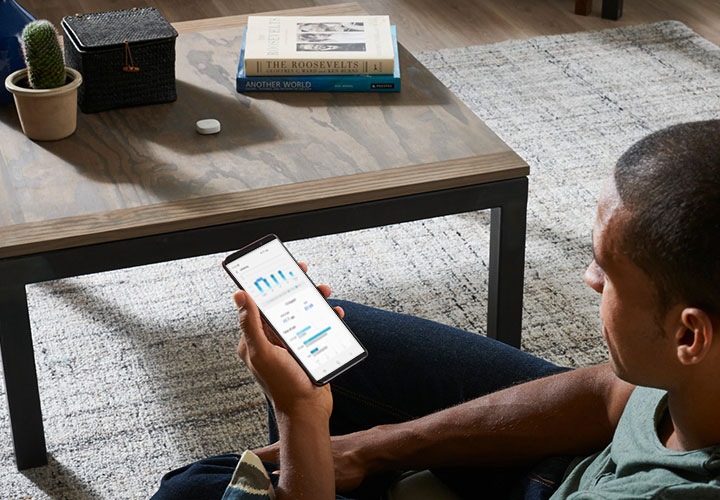 A smarter way to take control
SmartThings is compatible with thousands of smart products, giving you more control over your devices and how much energy your home uses.

You can connect things like thermostats, lighting and washing machines; track their energy use, schedule start and stop times and control them remotely.

You can even control your existing non smart devices by adding a SmartThings Smart Plug to devices such as lamps, kettles, and coffee machines.

Discover more by visiting www.smartthings.com
Become a member of green energy company Bulb

Have a second generation smart meter installed
Download the SmartThings app and set up an account
Already a Bulb Member with a second generation smart meter? Click here to set up.
* Get a 75GBP voucher to spend on Samsung.com when you switch to Bulb Energy via bulb.co.uk/smartthings. Customers who switch their energy to Bulb before 31 March 2021 will be sent a voucher code via email. The voucher code is valid for 6 months after issue and may be redeemed one time only against any purchase via Samsung.com.