How do I charge my Samsung Gear Fit?
The Samsung Gear Fit is a fitness wristband designed to help you monitor and track your fitness goals. Read on to find out more about how to charge your Samsung Gear Fit.
Or, if you have a Gear Fit 2, find out more about how to use and charge it.

1
Locate the charging terminals on both the Samsung Gear Fit and the charging dock
2
Place the charging dock on the back of the Gear Fit so that the charging terminals on each device meet
3
Plug the USB connector into the dock's charging port and plug the other end of the charger into an electrical outlet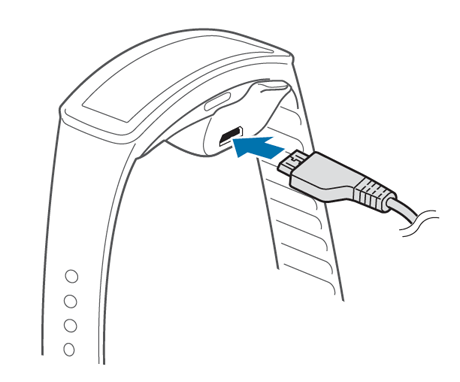 4
Turn on the Gear Fit by pressing and holding the Power key for a few seconds
5
When the charging is finished remove the dock from the device
Please note:
You can see the battery power level from the battery indicator on your device. When the battery indicator shows as full, your device is fully charged.
You should fully charge the Gear Fit before using it for the first time. 
We would love to know your feedback to help us improve. Please click submit to tell us what you think.
Please answer all questions.