How to find the model and serial number of my product
The model or serial number on your appliance or device can be displayed in a number of different places depending on the product you have purchased. This may be on packaging, stickers or the product itself. Read on to find out more information on where to locate the product codes (e.g. serial number, model number, IMEI) on your Samsung product.


What are serial, model and IMEI numbers?
All of these numbers are used to identify a product, however each serves a slightly different purpose.
Model Number: This number is used to differentiate between models in a company's line of devices or appliances. Many devices or appliances can share a model number, indicating they are the same model.
Serial number: Often abbreviated to S/N, this number is a unique hardware identification number chosen by a company and given to each device or appliance produced. The number is used to match a product to its customer, so that the company has a record of possession. This number is only used by the original producer of the product.
IMEI number: The IMEI stands for International Mobile Equipment Identity and is used to distinguish a mobile phone across all companies worldwide. The number can be used to identify and track a device that might be stolen or compromised. 
Mobile devices and accessories
PC and laptops
Laptop and Ultra-Mobile
The serial and model numbers are located on the underside of the keyboard.

Monitors
LCD Monitors
The model code and serial number are printed on a label on the back of the monitor stand.
Cameras and video cameras
High and standard definition
On most video cameras, the model name and serial number are located inside the battery compartment cover or near the battery cover.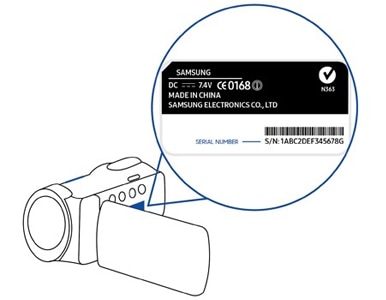 NX, GX and Compact
The model name is indicated on the top or front of the camera.

The serial number is indicated on the battery lock lever on the underside of the camera.