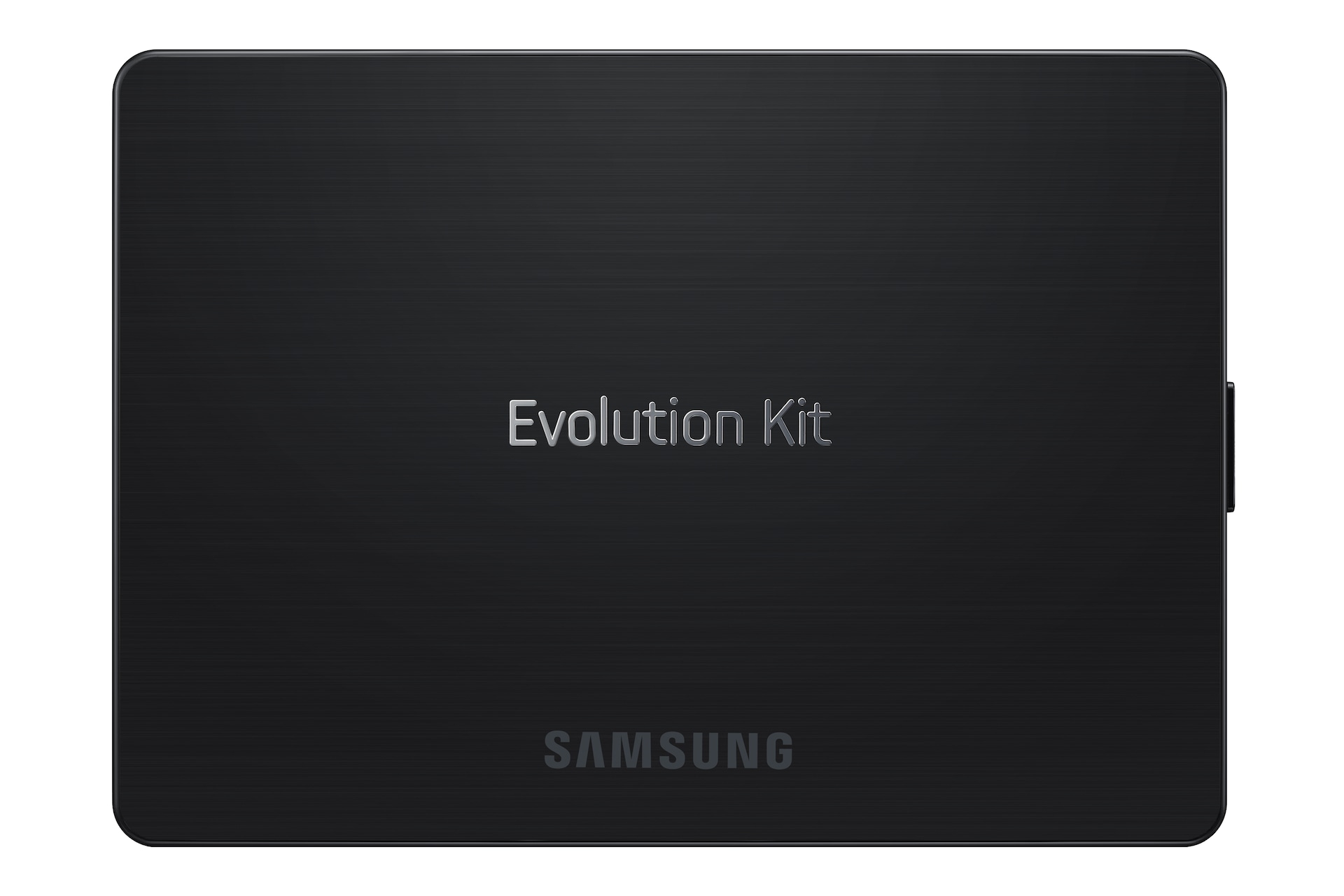 SEK-1000 Evolution Kit
SEK-1000/XC
SEK-1000 Evolution Kit
is rated out of
5
by
11
.
Get tailored viewing with S Recommendation† with Voice Interaction
Get immediate access to your favourite content
Enjoy faster and smoother Quad Core performance
Install the Evolution Kit easily and quickly yourself
Sorry! This product is no longer available
Discover more of the TV you love. S Recommendation† with Voice Interaction
Smart Evolution brings you S Recommendation† with Voice Interaction. It lets you discover more of the TV you love by suggesting what's new to watch based on what you like. It intelligently learns your preferences, so the more you watch, the smarter it gets. All you need to do is ask your TV to find you something to watch. It will respond to your natural voice and instantly search Live TV, video on demand services and apps to recommend TV and online content tailored to you. Now you'll always know what's on without the need to look for it.
Your TV is future-ready with Samsung's Smart Evolution
Your TV is future-ready with Samsung's Smart Evolution. Unique to Samsung, the Smart Evolution Kit completely reengineers your TV without having to replace it. Now you can renew your TV with the latest technology in terms of performance, content and features, ensuring your TV remains cutting-edge.*
Boost the speed of your Smart TV
Smart Evolution will boost the processing speed of your Smart TV from Dual Core to Quad Core. The powerful Quad Core processor boosts performance with faster access to Smart features, higher quality video streaming and true multitasking capabilities. Enjoy superfast internet and app response times, watch TV while simultaneously taking a Skype call or carry on viewing your favourite programme while using an app. It's now even easier to toggle between apps, online services and on-air TV - a truly seamless TV experience.
New 2013 Smart Hub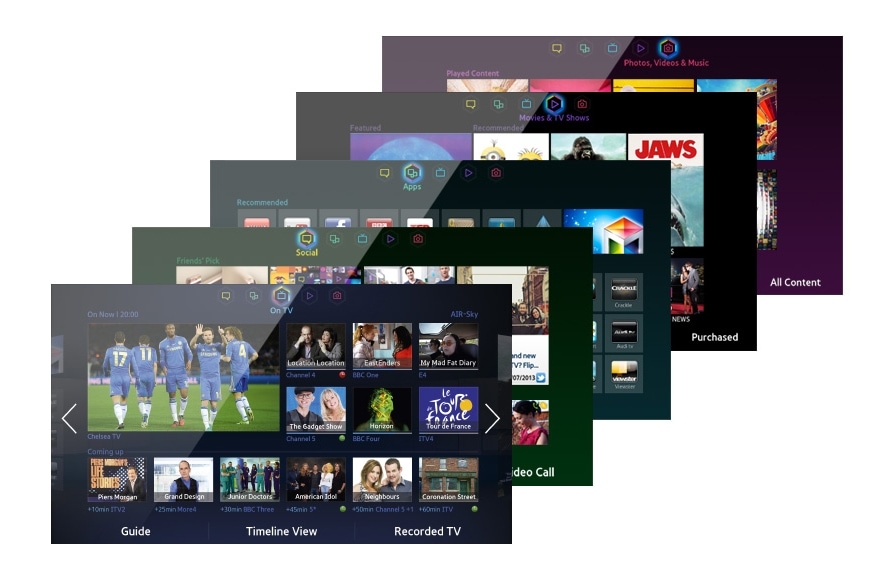 Experience the new 2013 Smart Hub. Get immediate access to your favourite programmes through the ON TV† panel. It intelligently organises and manages all your content into five easy-to-navigate panels. The intuitive interface uses eye-catching thumbnails to provide instant previews that help you quickly and easily select what you want to watch. The five panels include: On TV; Movies & TV Shows; Photos, Videos & Music; Social; Apps.
The most advanced way to control your Smart TV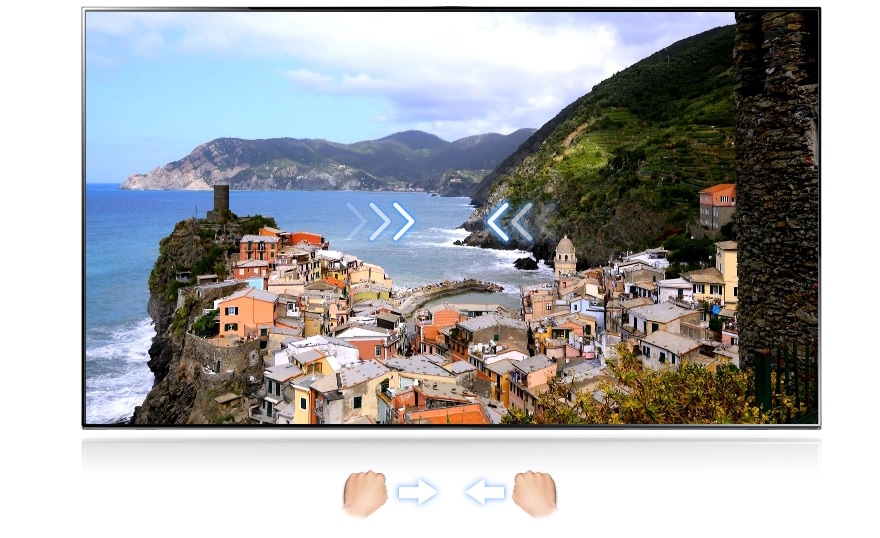 Smart Evolution allows you to enjoy the new improvements of Smart Interaction. Simply wave at the TV and take charge: change channels and the volume level with ease, swipe though the 5 panel Smart hub and grab and select the content you want - just like you would on any smart mobile device. New two-handed gestures recognise natural movements, enabling you to zoom in and out and rotate images, making the sharing of your latest holiday pictures easy and fun.
Rated

4

out of

5
by
Nickedw
from
Great upgrade to make the TV do what it promised originally
Real mixed feelings about this. It's a great upgrade that you should buy immediately so lets get that out of the way. My only issue is that I would argue it makes the TV work properly now where it didn't originally, motion control has gone from being an unusable gimmick to being very good indeed. In fairness to Samsung, I would have had to by a new TV in the past to get this level of improvement and now for about £200 I have more or less got a new TV. The mere fact you can upgrade like this is brilliant, lets see more it it. Everything works smoother, faster and more intuitively, power control for my Samsung soundshare soundbar now works properly as well - another thing that should have worked in the first place, but hey.
Date published: 2013-09-02
Rated

4

out of

5
by
Andy 62
from
What I bought the tv for
Think my summery said it all really wanted to upgrade tv without buying new one every year new remote is much better than old one only down side it does take a long time to boot up with firmware when first connected
Date published: 2013-05-30
Rated

4

out of

5
by
tiddlie
from
2012 TV with 2013 features
Aside from a painful installation process (the device seems to not fit very well, or be very secure), including a few false starts where the screen had nothing but fuzzy green lines on it, the new 2013 system is really rather slick compared to the older menus. The display is very funky, and easy to use. It syncs up very nicely to the Sky+ box, and even changes channels from its own menu system showing what's on and coming up. I've not tested the signals or talk to your TV features yet, but certainly will as it now supports multi gestures (apparently). I'm a little concerned that I'm going to have to pay nearly £250 every release cycle to keep up to date with the software on the TV (which is more or less what this allows you to do), and can see this appealing only to tech-snobs much like myself. I don't think it's useful to the average consumer. Overall impressed. Feels like a new TV, everything is much snappier.
Date published: 2013-05-22
Rated

3

out of

5
by
Traveller123
from
Improves TV, but has issues
I installed the Evolution kit to bring my 65" up to date. I paid a lot for it and wanted to keep it on the edge. Advantages: 1. New smarthub has more room for apps (in fact now I notice there is a real shortage of apps) 2. Some apps perform better, the processing is clearly quicker 3. No change in HD picture quality. However a poor SD feed is definitely improved with heavy duty noise elimination 4. The voice and motion activation definitely work better now even though not to a level that I would regularly use them. Disadvantages: 1. The connection to your Ethernet cable is flimsy and am afraid that cleaning behind the TV may damage it if not careful. 2. The remote that was provided with the kit simply doesn't work. It can only switch on and off the TV. I had to improvise to get the old remote working by trying to pair it a number of times with the TV until, it worked. Note: In my case it took up to 2 days for the kit to work properly. Initially apps did not download or run. However every time I switched on the TV a few worked again until after some time it all worked and has worked correctly ever since. Coinclusion: Average product that works (except remote) . If you are Happy with your apps to date on your 2012 TV I would advise that you wait until next year and see if the new evolution kit offers better value. If your apps are slow this upgrade is definitely recommended
Date published: 2013-09-18
Rated

3

out of

5
by
NeverLetUmGrindUDown
from
Ok, but could have been so much better.
Unit worked straight out of the box until it wanted to check the internet for updates. This was when I found out the TV's built in WiFi I use to connect with had stopped working. I could not get it to detect ANY SSIDs at all. Upon review it looks like it needs a firmware update to work (TV version 1003. Current version should be 1004.4). Have since downloaded the current version on a USB stick using a PC and will be trying the upgraded firmware later. Other issues... Voice control... As I have currently have not got an internet connection the TV will not permit the use of voice control. Motion control... As I turn off the TV's speaker because I use an external amp for sound. Motion control gets itself in a pickle notifing me that the audio is off and as soon as I "Ok" the warning it pings straight back up in a never-ending loop preventing any further progress. Smart Hub... Currently un-tested as... I've got no internet connection and therefore cannot use it! Screen brightness... TV's brightness seems to randomly fluctuate depending on if a remote control button or an attempt at voice/motion control has taken place. Though it seems to be the TV trying to acknowledge that you have given it a command it can be really infuriating even after a short period of time. This is especially true when trying to set the picture's contrast or brightness controls. It may possibly be preventable if there's a setting available. I'm still finding my way round the new menu system so am uncertain. Various Menu options... After installing the Evo kit, some but not all options revert back to their 'default' settings this includes some of the picture setiings, the audio settings and even the Anynet+ turning itself back on. Some like the back-light level do remain from its pre-evo kit level. So you have to review all settings just to confirm they are still correct. Hopefully a lot of these niggles will fix themselves after the installation of the previously mentioned update.
Date published: 2013-07-31
Rated

3

out of

5
by
Dr Nicky
from
I wish they had waited for more stable firmware
I love the fetures it's added and the front end is brilliant. However, the firmware is unstable, particularly when you ask it to do a search for a film, then it just hangs and then reboots the TV. I can't but think that first users are being used as beta testers, which for me takes the shine off the product.
Date published: 2013-05-28
Rated

3

out of

5
by
princessj
from
This Product has some features that are no better than what its intended to upgrade
Yet another Remote that serves no purpose? Why could there have not been a firmware upgrade for the existing remotes supplied with the flagship es8000 series?
Date published: 2013-05-26
Rated

2

out of

5
by
TonioPM
from
Quite an expensive bolt on
Check this kit and its features out very carefully before you spend your money on it - I didn't and I now regret it!
Date published: 2013-08-28
User manual & Downloads
Live Chat